Marbella after school activities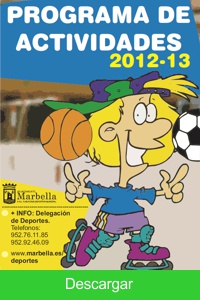 Marbella after school activities
Kids are back in school and we are all slowly getting into our routines. However, you are not quite done yet. The kids are looking to join in sports, dance, art or some other activity after school. Extra-curricular activities are a great way to burn off some stress from school, stay fit, and expand horizons.


There are plenty of clubs to choose from in Marbella, so you'll soon find that there are not enough days in the week to do everything that your child may want to do. There are activities in Spanish, English and often times mixed.
If your child is a native English speaker, it is best to encourage your children to participate in Spanish speaking activities. Not only do they get to meet other children from outside of their school group, but they have the added benefit of learning Spanish the easy way – through play.
All you need to do is look through our list of after school activities and soon you'll realize that your children have a bigger social life than you do.
SPORTS
• Football is always a very popular sport in Spain and nearly every boy (and some girls too!) at least gives it a go. There are as many football leagues in Marbella as there are stars in the sky. Here are some of the most popular:
o
Marbella Paraiso Football club (MPF)
- 952 766 408
o
AFA www.afamarbella.com
o
Atletico Las Chapas
o Unión Deportiva Marbella - 607 796 433
o Unión Deportiva San Pedro - 650 976 880
o Asoc. Deportiva Vázquez Cultural - 679 342 069
o Club Dep. Peña Los Compadres - 626 545 566
o Club Dep. C.E.S. Nueva Andalucía - 679 504 713
o Asoc. Deportiva Las Chapas - 637 179 005
o Club Fútbol Peña Málaga - 619 444 030
o Asoc. Deportiva Pablo Picasso - 649 829 860
o Asoc. Fútbol Aficionado San Pedro - 952 812 000
o Costa Unida C.F. - 647 252 541
Martial Arts
o
Impact Gym
(English)
o
Wing chun
o
Taekwondo
o
kickboxing
o Club Judo Marbella - 670 733 040
o Asociación Karate San Pedro - 650 164 630
Baseball
o Béisbol Starts Marbella - 649 409 145
o Béisbol Marbella Sun Devils - 610 828 024
o Marbella Béisbol Club - 652 885 657
Gymnastics
o Federación Andaluza de Gimnasia (Spanish)- 609 466 044
o
Gymnastics clubs
Basketball
o Club Baloncesto San Pedro 676 404 647
o Club Baloncesto Marbella 952 829 537
Fencing
o Club Esgrima San Pedro 654 730 376
Horseback riding
Escuela de Arte Ecuestra de Costa del Sol
Swimming
o
Duck n Dive Swim School
(English)
o
Marbella swim clubs
o
Glow swimming
Tennis/Padel
o
Bel Air Tennis Club
o
Nueva Alcantara
(Spanish/English)
o Puente Romano Tennis Club
o Don Carlos Hotel Tennis Club in Elviria
o El Casco in El Rosario
Multisports
o
The Multisports Club
- Aloha Gardens
o
Kids group training
o
Kids triathlon club
DANCE
o
Danzart
(English/Spanish)
o
Danzzas
o
Flamenco
o
Ballet, modern
o
Marbella Dance School
THEATRE
o
Marbella Youth Theatre
(English)
o
Danzart
(English/Spanish)
o
Stagecoach
(English)
o
Blackbox Theatre
MUSIC
•
The Music House
For more after school activities go to our main
Schools & Clubs
page as well as our
Schools, Camps & Clubs Family Forum
.
In addition to these options you will find many activities offered at your local community center. The largest ones are the
Polideportivo San Pedro
and the
Polideportivo Marbella
.
• We have tried the
Polideportivo San Pedro
and can recommend it. It has excellent facilities, easy parking, and classes for ages 4 – 17 depending on the activity. Some of the activities that are offered include:
Track & Field
Baseball
Indoor football
Outdoor football
Rhythmic gymnastics
Hockey
Tennis
Fencing
Padel
Basketball
Karate
Physical Education
Multisports
Volleyball
Judo
You can find the dates and times on their
website
. Not all of the activities are posted on the site so it is best to go to your local community center to find out exact details.
If you are interested in signing up for an activity at the
Polideportivo San Pedro
, it is best to get there early in September as places fill up quickly. The activities are subsidized so the prices are very reasonable…around 8 - 10 euro per semester. If you are not registered as a resident (
empadronado
), then the prices are slightly higher at about 16 - 20 euro per semester. You won't find better value than this anywhere else.
Parents of large families will get an additional 30% off
on any activity. This applies to the third child and up.
To sign up for an activity in San Pedro you will need to go to the
Palacio de los Deportes de San Pedro de Alcántara
at Avda. Fuente Nueva, s/n. 29670 – San Pedro Alcántara
Tel. 952 799 508 or 952 780 633.
You will need to fill out an inscription form and bring a copy of your DNI /NIE and a social security card or private insurance card.
•
Marbella Polideportivo:
Check the
website
for the activity schedule and contact information. Sign ups can be made at their offices in central Marbella on the edge of the
Old Town Marbella
where the public parking lot is next to the La Pesquera restaurant. Their address is Calle de los Caballeros 25, 1st floor.
Telephone: 952 761 190.
Offices are open from 9:00am – 2:30pm. Closed in the afternoon until 4:30pm-9:30pm. For swimming classes, check the Antonio Serrano Lima Pool in Marbella.
---
For more after school activities go to our main
Schools & Clubs
page as well as our
Schools, Camps & Clubs Family Forum
.