Impact Gym Marbella, home of Kudo Academies
share this page with a friend

Impact Gym Marbella offers Kickboxing, Boxing, MMA, Brazilian Jui Jitsu (BJJ), Cardio, Boot Camps, Personal Training.  Ladies-only classes are also available!  Children and adults of all fitness levels are welcome - Impact Gym is the FUN way to get fit in Marbella!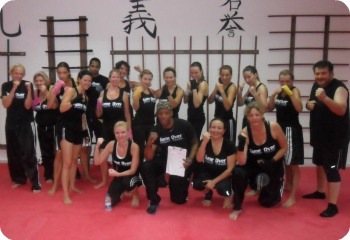 Impact Gym currently offers classes in Kickboxing, Boxing, MMA, Self Defence, Boot Camps, Cardio, BJJ, Ladies Only and 1-2-1 personal sessions to help you achieve your personal goals. Non-contact and contact classes for children and adults 5 days-a-week, mornings and evenings.
The gym is owned and run by British Kickboxing Champion and Black Belt, Shaun James, and Black Belt, Nina Smith, who have been teaching and training students for over 15 years.
SPECIAL OFFER: First class is ABSOLUTELY FREE, so what have you got to lose? Get yourself down to the ever-growing Impact Gym in Marbella - Don't miss out!
And for those ready to boost their fitness with Impact Gym, for a limited time only, get access to 1-2-1 personal sessions for a discounted rate of 35 euro (normally of 50 euro)!
Kids classes are also available in the mornings throughout the summer season.

Location: Across from McDonald's on Crta. de Ojen. Coming from Puerto Banus on A-7. Take the exit to La Cañada shopping centre. When you arrive to the roundabout, the dojo is in the basement of the south-corner building. 

Tel: +34 625 903 920 

Email: nina-smith@live.co.uk 

Facebook: Join now!
Impact Gym instructor profile
Leading one of the best equiped dojo's on the Coast 2002, British Title Kickbox Champion, Shaun James, and black belt kick boxer  Nina Smith, bring dedication and experience to Impact Gym that not only offers a variet of classes, but unlimited use of new gym equipment as well as newly refurbished showers and changing rooms is included in your membership.
Nina Smith
Nina Smith has been kickboxing for over 13 years with experience in teaching children and adults of all ages and all fitness levels. During her career Nina was the grading examiner in the UK for the juniors and helped run a very successful club in the UK. She also has experience with self defence and various other martial arts. She has also trained alongside some of best in the industry and was the first female in the club to be awarded a black belt under 5 times world champion Trevor Ambrose.
Shaun James
Shaun James has been training for the past 23 years in martial arts and kickboxing. Receiving his first black belt in freestyle taekwondo at the age of 11, Shaun moved into kickboxing at the age of 18 and was awarded his black belt in kickboxing at the age of 20 under instructor Trevor Ambrose. In 2002 he went on to win the British Title in full contact kickboxing. His fight career has included boxing as well as kickboxing which has even been screened on Sky Sports. Shaun has been teaching both children and adults for the past 13 years from complete beginners to title winners!
Get ready for kickboxing Marbella has never seen before!
5x world kickboxing champion Trevor 'The Chill' Ambrose (UK)
Trevor: "Dedicated and experienced"
There is a no better combination for a martial arts gym to run perfectly than Shaun and Nina, I have known them both for over 15 yrs and both have been awarded their black belts from me, Nina being the first girl...
...to have been awarded her black belt under Trevor Ambrose and Shaun being in the handful of men who have reached that level.
Both bring dedication and experience to the gym. Shaun a former British Champion with many fights behind him and Nina who has worked with many champions over the years as an instructor in one of the UK's top gyms, their knowledge of teaching and bringing the best out of their students is second to none, I wish them all the best.
Rebekah Holbrook (UK)
Rebekah: "Dedicated, excellent skilled instructors!"
I was privileged enough to have been under the instuction of nina and shaun for five years and in that time they were patient enough to teach me to become a lot better at kickboxing, for which I owe them a big thank you...
...Whether you want to just get fit, learn a new martial art, improve your sparring technique or even perhaps compete, they certainly are the people to teach you! They always made classes fun and gave me the motivation I needed to carry on. They are truly very dedicated, excellent skilled instructors!
Michelle Dower (UK)
Michelle: "So enjoyed her classes!"
Being one of the more mature and less fit attendees of Nina's ladies only classes, she somehow knew how far she could push me to get that extra couple of kicks, punches or push-ups. She certainly didn't let me get off lightly...
...I so enjoyed her classes, she never once made me feel inadequate or unable to participate. She always took time to give 1-1 tips on how to improve my style. As a result I achieved a fitness level and confidence not achieved before or since.
Ben Bignell (UK)
Ben: "Well respected kickboxing instructor"
I started kickboxing with Shaun in January 2009. I had no experience in any form of martial arts, Shaun was an excellent instructor who spent alot of time with his students, concentrating on every detail to ensure they got it right...
...He coached me from a total novice up to my green belt which was a massive achievement, his dedication and years of experienced really showed within the club and he was, and still is, a well respected kickboxing instructor.
Back to top of Impact Gym 
Return to Marbella schools & clubs 
Write your own review about Impact Gym