Marbella Holidays and Malaga Weather Top The Wish-lists
share this page with a friend
Fancy some of that fantastic Malaga weather and planning your Marbella holidays? To say that Marbella is the pearl of the Mediterranean is probably not much of an exaggeration. Situated on Spain's southern coastline, in the heart of the Costa del Sol against a stunning backdrop of the Sierra Mountain hills, Marbella has long been one of the world's favorite resorts, and Marbella holidays consistently rank among the most longed-for destinations right across Europe. After all, it has the best weather Europe can offer. And then there's the breath-taking contrast: one moment you're baking in the sun, then next you're enjoying the snow in Sierra Nevada!
Everyone who's anyone has or has had a home here. Marbella is known for its "jet set" and opulence and it remains the heart of Spain's considerable tourism industry. But it's not all glitz and glamour. Marbella also has a historic character and there's something here for everyone. Check out which Spanish holidays and festivals are taking place during your stay! 
When enjoying your Marbella holidays, don't forget the charming Old Town district is not to be missed as it's steeped in history and that special something which only exists in this part of the world, where the old meets the new. 
Marbella also has over 25 kilometers of beaches a number of pleasure ports and more hotels and restaurants than anyone could count. It is therefore no surprise that tourism is the hub of life in the Marbella area, driven by the famous Malaga weather. 
The choice of accommodations in Marbella is extremely broad, ranging from cheap hostels to spectacular seafront hotel complexes. Hotels in Marbella are busy all year round as the weather in this part of the world tends to b excellent year-round, ranging between moderate and steamy hot with too few cold days to speak of.
| | |
| --- | --- |
| | Cris & Kim Travel Designers in Marbella offer you an easy way to book an amazing experience in Andalucia for your family or travel group with a wide range of options to suit every interest and budget. |
Malaga Weather and Marbella Holidays Are Not Just About Sun, Sea and Parties
Among Marbella's main tourist attractions is the Paseo Maritimo - the famous boardwalk, stretching along the beachfront with stunning views; Plaza de Toros - the bullring with a capacity of around 10,000 spectators; and Puerto José Banús - a busy marina with many waterfront restaurants and shops, and a particularly vibrant nightlife. 
But the Marbella holiday attractions don't end there. Not only do you have the heavenly Malaga climate but there's also the Basilica Vega del Mar - ancient ruins of a 4th-century church, where many important excavations have taken place; Murallas del Castillo - the Castle Walls, a vivid reminder of the area's past, located in Marbella's Old Quarter; Las Bóveda - the Marbella Vaults, historic remains of Roman baths, with guided tours and well-preserved features; and Villa Romana de Rio Verde - significant remains situated on the outskirts of Marbella, with many archaeological treasures. Marbella also has a number of noteworthy gardens and parks, such as the Parque Arroyo de la Represa, the Parque de la Alameda and the Auditorio de la Constitución - which is situated alongside the seafront. 
And if you're a culture hound, then some of Marbella's main museums and art galleries include the Museo del Bonsai (an unusual bonsai exhibition) within the extensive grounds of Marbella's Parque Arroyo de la Represa; Contemporary Engraving Museum which also features artworks by Picasso and Miro; Municipal Exposition Gallery - situated in central Marbella, with many temporary exhibitions throughout the year; and the Casa Grande - with large gallery spaces and changing displays of paintings and sculptures. There's much more to Marbella holidays than sun, sea, parties and even Malaga weather!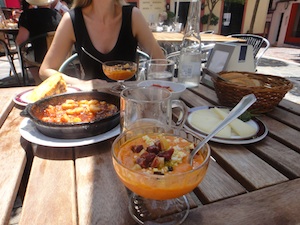 Elevating Your Marbella Holidays Beyond Malaga Weather
When thinking about Marbella holidays, keep in mind that most nearby towns are often looked at as mere "Marbella extensions" (they're not - but might seem like that to the uninitiated), and they include the popular coastal resorts of Malaga, Torremolinos and Benalmadena - all of which offer endless beaches, water sports, theme parks and nightclubs. There's much more to this place than the famous Costa del Sol weather! (Incidentally, the weather in Marbella in Spain is statistically the best in Europe!) 
And there's also Granada - two or three hours drive from Marbella - an exciting city with many ancient attractions, including the 13th-century La Alhambra fortress, Albayzin Walls and vast university campus. Or Seville - the fourth-largest city in Spain, to the northwest of Marbella, with endless historic buildings, churches and a spectacular 15th-century cathedral. Sevilla was also the home of World Expo 1992. Closer to home, there also Calahonda Beach with some of the area's best beaches, as well as Costa del Sol Equestrian Art School - in nearby Estepona, offering seasonal horse shows and displays. And we mustn't forget the Parque de la Naturaleza Selwo - a top animal park just a short trip from Marbella, full of exotic animals from around the world, together with educational information and gardens. The Malaga weather makes a visit to Selwo feel like you're somewhere in the middle of Africa! Last but not least, to add to the huge appeal of Malaga weather, there's also a quaint and unusually pleasant Fuengirola ZOO (aka Bioparc Fuengirola), perfect for an afternoon outing with the whole family during your Marbella holidays.
Back to top of page 
Top attractions in Marbella 
Write your own review about your Marbella holidays