Alhambra Granada: well worth the visit!
Marbella Family Fun

>
Marbella Excursions
> Granada
share this page with a friend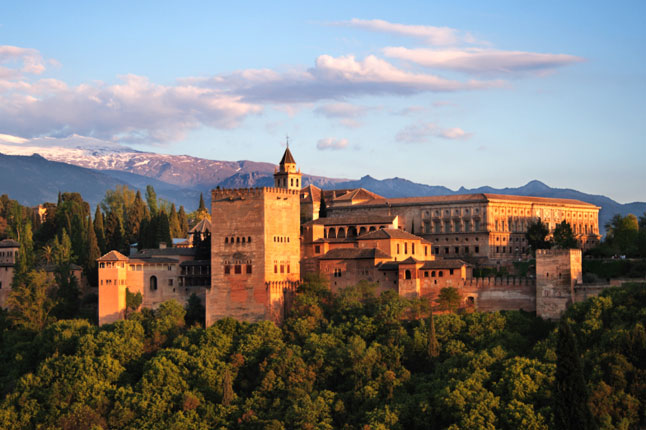 Alhambra Granada: This amazing palace and fortress is sometimes referred to as the 8th wonder of the world with its magical use of space, light, water and decoration which characterizes it as one of the most sensual pieces of architecture.
Built during the Nasrid dynasty in the 14th century, the Alhambra Granada was a masterpiece that was an attempt to create paradise on Earth. Even though modest materials are used such as plaster, timber and tiles, it is amazing to see how superbly they are worked into intricate details.
On the north side of the Alhambra Granada be sure to visit the Generalife and its cool gardens, which was the country estate of the Nasrid kings.
Tips for visiting the Alhambra Granada
Reserve ahead of time. Reservations to enter Alhambra Granada are essential. Make sure you reserve your spot before you go to avoid disappointment. The Alhambra Granada only lets 700 people in at a time so an appointment is highly recommended. 
Arrive early

. They can give your spot away to someone else if you are not on time. 

Beat the heat. It is hot in summer, especially in August. Go early in the morning and drink lots of water. 
Baby carrier friendly.

If you have small children use a carrier rather than a stroller if possible. Although strollers are allowed, some areas of the the Alhambra are not exactly stroller friendly.
The City of Granada
The city of Granada is the capital of the province of Granada, in the autonomous community of Andalusia, Spain and experienced both Roman and Visigothic influences. Granada is located at the foot of the Sierra Nevada mountains, at the confluence of four rivers, the Beiro, the Darro, the Genil and the Monachil. It sits at an average elevation of 738 metres above sea level, yet is only one hour by car from the Mediterranean coast and a two hour car drive from Marbella. 
Granada helds Spain's most glorious pieces of architecture that will leave your family in awe. It's a must see during an excursion to Granada which is approximately a two hour drive from Marbella.
Have you been to the Alhambra Granada? Please send us your review and grade. We would love to hear from your family!

What to see in Granada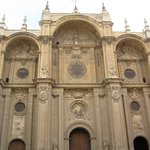 Granada Cathedral: Cathedral of the Incarnation, is the seat of the Archdiocese of Granada. Unlike most cathedrals in Spain, construction of this cathedral had to await the acquisition of the Nasrid kingdom of Granada from its Muslim rulers in 1492; while its very early plans had Gothic designs, such as are evident in the Royal Chapel of Granada by Enrique Egas, the construction of the church in the main occurred at a time when Spanish Renaissance designs were supplanting the Gothic regnant in Spanish architecture of prior centuries.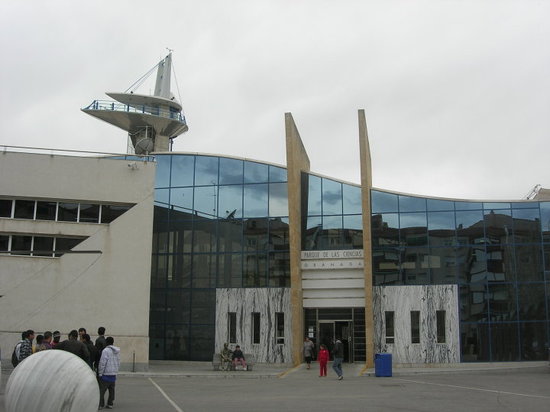 Science Park: The Parque de las Ciencias opened in 1995 and was Andalusia's first interactive museum. It covers more than 70,000m2  – the park is big. Very big. You'd probably need a couple of days to see it properly. As the museum is conveniently divided into sections, you can plan beforehand what you really want to see and leave the rest if you have any time. There are seven permanent exhibition halls and various areas for temporary exhibitions.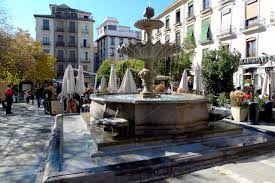 Plaza Nueva: New Square in English is in fact the eldest square in Granada. From Plaza Nueva in Granada, you can walk up to the Alhambra or sit in one of the terraces and have a beer after visiting Granada's monuments.  Around the square are several important buildings such as the Royal Chancellery and the House of Pisa, and nearby is the lively Calle Elvira, from where you can reach the Albaycin views form plaza nueva The Plaza Nueva was formerly one of the most important parts of the city where various tournaments, games and bullfights were held. 
Sierra Nevada
The Sierra Nevada: is a mountain range in the region of Andalucia, provinces of Granada and Almería in Spain. It contains the highest point of continental Spain, Mulhacén at 3,478 metres above sea level.

It is a popular year-round tourist destination. In winter, its high peaks make skiing possible in one of Europe's most southerly ski resorts. In summer, spring and fall, its warm temperatures and abundant sunshine make it popular for many different mountain activities.
How about a Spanish course while you are in Granada? There are schools which offer guided tours and Spanish lessons to maximise your experience in one of Spain's most beautiful mountain cities.
This particular school offers a wide variety of courses including: Spanish language, dance classes and fascinating programmes in Spanish history. 
For more information, check out Don Quijote Granada for specific dates, details and pricing.
Have a question or recommendation about Granada?
Do you have a question or specific perspective you'd like to share regarding Granada?

Share it here!
What Other Visitors Have Said
Click below to see contributions from other visitors to this page...

Granada Science Park - new Biodome

Granada Science Park also known as "Parque de las ciencias" covers more than 70,000m2 and is expanding. It is a wonderful scientific, educational and …
Ski Camp Sierra Nevada

Is there a Ski Camp for teenager in School holiday (Sierra Blanca)? Which Hotels can you recomend? Please answer to Annette-alt@t-online.de. Thank …
Ski clothing hire in Sierra Nevada

We are planning on going to Sierra Nevada between Xmas & New Year (our 1st time)... Do you know if there is anywhere to hire ski clothing up there? We …
Hotel Recommendations
Near the Alhambra: 


Downtown Granada: 

Alhambra Granada Evaluations
Son's evaluation: I went to Granada with my family and we went to visit the Arabic palace the Alhambra Granada. It was really nice because there were many trees, plants and flowers. The view from the towers was amazing as you could see the main parts of granada.

The carvings in the walls inside the Alhambra Granada were really impressive and I'm sure it must've been beautiful with all the colours that have faded over time. The guide that we had knew a lot about the Alhambra and there were some interesting facts, but for me personally it got kind of boring. 

They also have a souvenir shop and a little snack bar. Grade: 7.5

Daughter's evaluation: When we went on our trip to Granada we visited the Alhambra Granada, I thought it was going to be boring. But it was not as bad as I thought. 

Once we got there we were divided into groups according to the language that we spoke. We walked around the beautiful gardens looking at all the flowers, but the guide told us that the gardens were not there before. There was a lot of interesting information about the buildings and towers. We went to all the towers and gardens before going inside the actual Alhambra. 

All the buildings had different patterns on the walls and ceilings. During the tour we heard lots of things that we didn't know before and will be able to remember for a long time. 

There were so many pretty things to take pictures of. At the end I thought it was quite interesting.Grade: 8.0

Mom's evaluation:
I've been to the Alhambra Granada several times and am left in awe every time by its sheer elegance in architecture. There is a lot of walking, however, so be prepared and put on your most comfortable shoes, warn your kids and bring your strollers.
If you are going in summer it gets very hot in Granada, so be sure to drink plenty of water and wear lots of sunscreen.
The guides are excellent at the Alhambra Granada as there are so many stories to be told and lots of explanation that goes with each building. A really good guide will bear in mind that you have children and hopefully will skip long drawn out details and make it interesting for the kids.
If you have strong readers, be sure to buy them the Tales of the Alhambra by the American traveler Washington Irving (1783-1859). This book is sold onsite. It's best to combine this trip with a quick walk around Granada. There are many historical points of interest, but you will have to check to see if you have time to visit them as if you make this a day trip, you'll just have time for a lunch or early dinner before heading back to Marbella.
You´ll also have to consider the patience of your children as they may not find the Alhambra the best part of their tour if they aren´t "into it" and may be tired from all the walking done already.
In general, Granada is a bustling university town, so it's very dynamic in both the day and the night with lots of shops, cafes and restaurants. In the winter, there is an indoor ice-skating rink located in the center of town.
If you are looking to stay the night, then I can recommend the Parador Granada on site at the Alhambra. It's a convent that's been converted into a hotel, so it's small, but has lots of charm. It´s only drawback is that it's pricey. Grade: 10
Dad's evaluation: The Alhambra Granada is one of my favorite places in Andalucia. It allows you to immerse yourself in a critical time of Spanish history (the end of seven centuries of Moorish influence).
Touring the palace and its beautiful gardens, you cannot help get a sense of the sweet life the leaders of the Nasrid dynasty enjoyed. The architecture and its repeated carved decorations are remarkable. The use of water (fountains, jets, ponds...) throughout the gardens is thoroughly enjoyable on a hot Andalusian day. This visit can be a rich cultural and educational opportunity for the children if you can re-create for them a tale and visualization of the last years of Boabdil's reign. For that, it would be enough reading a few lines on the Alhambra Granada in wikipedia. It will make the trip more valuable. Grade: 10
Cameron's Family grade: 9.0

Mom: Our trip to the Alhambra Granada was amazing. Having a tour guide on this trip is essential and we got a really good one. 

Because much of the tour is outside, I would imagine this trip would be ideal in Spring or Fall but uncomfortably hot for some in Summer. We took our 6 year old and 11 month old. The tour was interesting and not too long for the 6 year old. 

Because the Alhambra Palace is NOT stroller friendly I would recommend using a baby carrier or make sure you have someone to help you lift the stroller on stairs. Strollers are not allowed inside the palace at all. 

It was a very very positive experience for our whole family. Grade: 9.0
Corinne's Family grade: 9.0

Mom: I have experience visiting Granada and the Alhambra for the new year, and it was great! Specially the barrio del ALbaicin facing the Alhambra Granada, splendid view! and eating and drinking the local Arabic specialities. 

About the Alhambra Granada, it's a must see, hire a guide it's a bonus! The last advice I can give, will be to visit it in spring when there are flowers everywhere, it makes the Alhambra more magical. Grade: 9.0
Yvonne's Family grade: 

Mom: I went to Granada in May and I loved it but I hadn't prebooked the Alhambra visit so I'll have to go back. If anyone is interested in going better to check beforehand about the visit as they only let 700 ppl in at any one time. We stayed in the Hotel Alhambra Palace it was just beautiful.
Natasha's Family grade: 8.0

Mom: The Alhambra Granada ( La Alhambra ) is a beautiful place to visit and a truly cultural experience, however we must've chosen the wrong time to go as a couple of mishaps spoiled the trip. We went in August at peak tourist season and the hottest month in Spain. We hadn´t really planned the trip and thought we'd just "wing it" and figure it all out once we got there. My biggest piece of advice is to buy tickets in advance.
When we got to our hotel, Hotel Alhambra Palace, which was conveniently located within walking distance to the Alhambra Granada, we thought we'd just book our tickets with the concierge. Unfortunately, it was too late and we were told to go stand in line at the ticket office at 7:00 in the morning. My husband then decided he would go ahead and get the tickets while I stayed behind with the kids. When he got back he told us we had to rush as we had an appointment for 8:00.
We didn't realize that you have to "make an appointment" to visit La Alhambra and if you missed your entrance time you simply wouldn't get in. So we skipped breakfast in a mad rush and ran up the hill to the ticket office. The kids were still tired as they were on "Spanish time" and had gone to bed very late the night before. They were tired and hungry and already complaining of the heat.
Once we got up to the ticket office we were told to go to a different entrance which was entirely on the other side of La Alhambra. Once again we dragged complaining kids to another site and finally got in. We organized an audio tour with the portable headphones, but couldn't get them to work in English, so we just tried figuring everything out ourselves. It wasn´t too bad as the fortress is beautiful and a pleasure just to look at.
The tour of the Alhambra Granada would've been more interesting for my kids if we were better planned. I also suggest that you don't go in August as the heat made my kids miserable. Once we got through the tour we decided to eat elsewhere. So our trip was a little spoiled by the whole morning fiasco, but I do strongly recommend to go for a visit, only with good planning.
However, we thoroughly enjoyed the evening before at the flamenco show that we bought tickets for at the Generalife which is also on the grounds of La Alhambra. It was a wonderful evening show that took place outdoors under a beautiful sky on a warm night. My kids (10 and 5) also really liked it, only keep in mind that the show takes place at about 10:00 at night and goes on until late in the evening.
We also highly recommend the hotel that we stayed at - Hotel Alhambra Palace. It was a very nice hotel with good service and amenities and was really conveniently located. Grade: 8.0