Selwo Aventura - Estepona
share this page with a friend
Marbella Family Fun

>
Marbella Attractions
> Selwo Aventura - Estepona
Selwo Aventura is a safari park located at the entrance of Estepona, just 15 minutes away from Marbella. You were there? Please send us your review and grade. We would love to hear from your family!

This wildlife adventure park of one million square meters offers its visitors the chance to see over 2000 animals from every continent roaming in semi-free conditions.
How to get there: A7- Autovía Costa del Sol, exit km 162,5. 
Opening hours vary according to season, but generally closed from December-February. From March-June open 10:00-18:00 (till 19:00 on weekends) and July and August have extended closing time until 20:00. Check out their website for more opening days and times. 
Tel: +34 902 19 04 82 
Email: selwo@grpr.com 
Website: www.selwo.es

MarbellaFamilyFun grade: 8.3
Son's evaluation: Selwo Aventura is a place where you can experience rare animals. If you want to look around, you should take the truck that travels around Selwo. However, the food was really bad. Grade: 9.0

Daughter's evaluation: I like the petting zoo because you could touch lots of animals. The best part was watching the monkeys. The food was bad. It was fun going over the really wobbly bridges. Grade: 7.0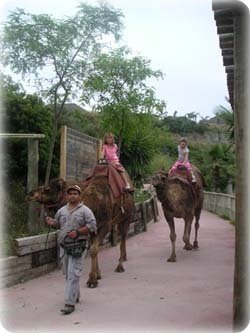 Mom's evaluation: This a great place to see plenty of animals roaming free in their natural habitat. You can easily spend 3 hours, half walking and half riding in open-air jeeps. 
There is a friendly petting zoo where kids can see amd touch farm animals (don't forget your wet wipes!). There is quite a bit of walking, so make sure you bring strollers for little ones. Although, I am not sure how you get across the three wobbly suspension bridges with them on your way back down. Once you reach the top the jeeps drop you off and there is a fun trail walk to the bottom. 
On the way to the exit you can cross through an aviary where there are lush gardens and lots of different types of birds. If you have a stroller I think you can probably take the jeeps back down instead of doing the trail. 
Don't wait to eat until you get to the top. Although it is a larger restaurant, the food is horrible. It is better to eat burgers/hot dogs at the cafe near the bat caves on the second level. Grade: 9.0
Dad's evaluation: Selwo is a large park where you can spend a whole day. We enjoyed the monkeys, the truck ride, the camel ride, the suspended bridges... Bring a snack as the cafeteria is pricey and not very good. On hot days, it can be quite tiring - do not forget your sun block. The good thing: kids tend to sleep well at night after a visit to Selwo... Grade: 8.0

Belaiche family (Marbella) grade: 8.0

Mom: We really liked Selwo Aventura wildlife park. It was so nice to have a safari-type excursion seeing animals roam free in the wild as opposed to being locked up in cages. The kids loved seeing all the animals and particularly liked the little petting zoo they had at the beginning of the park. We even saw newborn piglets. 
We managed to see the park in about 3 hours and got to the very top in the safari jeeps and walking back along the trail crossing several suspension bridges along the way. We got there mid-day and found it to be extremely hot. It is now August and the heat is quite unbearable so we really appreciated the water sprayers that are strategically placed throughout the park at various points. 
My 6 year old got really tired towards the end so we skipped the aviary atrium and just took the jeep back down. 
Although we had a good time at Selwo Aventura, one of the biggest disappointments was waiting for the jeeps to take us up the first hill. First of all, we had a hard time finding them as the pick-up point wasn´t very well marked. Everyone told us it was near the monkeys, but we had such a hard time finding it. After we finally got there we sat in the jeeps but they didn´t move for 40 minutes! So we wasted quite a bit of time just hanging around waiting for them to go. I wish they had a sign or something posting the departure times so that we could have walked around a bit more discovering the park. 
Other than that, we enjoyed our experience and highly recommend others to visit Selwo Aventura. Grade: 8.0
Vigdor family (Moscow) grade: 8.3

Boy (7 yrs): I like at the zoo the leopards and the meerkats. I do not like the elephants. I loved the ice-cream. I do not like all the zoos, but I liked this one. Grade: 7.0

Boy (6 yrs): It was really nice, great animals - you should go there many times...good ice cream...good playground Grade: 9.0

Boy (8 yrs): Great playground....animals good and nice...hot in hot season - be prepared and if you live in Russia you would like it. Grade: 9.0

Pablo's family (Marbella) grade: 9.0

Boy (10 yrs): It's fun and it 's a good place to learn about animals. Grade: 9.0
Evelyn's family (Marbella) grade: 8.0

Girl (11 yr old): There are lots of animals and it is big. Grade: 8.0

For a great selection of places to stay for your family next to Selwo, you can visit Marbella Hotels for more information.