marbella catering
share this page with a friend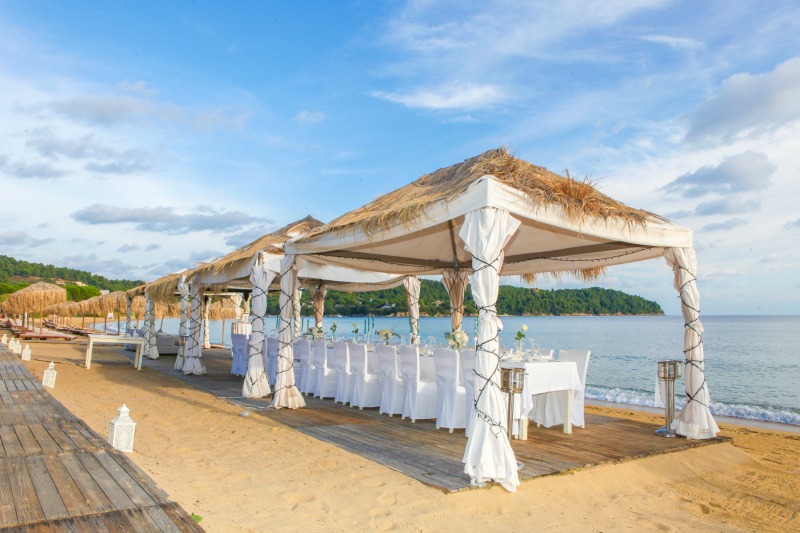 This Marbella Catering Guide offers you the latest updates on recommended caterers and catering companies for weddings and parties in Marbella and the Costa del Sol.
If your wedding or party event is held in a private villa or marquee, you are going to need a caterer to serve the food and drinks to your invited guests. There's a variety of caterers in Marbella and each has their own speciality, so take your time to choose the right one!
As with a cake designer, location is important so find out where they are located and pay them a visit to check out their kitchens and storage facilities. Marbella gets hot in the summer and you don't want raw chicken to be out in the heat for too long, so ensure they have the mobile facilities to make sure your wedding banquet is of top quality.
Have question or tip on caterers or cake makers in Marbella?
Share your question or tip right here!

What others have said about caterers and cake markers in Marbella
Click below to see contributions from other visitors to this page...

deposits
Caterers can ask for deposits of between 30% and 50% and usually want to get paid the remainder of their fee in the week leading up to the wedding. The initial deposit is generally not refundable due to the fact that the caterer can't book another wedding on the same day, so they will block this date off completely for your wedding.

tastings
Even caterers will organise tastings, but they usually only get done once their service is booked. You can ask for menus beforehand to see if you like the dishes they cook, and you should ask for their portfolio to see what the design of their dishes is like. If you like what you see and you know their kitchens are well looked after, you are generally good to go.

During the tasting, don't be afraid to give the chef your comments. Chefs can be scary people, but in the end, they are just that, people, and if you want a slice of tomato on that steak, then so be it!
You should also do a wine tasting and make sure to take pictures of all the dishes so there's no confusion about what the dishes should look like on your wedding day.
exclusivity
Before choosing your catering company, you will need to check with your venue if it is ok for you to bring in an outside caterer. Some venues only allow their own caterers, or only use their own suppliers, so to avoid unnecessary headaches, check with your venue first.

staffing
Always ask how many staff will be allocated to your wedding. The general rule of thumb is 1 member of staff per every 10 people. This is only during dinner, after dinner there is likely to be less staff. If you realise there are fewer staff than you expected, ask them how much it would cost to have additional staff. Some catering companies will charge extra for additional staff or additional hours, so make sure you agree in advance how many staff you will have at all times so you know the service will be good on the day of your wedding.

Crockery
Most catering companies include all the crockery, cutlery and glassware in their quotes, but to be clear, you should always check. Some will even include tables, table cloths and chairs, but again, this might be an additional charge, so make sure you double check before you sign a contract so you won't find yourself short of equipment a week before your wedding day!

cake makers in marbella
Wedding cakes are easily underestimated! Many will think, "Oh, I will get to the cake at some point", thinking it will be the easiest part of their wedding, but they could not be more wrong.
There are designs to choose from, the flavours, and what about people with allergies? When are you going to serve it? And how about a cake topper? 
You also really want to make sure your cake designer is a professional and does not just work from her kitchen, storing your cake in the shed! (trust me I have seen it happen!)
location
When choosing your cake designer, ask them where their shop or workshop is and request a visit. This should put your mind at ease at once. You will see the actual baker and you can check if their kitchens are up to standard.
You can also find out there and then if they have done many cakes before and ask them for their portfolio if you're looking for inspiration.
deposit
Once you have decided on your wedding cake and wish to book the cake designer you are happy with, you should expect to be asked for a minimum 30% deposit, some even ask for 50% and this is not uncommon.
The remainder of the money will be paid upon delivery at the venue after the cake has been set up and you have checked it over (or your wedding planner has!). You should leave an envelope with the remainder of the money at the venue, or with a trustworthy person, so they can pay the cake designer when the cake has been delivered and set up.
tasting
Every cake designer should offer a cake tasting, which is usually free of charge if you have booked the services, or you might pay a little money if you haven't yet booked them.
You can ask for this money back once you have decided on the cake designer of your choice. Don't worry about asking for different flavors and designs, they will be happy to find out exactly what it is you like.
related sites to marbella catering