Woodroffe Carvery – San Pedro De Alcantara
by Morris Bishop
(San Pedro de Alcantara)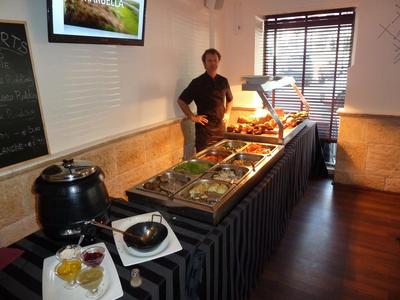 Keith's Carvery
UNFORTUNATELY WOODROFFE CARVERY HAS CLOSED ITS DOORS.


Woodroffe Carvery – San Pedro De Alcantara December 2012 & February 2013
In the beginning
Meet husband and wife team Jonathan & Elka, who together with Carlos, Dmitri, and Keith the chef participate in the running of the Arden Pig Company that can deal with events of any size, The offshoot restaurant that they started about 3 months ago, quickly gained a reputation for good food at fair prices served in pleasant surroundings.
When first I visited, they were opening Thursday, Friday & Saturday for dinner, and for Sunday lunch with a carvery menu, but by late January, they planned to re configure the layout into part lounge/bar, and part Fusion restaurant serving an a'lacart menu weekdays and a Sunday carvery lunch. However, after a short time, they listened to their customers feed-back, that told them to bring back the weekday carvery. Hence the delay in submitting this review.
Experiment by all means, but cater to your customers wants!
So now they open for a dinner carvery on Friday & Saturday with a DJ after 10pm, and for a Sunday carvery lunch. Thursdays are for special event dinners. (see their website for details).
Last Sundays full house, was a thumbs up to their pragmatism.
Our February visit
The rearrangement they have made are certainly a great improvement, with a proper carvery area (see photo) and a flexible dining/lounge area.
Most of the starter are old favorites such as Prawn cocktail, liver pâté, deep fried brie, garlic bread, or soup of the day, all priced at 5 euro.
For the carvery, the options of Beef, Pork, Turkey, or a selection of each, are served in big, or gluttonous portions at 12euro and 15 euro complete with Yorkshire pudding, good roast potato and all the trimmings. Hurrah for al-dente veg.
The traditional English Desserts that are on the menu are, priced at 6 euro are:
Apple crumble, sticky toffee pudding, steamed coco pudding, Ice cream and Bread & butter pudding. Don't tell anybody, but this latter rivaled my wife's superb version!
The portions of meat served with the smaller size meal were generous, and both the Turkey and the Pork were moist and yummy, all to be topped off with lovely crackling. With the price of Beef sky rocketing in recent months, the cut on offer, although nice in texture and available from bloody to ruined, could have been more flavoursome. But I do understand the economics in play here.
Average price of the Carvery + starter, dessert, and drinks 25 euro
The restaurant seats about 60 and is in C/ Tolox Beware the one way system (see map)
Reservations on 951206144 or 651334301
web www.ardenpigcompany.es/restaurant.php events@ardenpigcompany.es
Bishlin marks out of 5
Ambiance 2
food 3
menu 3
value 3
service 3
price band 2
O/A 3
---
Check out Morris' restaurant reviews:
MARBELLA
Restaurant Guey
Restaurante Rafa
Restaurante Albert & Simon
Marbella
La Sala Nueva Andalucia
Marbella
La Navilla
Marbella
Wok
San Pedro
Resturant Nueva Campana
Marbella/La Campana
El Medioevo
San Pedro
Restaurant Nuevo Reino
San Pedro
OUTSIDE MARBELLA
Peggotty's fish and chips
Estepona/El Pilar
Arroyo Hondo
Casares
Thapa Thai
Estepona port