Restaurant Nuevo Reino
by Morris Bishop
(San Padro)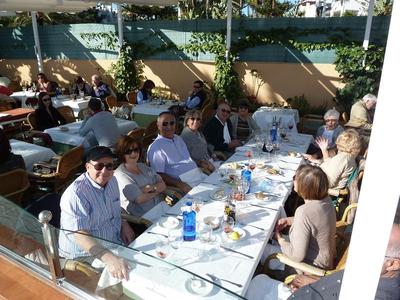 Birthday party
Restaurant Nuevo Reino San Pedro de Alcantara


Where better to celebrate a birthday in late December than by the Mediterranean in gorgeous sunshine in one of THE beachside restaurants on the Costa del Sol. For the last 20 years, it has been one of our favourites for many reasons, not least amongst, is that they have never disappointed us.
We were a party of 12 (very individual characters) that ordered a whole range of Starters and main courses including one of their specialties Sea Bass in salt, seafood Paella, Tornados Nuevo Reino, Sole's meuniere and grilled, suffice to say that without exception all the guests were delighted with their meal.
The attention to detail that the staff display match the general ambience, of what is, a well practiced operation that really does add to the enjoyment of the diner.
El Patron is Pepe Romero affectionely known as Pepe Blanco, because he is always dressed in white. He occasionally parks one of his collection of 6 beautifully maintained vintage American cars by the restaurant which is a sight to behold. The family owned business was started 1957 and is now into its third generation.
The restaurant has several dining areas, one of the inside ones seats up to 100, and the terrace can take 70, They open for Lunch and dinner in the Summer months but have a winter closing day of Wednesdays - Reservations on 95278 8896 or 95278 6666 – you will find Nuevo Reino 100meters to the east of the statue of a Ballet dancer on the San Pedro Paseo Maritima in urb Castiglione Playa.(see map)
Website www.nuevoreino.es Email them at nuevoreino@telefonica.net
Average price of a three course meal with wine 45euro
Bishlin marks out of 5 ambience 4 food 4 menu 4 service 4 value 4 O/A 4
---
Check out Morris' restaurant reviews:
MARBELLA
Restaurant Guey
Restaurante Rafa
Restaurante Albert & Simon
Marbella
La Sala Nueva Andalucia
Marbella
La Navilla
Marbella
Wok
San Pedro
Resturant Nueva Campana
Marbella/La Campana
El Medioevo
San Pedro
Woodroffe Carvery
San Pedro
OUTSIDE MARBELLA
Peggotty's fish and chips
Estepona/El Pilar
Arroyo Hondo
Casares
Thapa Thai
Estepona port