Sunday Lunch at La Sala Nueva Andaluia
by Morris Bishop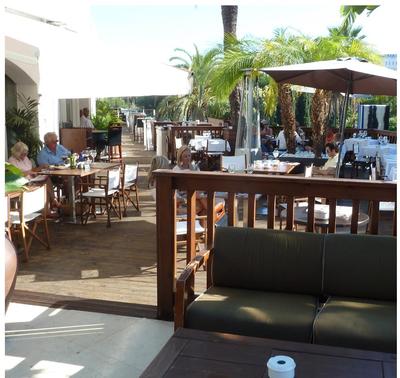 Sunday lunch at La Sala Nueva Andalucia September 2012


The one and only time we had eaten at La Sala in the past was for an evening meal In March 2011. For obvious reasons, we were in the dining room, and we found It extremely noisy to the point that we were not in a hurry to return. ( I guess some people like this)
However, hearing only good reports of La Sala, we venture back last Sunday to lunch on the terrace. We are greeted by the familial face of one of the waiters who used to work at El Pariso and we decide on their Sunday roast special.
Back in days when I used to scribble the odd restaurant review for the Sunday Sun, I organized a competition for the best Sunday lunch on the coast which was won by Harbour Lights * in Puerto Cabopino. Well I must tell you, if La Sala had been going then, they would have been tops!!
The beef was tasty, and, rare or 'ruined' as individually ordered, the 3 veg were all al dente, with a separate ramekin of cauliflower with with onion sauce, the Yorkshire puddings were light, crispy, and massive, and separate gravy and horseradish sauce were served without having to ask for them. Desserts were equally as impressive as the main dish although it seemed to me that they used a dry sherry in the trifle! But some of our party enjoyed this!
So what do I know!
The menu is quite impressive consisting of some 24 starters ranging from the soup of the day at 7.50 euro to a Crostini of Iberican ham, Manchego cheese, Olives, and tomato 19 euro, with pretty much all of the more popular first courses In-between. 32 Mains make it almost impossible not to find something to please, With 13 fish, 13 meat, 3 surf & turf and 3 vegetarian dishes it is nicely balanced.
From a small Caesar salad 9 euro and La Sala Beefburger with trimmings 12.95 euro to Fillet Mignon and half Lobster at 36 euro, but with an average price of about 23 euro, and knowing the quality of food to expect. This, represent good value, particularly when you put in to the mix the high standard of service that we experienced, and the ambience of the dining room and terrace, plus valet parking, and live music in the evening.
The wine list has something for all tastes (and pockets) with the red, white & rose house vino 'ordinare' all priced at 13.75 euro, the house premier at 18 euro, and Marques de Monistrol, is the house Carva at 19 euro. The one omission I noticed was the Marques De Caseres white, a reasonable priced Rioja wine, much underrated in my opinion.
A new La Sala is about to open in San Pedro de Alcantra and I look forward to eating there very soon - but as for the one in Nueva Andalicia – reservation on 95281 4145 (central reservations so make it clear where you want to book for) or :reservations@LaSalaBanus.com – They are open every day - to find La Sala: it is on the round about shortly after going under the N340 into Nueva Andalucia (see map) Average price of a 3 course meal with wine 48 euro
Based on the Sunday roast
**Bishlin marks out of 5
ambience 4½
food 5
menu 4½
service 4½
value 4
o/a 4½
Morris Bishop
Notes:
*
For the last 10 or so years the ex owners of Harbour Lights, Elaine and Ian, now run a boutique hotel that they converted from an old olive oil mill situated about 10 km north west of Ronda, and as far as I know, Ian is still the chef!
You can read all about them on www.hotelmolinodelpuente.com phone 667433887
**
In case people are interested the Bishlin marks awarded, the out 5 points are based on the following criteria:
a) categories:
Ambience
Food
Menu
Service
Value
Price
Overall
b) detail.
Ambience:
Includes not only the general surroundings and décor of the restaurant, but tableware, cutlery, crockery, crystal, comfort, music, dancing, etc.
Food:
Points are awarded not only for the quality and freshness of the produce, but for the culinary skills demonstrated by the chef, and the flavors he achieves, as well as the visual presentation, and serving temperatures of both food and wine.
Menu:
Is indicative of either the selection available, or its interesting content. The higher the number, the more likely you are to find something to please.
Service:
Is the attention to detail, and the degree that all the staff are seeking to please.
Value:
These point are the perception that a meal is either cheep or dear. The higher the number, the greater was the satisfaction that "What was paid" was good value for "what was given".
Price:
Numbers are indicating the € (euro) price band of an average meal with wine , inc IVA.
1= up to 10
2= 11-20
3= 21-30
4=31-40
5= 41-50
6= over 51
UK entries are in £
Variations:
Comparisons between Restaurants and other types of eating houses such as Fast-food Fish & Chippies, beach bars, tapas bars etc. should not be made.
Where possible, the points are awarded on a like for like basis. So one could have a five start fish & chippy!!
---
Check out Morris' other reviews:
MARBELLA
Albert & Simon
Marbella
La Navilla
Marbella
Wok
San Pedro
Resturant Nueva Campana
Marbella/La Campana
El Medioevo
San Pedro
OUTSIDE MARBELLA
Peggotty's fish and chips
Estepona/El Pilar
Arroyo Hondo
Casares
Thapa Thai
Estepona port
---
What makes a restaurant's good 'Bottom Line'