Resaurante Thapa Thai in Estepona Port
by Morris
(Estepona)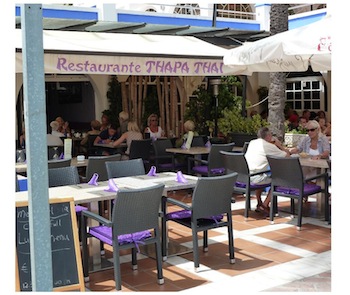 Resaurante Thapa Thai in Estepona Port
Resaurante Thapa Thai in Estepona Port


Asian cuisine has always been one of my favorites, so when we discovered
Thapa Thai about 7 months ago, one inevitably tries to compare this with other Thai Restaurants (see * below). Since then we have returned to Thapa Thai six times.
Consistency is one of the important attributes that convinces diners to come back time after time. One mediocre meal, for what ever reason, has the potential to alienate a hitherto loyal customer and send them to the abundance of competition that is available on the coast.
No such problem faces Char Lee who is the owner of Thapa – naturally every one calls him Charlie, and what an amiable host he is. Having been open for barely 18 months, he has built up a reputation that, one would hope, should see an increase in clientele, for on every occasion, consistency has been the hallmark of the food, service and value that he offers.
The terrace overlooking the marina seats 40, and a further 36 in the pleasantly appointed interior.
The extensive menu covers all the traditional Thai dishes and lots more, in total there are about 115 to choose from. Even though there is a 1, 2, or 3, 'HEAT' symbol by some of the items, Char will adjust these to taste.
We usually go 8 or 10 handed, and we each chose one dish for communal use which gives us the opportunity to try a host of different delights, and without exception there is always unanimous approval.
The restaurant in is the port of Estepona to the west of the entrance on the first line facing the marina at No. 13 Edf. Poniente. There is a car park just to the west of the restaurant that Charlie gives a free 2 hour ticket for (between October and March) or a free car park just above this.
Open for lunch and dinner every day. You can book on 951318445 or email thapathai@hotmail.com
Bishlin marks out of 5:
Ambience 4
Food 3
Menu 3
Service 3
Value 4
O/A 3 1/2
Average meal with wine 25 euro Menu of the day
* Other Thai restaurants that are in the Bishlin guide are:Sukhothai
in Marbella
Ambience 3
Food 3
Menu 3
Service 3
Value 3
O/A 3
Thai Gallery
N/Anderlucia
Ambience 4
Food 4
Menu 4
Service 4
Value 4
O/A 4
Naga
Puerto Banus
Ambience 4
Food 4
Menu 4
Service 4
Value 4
O/A 4
---
Check out Morris' other reviews:
MARBELLA
Albert & Simon
Marbella
Restaurante Nueva Campana
La Campana/Marbella
La Navilla
Marbella
Wok
San Pedro
La Sala Nueva Andalucia
Marbella
Thapa Thai
Estepona port">El Medioevo San Pedro
OUTSIDE MARBELLA
Peggotty's fish and chips
Estepona/El Pilar
Arroyo Hondo
Casares
---
What makes a restaurant's good 'Bottom Line'