Restaurant Wok San Pedro
by Morris
(San Pedro de Alcantara)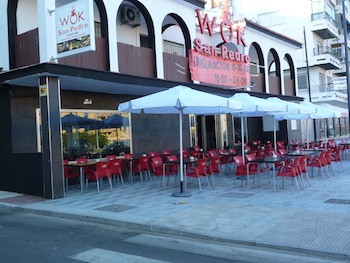 Restaurant Wok San Pedro
The latest addition on the restaurant scene in San Pedro de Alcantara is the Wok. I am sure, by now, most people know how a wok buffet works, but in case I am wrong, here is a brief description:


In a dining area capable of seating about 180 inside and 50 outside, there are Ban Marie's set up for 80 cooked ingredients, many of them are favourites from Chinese and Thai cuisine, as well as an assortment of Sushi, and Sashimi.
Then there are the raw Meat, Fish, Shellfish, and vegetables that you can select and to take to the Wok, Teppanyaky, or Bar-B-Q for cooking.
With a modest selection of desserts, ice creams, and fresh fruit to follow.
I will not attempt to list what's on offer, suffice it to say, if you can name it, in all likelihood it will be there, including Crab, Lobster, and Dim sum!
The choice, for some people can be daunting, and because all of this is for one set price, there is a big temptation to over eat, but this is a real family happening, kids love it, as do their parents, and for the budget minded, a lunchtime meal costs 9.95 euro and an evening meal 11.95 euro with children from 4-8 years eating for half price. Drinks are extra and all are +8% IVA. Fiesta days are priced at 12.95 euro.
The grand opening was in the evening of 15th June 2012, and the owners, Xiao and Lan greeted their diners warmly. They ran La Luna, a small sushi bar in the pedestrian precinct of San Pedro. This is a much bigger undertaking and they should be proud of the operation they have created, not only because of the quality, freshness and variety of the ingredients, but also how smoothly the first day went. I was amazed at how many people seemed to know of the opening, because their only publicity, as far as I could determine was only a banner outside. We only found out by accident on that very morning.
We enjoyed the experience very much, albeit with some difficulty in identifying some of the less obvious dishes (please add labels). Of the 5 other Woks we have been to, this is among the very best, possibly THE best, we will see on our repeat visit, whenever that is, if this standard is maintained.
Stats:
There is no closing day. They can be reach on 951969047 and by email woksanpedro@gmail.com, although reservation are not necessary, unless you have a very large party. They open for lunch from 12:30 to 16:00 and for dinner from 19:30 till midnight. Their web site is www.woksanpedro.com where, amongst other things, they will have a take-away menu available shortly.
The Wok is situated on the North side of Avda Luis Braille (N340) Car parking on the wasteland opposite – approach from the west to access this. Bishlin marks are difficult for some categories, because the Service is by you to a great extent, and Food marks usually include not only the quality of the produce but elements of cooking skills and presentation, both of which, by necessity, are quite basic,
but out of 5:
Ambience 2.
Food 3.
Menu 4.
Service 2.
Value 4.
O/A (overall) 3.
---
Check out Morris' other reviews:
MARBELLA
Albert & Simon
Marbella
Restaurante Nueva Campana
La Campana/Marbella
La Navilla
Marbella
El Medioevo
San Pedro
La Sala Nueva Andalucia
Marbella
OUTSIDE MARBELLA
Peggotty's fish and chips
Estepona/El Pilar
Arroyo Hondo
Casares
Thapa Thai
Estepona port
---
What makes a restaurant's good 'Bottom Line'