Peggottys Fish and Chips
by Morris Bishop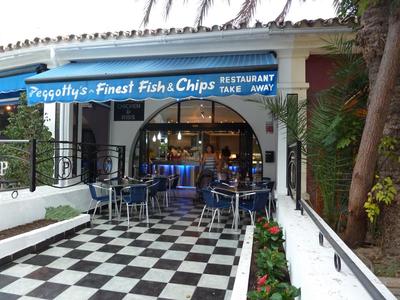 Peggottys Fish and Chips
I know when I start complaining to my wife that "The cleaners are shrinking my trousers again" that its time for me to eat less.
The fish'n'chippy Peggoty's in El Pilar does not help me one bit! There should be a ban on the temptations that they blatantly boast about on their menu, and a law should be introduced limiting the size of the portions that they serve.
That said, the mere fact that I'm writing this is making me salivate! I can not be a judge on any of the non fish offerings that they cook (chicken – ribs – pies – sausages - burgers and more), because, on the innumerable times during the last eight years that we have dined there, it's always fish, fish, and more fish!
Help from the friendly staff is at hand to select from the fishy menu between Cod, Haddock, Place or Whole tail Scampi 13.95€ and Cod Roe 12.50€
A selection of Burgers range in price from 9.50€ to 14.95€ - Sausages 10.50€ Chicken in a bun for 11.50€ to 12.95€ - 3 alternative Pukka Pie's 11.95€ - lots from the rotisserie & the grill, and a dozen side orders to pick from. Chips are included in all the above and they are the real, thing, cooked to perfection in their own special way. (they are so morish, they should have a warning to that effect on every portion!) They offer salad instead of chips and of course Mushy Peas 3.00€ or Coleslaw 2.00€
With my weight problem I'm not even going to list the deserts.
I suppose, in my fairly long lifetime, I must have eaten at over 40 or 50 fish'n'chippy's, but Peggoty's, I judge to be the finest when considering a) the quality of the fish, b) the batter, c) the chips d) the portion, and e) accompaniments –
I find it irksome that I can't fault any of these, and this means that I have no argument with their motto of
"Taste the difference"
I really believe that if they were to offer "Satisfaction or your money back", they would not get any takers!
Costa Karkaletsos & daughter Xanthe run an ultra modern restaurant and take-away, that seats 50 inside and a further 70 on the closeable terrace. There is forecourt parking for 6 or 7 cars, plus, a reasonable amount space in the one way street. Unless you intend taking a large party, bookings are usually not needed, but because we like a particular table we book on 95288 3666 They can be found at 8-10 Edf. Benapilar which is on El Pilar 29680 See map
Opening hours are from 18:00 till 23:00 from Monday to Saturday, Fishy-Bishlin marks out of 5 ambience 3 food (fish) 5 menu 4 service 3 value 4 O/A 3
Average meal and drink price 22 €. There is a Kiddies' menu for the under 13's, and a take away menu that is priced to reflects this.
Note: it is difficult to make a comparison between Fast Food eateries and general restaurants, but I hope my perceptions are taken in the context that this is a fast food operation and that the marks I have given reflected this.
Morris Bishop
Read more about
Peggottys Fish and Chips
restaurant.
---
Check out Morris' other reviews:
MARBELLA
Albert & Simon
Marbella
La Navilla
Marbella
Wok
San Pedro
Resturant Nueva Campana
Marbella/La Campana
El Medioevo
San Pedro
La Sala Nueva Andalucia
Marbella
OUTSIDE MARBELLA
Arroyo Hondo
Casares
Thapa Thai
Estepona port
---
What makes a restaurant's good 'Bottom Line'