Moving to Marbella Spain
by Marbella Family
(Marbella)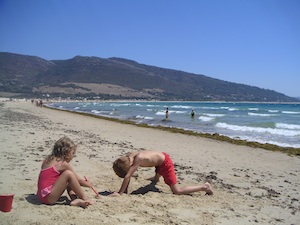 Moving to Marbella Spain
Moving to Marbella Spain


Several years back, our family decided to move to Marbella after a long stint in Russia. So, why Marbella?
We were in the fortunate situation to be able to choose most places in the world as our various business activities could totally be controlled with internet, skype and very few trips.
We chose Marbella, because of its
great quality of life.
Naturally, this general concept depends a lot on your personal situation. However, there are objective reasons why the quality of life on the Costa del Sol is so good.
1. The weather.
A lot has been written about
Marbella weather
and its micro-climate. It is a fact, however. We do not know many other places in Europe with over 300+ days of sunshine.
2. The pace of life.
Andalucia is a region where people take the time to enjoy life. The general ´rhythm of the day´ with its late morning, lunch at 2pm and dinner at 9pm or much later, followed by a late night, is a habit easily acquired!
3. The people.
In general, Spaniards are very friendly and sociable. It is enough to witness the atmosphere on an evening near a tapas bar to see how easy it is make some friends and acquaintances.
4. The setting.
Does anyone not like living by the
beach
? Only the people preferring the larger cities, mountains or the deserts. Well, we have all this in Marbella. Malaga and its
international airport
is only 40 minutes away. We can ski 2 hours away in
Sierra Nevada
, and the ´desert´ starts 30 min inland…
5. The culture.
The rich history and traditions of the South of Spain provide for great atmosphere, entertainment and enrichment.
Flamenco
,
bullfighting
, the crossroads of various civilizations are at the core of Andalucia´s identity.
6. Food.
Excellent seafood, fried or grilled, great meat, outstanding ham and
cheese
. Great tradition in wines. The Mediterranean diet is delicious and healthy.
7. Infrastructure.
Marbella offers a good infrastructure with all quality services for a mobile family (
school
,
health care
,
airport
…). Although Marbella only has an official population of 120,000 residents, the infrastructure is sized up for a much higher number as the
population may reach one million in summer months
.
8. Foreigners.
So many people cannot be wrong! The Costa del Sol enjoys a very cosmopolitan atmosphere. Many ´Northerners´ have decided to settle here, probably for many of the same reasons listed above. It makes this area very interesting and particularly easy to settle in.
One can probably add much more to this list, but these are the reasons that compelled us to move to Marbella. We are enjoying our life here and feel privileged to enjoy our time in the sun.
And did we mention football?!?…