Marbella Thanksgiving
Thanksgiving is not widely celebrated here in Marbella, however this American holiday is a topic that comes up frequently on MarbellaFamilyFun.com. If you'd like to celebrate a Marbella Thanksgiving, here is your guide to all things Thanksgiving. 

share this page with a friend
Thanksgiving Day is the fourth Thursday in November, but many Americans take a day of vacation on the following Friday to make a four-day weekend. The day is typically spent with family and friends, with an abundance of food, and many watch or play American football.

The holiday dates back to 1621, the year after the Puritans arrived in Massachusetts, determined to practice their dissenting religion without interference. After a rough winter, in which about half of them died, they turned for help to neighboring Indians, who taught them how to plant corn and other crops. The next fall's bountiful harvest inspired the Pilgrims to give thanks by holding a feast.
Marbella Thanksgiving celebrations are a fun way to meet  people with similar interests so if you go to a Thanksgiving dinner or party in Marbella, don't be shy. Be sure to say hello to the person next to you. You never know, they might come from your home town.

Marbella Thanksgiving Dinner Celebrations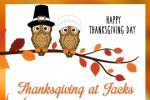 Jacks American Brasserie is offering a special three-course menu and special Thanksgiving themed dinner. On the menu:
Cream of pumpkin soup
Roast turkey with sweet potato mash
Candied carrots
Brussel sprouts
Stuffing
Cranberry sauce
Turkey gravy
Coffee
All for just €15!  Also face painting and goodie bags for everyone!
---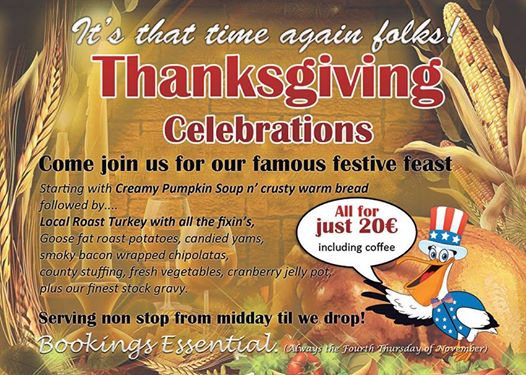 Yanks is serving up a Thanksgiving feast. It is absolutely essential to make reservation as this event sell out every year. On the menu:
Pumpkin soup
Local roasted turkey with all the fixin's
Goose fat roasted potatoes
Candied yams
Smokey bacon wrapped chipolatas
Country stuffing
Fresh veggies
Cranberry sauce
Coffee
€20 per person
Typical Thanksgiving Foods
While every family has their own unique idea of what foods should be on the Thanksgiving table there are come common threads that will be found at almost every Thanksgiving feast. 
Turkey
Gravy
Stuffing 
Cranberry sauce
Mashed potatoes
Yams or sweet poatoes
Brussel sprouts or green bean casserole
Pumpkin pie
Pecan pie
Where to Find a Turkey and Thanksgiving Supplies in Marbella 
Many people go all the way to Gibraltar for Thanksgiving supplies, but you can find almost everything you'll need right in and around Marbella.
Iceland - has frozen turkey in their freezer section. They also sell jarred cranberry sauce.
Hipercor - Costa Marbella - in El Corte Ingles - Frequently has turkeys in they poultry department this time of year. 
Andreas Carniceria - you can order a turkey from this very popular and well respected butcher in Marbella.
Anducia Ecologico - last year we ordered an organic turkey from Andalucia Ecologica and I can honestly say it was probably the best turkey I have ever had.
Alcampo at La Cañada this grocery store is huge. You are sure to find all your Thanksgiving needs here.
Marbella Thanksgiving Related Articles:
If you have a tip on anything related to Marbella Thanksgiving celebrations, let us know at Share a Tip.