Puerto Banus beaches
share this page with a friend
Enjoy the Puerto Banus beaches, just west of Marbella. You were there? Please send us your review and grade. We would love to hear from your family!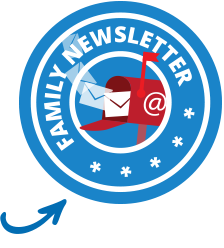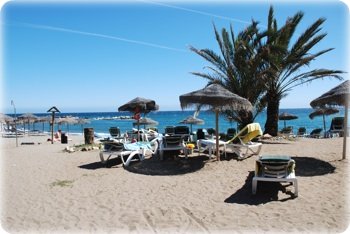 There are two main beaches in Nueva Andalucia / Puerto Banus:
Nueva Andalucia beach
A long (1050m) and popular strip of fine sand which includes El Duque and La Siesta beaches on the west end of Puerto Banus marina. Click here for location.
Puerto Banus beach/Playa de Levante
Also known as Playa de Levante or Levante Beach, this beach has a pleasant board walk(1000m) along a popular beach on the east side of the famous Puerto Banus port.
Click here for location.
MarbellaFamilyFun grade: 9.0
---
Son's evaluation: The Puerto Banus beaches have a cove so there are no big waves. The water is very, very shallow. There not many rocks but there might be some sharp rocks. In August it's crowded and there's barely any place to sit. A lot of people fish there. Grade: 8.0
---
Daughter's evaluation: I really like this beach because the sand is very soft and there are no rocks. When you go into the water you can go so far in but only have the water up to your knees. The water is also very warm. The sand is not too hot. Grade: 9.0
---
Mom's evaluation: This strip of beach is just heaven compared to its neighbor San Pedro beaches. The best patch of beach in this zone is the area in front of the Guadalpin Banus hotel where there is a little cove. This prevents the waves from coming in too strongly and keeps the water very shallow which is perfect for little ones.

I like it particularly because the water is a bit warmer as well and I can wade and play longer with the kids. To be honest, I´m a bit of a wimp in cold water and can´t stand very long in it. There is a beach bar and restaurant along this area that looks very nice, but seems a bit pricey.

Massage tables are available in front of the hotel and at the restaurant. I´d skip the massage in front of the hotel as a friend of mine who decided to have a go was very disappointed with it.

We´ve tried the restaurant Los Espigones which is located to the east of the Guadalpin Banus hotel just one cove over towards Puerto Banus. We have friends who absolutely love this place so we decided to try it. While waiting for our table we decided to hang out at the beach right in front of it. I was disappointed that it wasn´t like the cove in front of the Guadalpin Banus hotel, which is also called Mistral Beach. The beach in front of Los Espigones was rocky and the water was deeper than its counterpart the next cove over.

If you prefer hardly any waves, nice clean rock-free sand with shallow waters then go to Mistral Beach. To the west of this cove is another part of the beach that also has nice sand, but doesn´t have a cove so the waves are big and will please older children. Grade: 9.0
---
Dad's evaluation: Grade:
---
Jenny's family (New York, USA) grade: 7.0
---
Mom: The closest beach to the downtown movie theatre, just East of the walkway/yacht harbor was particularly fun for two reasons. Aside from being a nice calm beach, the kids loved sitting in the pod shaped black wires seats on the beach. Order something from the beach bar and you can sit at your own little pod. The big rock piling alongside the beach looks like loads of fun to jump from.

We didn't have swim clothes, but saw a lot of kids jumping from them. my two begged me to come back so they could jump off the rocks. My daughter thought it was fabulous to sit in a basket while eating chips. Grade: 7.0

---
Back to top of Puerto Banus beaches
Write your own review about Puerto Banus beaches
Return to Marbella Beaches
Apr 06, 19 08:07 AM

The Marbella Football Academy - a high-performance Football Camp in Marbella enabling kids from 4 to 16 years of age to develop and excel in football.

Mar 26, 19 02:11 PM

Just a quick tip if your needing a NIE Number in Marbella... I was very happy with my self, read all the websites about getting your own NIE Number in

Mar 26, 19 02:09 PM

I am an enthusiastic and experienced teacher. I taught Biology/Science/Maths in Ireland from 2005 and gained my PGCE in University College Dublin in 2012.