Restaurant Nueva Campana
by Morris Bishop
(Marbella)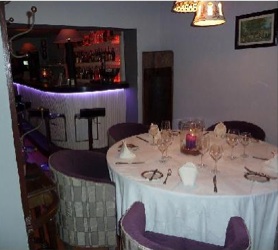 Restaurant Nueva Campana
Gastro-prenour Garry Wait (until recently 'el patron' at El Rincon on Rodeo Beach) has put together a team of professionals to deliver food, ambiance, and attention to detail at a price that does not break the bank, to please his many followers.


Restaurant Nueva Campana has been opened for about 9 weeks, and during that time I must have eaten there 4 times. The restaurant seats about 40 inside and a further 30 on the terrace, it has a pleasant bar and lounge area where you can relax, study the menu, and place your order.
It is commendable that Scott, the maitre D' has such a depth of knowledge
of the menu that he will describe in detail each of the dishes ingredients and how they have been prepared.
I have lost count on how many times in the past I have eaten food prepared by David, the chef, as I have been an avid follower of his gastronomic endeavors, to the point that there would be utter amazement if he were to present me with a plate of food that wouldn't please me.
The menu, that has about a dozen starters including some classics like Coquille St Jacques – Moules Mariniere – Lobster Bisque and pan roasted Foie Gras. Whilst for mains, there are 4 fish, a chicken and a lamb dish, as well as 8 dishes from the chef's grill, mainly steaks but includes a couple of fish and a char grilled breast of Chicken. A half dozen chef's Specialties such as Tournedos Rossini and Roast Suckling pig. Roasted vegetable and goats cheese 'Wellington' is the offering for vegetarians, If you can face it, a choices of 8 items on the desert menu.
Sunday lunch time menu is somewhat different – The price of the main course includes either a starter or a desert.
Restaurant Nueva Campana can be found at 68 Avnda. Miguel de Cervantes on Nueva Andalucia
Telephone 95281 4041
Mobile 667075208
Website: www.nuevacampana.com
Tuesday is their rest day. For those of you not familiar with the area see map attached. Average price of a three course meal with wine 35 euro.
Bishlin marks out of 5 – Ambience 4 Food 4 Menu 4 service 4 value 4
---
Check out Morris' other reviews:
MARBELLA
Albert & Simon
Marbella
La Navilla
Marbella
Wok
San Pedro
El Medioevo
San Pedro
La Sala Nueva Andalucia
Marbella
OUTSIDE MARBELLA
Peggotty's fish and chips
Estepona/El Pilar
Arroyo Hondo
Casares
Thapa Thai
Estepona port
---
What makes a restaurant's good 'Bottom Line'
Nueva Campana
by Morris Bishop
(San Pedro de Alcantara)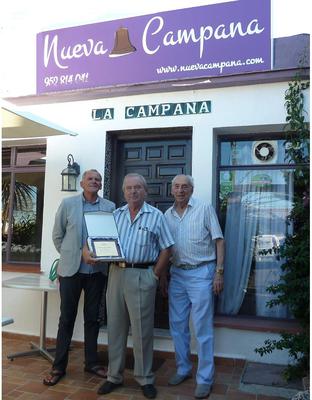 Richard Codd, Garry Waite, Morris Bishop
It all started 22 years ago when I was submitting restaurant reviews to Garry Waite, the co-Founder and columnist writer of the Sunday Sun newspaper, and I made a suggestion 'that we really should have a competition to find the restaurant with the best Sunday lunch. Thus started a chain of events that were to unfold, over two decades later, in Garry's restaurant winning the 2015 award.

The original 1993 challenge was won by Harbour Lights in Cabopino, that in those days was run be Elaine & Ian, who subsequently bought, rebuilt, and now run, Molino de Puente, a small hotel & restaurant near Ronda. And they, as defending champions, were automatically entered In this years event.

From a short list of 20, the field was whittled down to the final 10 who competed for 10 Sunday's to gain the votes of the Cool Deal membership that participated.

Besides sponsoring, and administrating the challenge, Richard Codd also Generously donated a 100€ voucher to be drawn from all those voting, and this was won by Fiona Sweeten. The runner up was El Oceano who lost out by only one vote!

I am still writing restaurant reviews, now published as The Bishlin Guide on MarbellaFamilyFun.com

Nueva Campana are on Avnda. De Miguel de Cervantes in Nueva Andalucia.

Phone +34 952 814 041 or +34 629 273 765

A big vote of thanks to all 10 of the restaurants competing, and to Cool Deals for making it possible.

MoBi.

DATE: June 2015