Marbella English Television: Marbellanow

share this page with a friend
Marbella Now serves as a portal between the Marbella town Hall and the 140 plus different countries nationalities in our community and helps us get to know one another better for social, cultural and economic benefits. Through this daily show aired at 2.00pm and 9pm every week day on RTV Marbella (compilation show on Saturday mornings) we meet and merge our cultures & economic backgrounds; promote local charities, associations, organisations & businesses, address the legal and administrative challenges of living abroad, with an insight to property, entertainment, restaurants and cultural places to visit and emblematic events not to be missed. Join Nicole King and her guests to know who's who and who does what in Marbella. 
Let us help you keep up to date, network and communicate with our resident community to enjoy all the opportunities that our city offers - #BetterTogether #MarbellaNow - keeping you connected.
To find out how Nicole King can introduce new customers to your business via local radio or television, contact her directly at her details below:
Marbella NOW is the Marbella English television show and is hosted by Nicole King, a long-term expatriate of Spain and a local expert on Marbella. Nicole is an expert in market research and brand management, credited with launching numerous global products in Spain from Disney, WGSN, BeSafe Pregnant and Chromagen, which operates in over 100 opticians in Spain today.
Both Marbella NOW and its accompanying radio show, MiMarbella, are official programmes sponsored by the Marbella Town Hall featuring regular contributions from MarbellaFamilyFun.com and other guests on all the latest things to see and do for international families on the Costa del Sol.
Don't have time to watch at the scheduled time? No worries!  You can stream all episodes right to your computer or mobile device.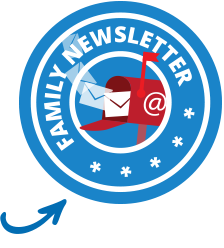 MarbellaNow English TV Programmes
Click the links below for previously aired broadcasts.
Want to review previous MarbellaNow programmes?
Click below to see the archive of previously aired programmes.
find out what's going on in Marbella - RIGHT NOW!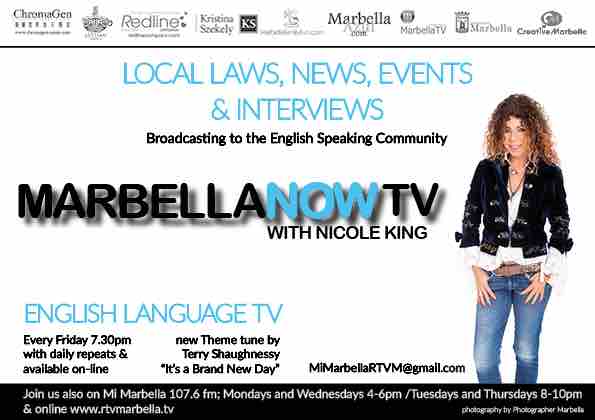 MarbellaNOW and MiMarbella are initiatives designed to enhance the city's outreach to its growing expat resident community in Marbella.
If there's a topic you'd like to see addressed on the show, let us know about it at MiMarbellaRTVM@gmail.com - we'd be glad to share your feedback with the programming team to insure you get the absolute best coverage on Marbella. 
The host of MarbellaNOW, Nicole King, also broadcasts a local English-language radio programme called Mi Marbella with Nicole King, featuring news, events and special guests on topics related to the Costa del Sol.  
You can hear Nicole's program at Radio Marbella 107.6 FM at the following times:

Mondays, Wednesdays from 4:00pm - 6:00pm
Tuesdays, Thursdays from 8:00pm - 10:00pm
Do you have something relevant to families that you'd like to share on these Marbella English language programmes? Let us know about it.  We'll review your input and consider it for a story!
Looking to promote your local Marbella business, organisation or event? Here's a way you can source original video content for your business and share it with your own customers. Consider using MarbellaNOW or MiMarbella to boost your message.
MarbellaNOW airs weekly at the following times:
Original Broadcasts: Fridays at 5:30pm
Repeat Broadcasts: Saturdays 10:00am, Sundays 6:30pm 
Total Monthly Broadcasts: 48
Online Streaming
MarbellaNOW is a weekly programme in English, run in collaboration with the City of Marbella and Marbella RTV. The programme targets the local expat population which officially includes 137 nationalities.
MarbellaNOW the only English TV programme on Marbella and offers businesses a unique opportunity to build a relationship with local residents, visitors, companies and associations within the Marbella community. Furthermore, it is the only programme in English available from hotels specifically regarding Marbella. 
Interviews conducted on MarbellaNOW last approximately 5 minutes, enabling businesses and organisations to provide and overview of their messages. Each interview is re-broadcast 12 times on television and is available for streaming online.
Businesses can also sponsor a specific spot, for example, a community-oriented feature. As a sponsor, businesses are entitled to show their logo immediately before the sponsored feature. The logo will appear 48 times within a 30 day period.
Businesses looking for even more effective outreach can also include a 60-second infomercial in the programme, which will be broadcast 48 times on MarbellaNOW and and also 32 times on the MiMarbella radio programme.
The content will be directed, produced and edited by the programme host and you will be provided a copy of the content for your own use. Prices are subject to change at any time so please contact MarbellaNOW for details.
For further information about how to reach viewers and listeners of MarbellaNow and MiMarbella, contact by phone at +34 610 700 617.
ADDRESS for marbellanow
MarbellaNOW - MiMarbella with Nicole King Radio Television Marbella (RTV Marbella), Plaza Marques de Salamanca, s/n, 29603 Marbella, Málaga