MarbellaNOW: Programme #85 - 05 August 2016
by Nicole King
(Marbella)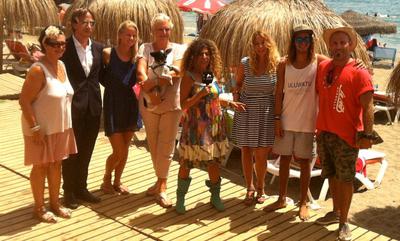 This week on MarbellaNOW Nicole hosts a series of interviews and stories including:


• Noel Bohorquez talks about the new Artisan Market
• Patrick Grant, solicitor talks about important local administrative up-dates on living in Marbella.
• Inez Robinson from Costa Women talks about a new woman's Viagra.
• Lily Von Tongeren from Triple A is looking for homes for the rescue animals.
• Kara Robertson of The Boardwalk organizes another charity fashion show for ALEGRI - Animal Aid & Rescue
• Natalie Stuart Fox, Reality Star is at one of her favorite venus The Boardwalk
• Henriette Skali Ward and Ann Helen Lukkien are hosting the charity fashion show at The Boardwalk introducing their on-line boutique Bronze and Golden.
• Interview: Annika Um from i-Marbella
• Interview: Gustavo Kiguelman owner of La Red restaurant and his team.
• What's on with Marbella Azul where Roz James shares the latest on
Feria Las Chapas
, 11th Moraga Carnavalesca, Charity Show for Aspandem,
Freestyle show
and much more.
MarbellaNOW
is Produced & Directed by Nicole King – Camera & Sound Raul Sánchez – Editing Antonio Ortega. For more information, visit:
MarbellaNOW