MarbellaNOW: Programme #86 - 12 August 2016
by Nicole King
(Marbella, Spain)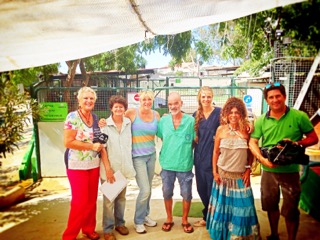 This week on MarbellaNOW Nicole hosts a series of interviews and stories including:


• Trip to Triple A Animal Rescue Centre.
• Solicitor, Patrick Grant keeps you in touch with the local laws that matter to you if you're living in Marbella.
• Simple Spanish with Anne Sventstrup Mogensen.
• Sergio and Estella Bloema open a healthy food alternative in Manuka.
• Interview: Isabel Rodad from the Tai Chi Association
•What's on with Marbella Azul where Roz James shares the latest on
The Sea of Music concerts
,
Starlite
,
Simple Red Concert
and more.
* Ladies if there's something you'd love to know more about but never dared ask, contact us for Inez Robinson to follow up for you - last week Women's Viagra was the topic of conversation - send us your queries to
MiMarbellaRTVM@gmail.com
MarbellaNOW
is Produced & Directed by Nicole King – Camera & Sound Javier de la Ossa – Editing Antonio Ortega. For more information, visit:
MarbellaNOW
* If you have a problem or query about living in Marbella or if you have you had a bad experience please contact us to see if there's something we can do to point you in the right direction, send us your queries to
MarbellaNOW