books about marbella
share this page with a friend
Books about Marbella are not easy to come by so we've put together this handy list of top reads recommended by others who have done the legwork. If you've got a tip on books about Marbella or the Costa del Sol that you'd like to recommend, post it to the comments section below and share it with the community right here!
discover marbella & San Pedro Book
This unique, engaging and fun book follows the journey of two characters - a Marbella girl and her friend the baby octopus. The book teaches us about famous Marbella landmarks, history, mysteries, gastronomy, natural heritage and some of the characters that have become a part of the city's history over thousands of years.

This is the perfect gift for children or adults who love Marbella! Discover Marbella & San Pedro offers readers a fun and engaging overview of the evolution of Marbella, starting from prehistoric times through the 21st century.  The book is presented in both English and Spanish - side by side - so it also acts as a fantastic language tutorial for those looking to improve their skills in either language.
This 29 page hardbound book can be purchased online and delivered to you direct. It is a charming coffee table book or great addition to the family library. Whether you've lived in Marbella your entire life or visited for a short holiday, you are guaranteed to learn something from this beautifully crafted and written book.

Key Sites & Maps: You will enjoy seeing familiar landmarks and sites on the Costa del Sol presented in friendly illustrations. Each image is complemented with fun facts that you are sure to learn from, for example, when the Phoenicians established themselves on the Marbella's beaches!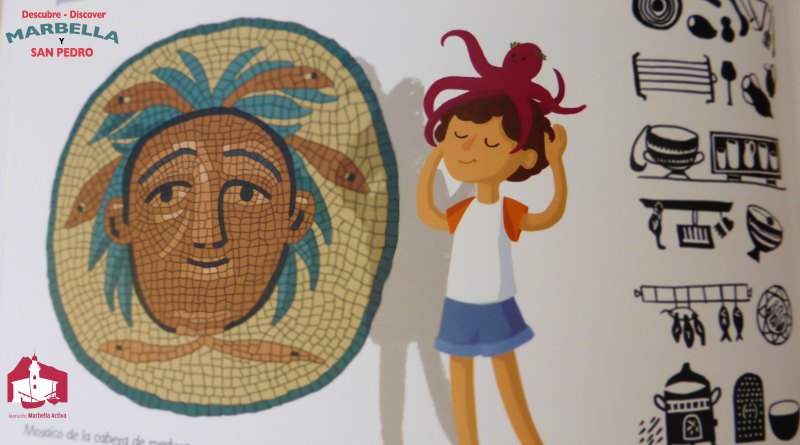 Fun Characters: The authors and illustrators of the book took great care to create familiar imagery that captivates readers. These help to make the book both entertaining and highly informative. This image, for example, highlights the famous Medusa head mosaic which can be found among Marbella's Roman ruins.
Contemporary Marbella: In addition to the hundreds of amazing facts you'll learn about Marbella's history, you'll also see a charming depiction of its modern era, staring from the 1950s when the town emerged as a premiere destination for celebrities, royalty and local personalities.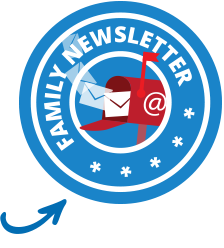 This book makes for a fantastic gift for kids, teens and adults of all ages and can be purchased here. Delivery is offered for residents of Marbella by a friendly eco-friendly courier service. For deliveries outside of Marbella, books can be shipped by domestic or international post.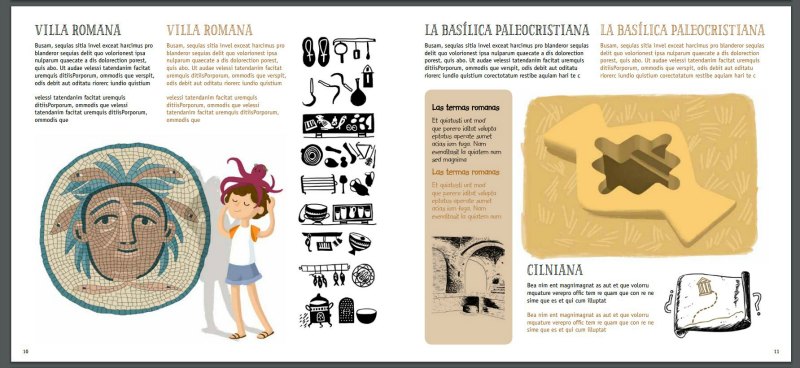 about the book's authors and illustrators
This book was the brainchild of the Marbella Active Partnership organisation in order to build awareness about the unique historical and cultural attributes of one of the world's most popular holiday destinations. The book was authored and illustrated by Javier Lima, David Bailón and María Corredera, who has also illustrated a similar book on Granada.
Starting from the premise that "One cannot love what is ignored" the Marbella Active Partnership aimed to build curiosity among children and adolescents about the history of their city, its heritage, its customs, attractions and cultural identity. There has been surprisingly little written about these topics, until now.

The first edition of the book was distributed to schools in Marbella and San Pedro Alcántara. It is presented in full, radiant colours with more than 60 illustrations throughout in a hardcover binding.
Among all the books about Marbella we've seen, this is by far the most entertainig. To get your copy today, click here.
Related links to books about marbella
Our favourite local bookstore is Bookworld in Puerto Banus
have a tip on great books about marbella?
 

Post an article about your book about Marbella
Do you have a book recommendation for the community? Share it here!
Related articles on Marbella Books
Click below to see contributions from other visitors to this page...