Marbella Tour Guide
share this page with a friend
Make the most of your time with our Marbella Tour Guide if you have only one day to spare in this lovely city on the Costa del Sol.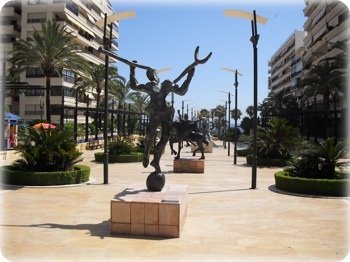 Marbella in one day
If you only have a day to see the sights in Marbella, then follow our Marbella Tour Guide - a list of the top things for you to see and do. Since Marbella is a small town with little traffic, having a vehicle should enable you to see all of Marbella´s main sights in a single day. Or, why not rent a bike? Although the Costa has lots of attraction parks for children, we do not recommend you visit them if you have only one day in Marbella as just one amusement park would take a whole day and you would miss out on a more cultural view of Marbella.

Puerto Banus
Our day starts at Puerto Banus – a marina and landmark of Marbella where the yachts of the rich and famous are parked encouraging looky-loos to walk by slowly to admire the glitz and glamour. Puerto Banus is not only a marina for yachts, but it is also the center of fashion where you will find high-end boutiques such as Louis Vuitton, Versace and Dior, and the most famous shopping center on the Costa del Sol, El Corte Ingles.
Puerto Banus is the place to see and be seen so if you haven´t been to Puerto Banus, you haven´t been to Marbella. Get to Puerto Banus by 10:00am, and you may sit and have a mid-morning coffee to watch the passersby. If you have smaller children with you, then bring some old bread or biscuits to feed the fish at the port. It is a great distraction for the kids if you need to buy some time.
If you are visiting Puerto Banus on a Saturday, then it would be worthwhile to hit the local street market near the bullring just north of Puerto Banus.
Casco Antiguo
Our Marbella tour guide then recommends you head out to the Old Town Marbella, also called Casco Antiguo. Parking is best found at the main underground parking lot at Parque Alameda in between Casco Antiguo and the Paseo Maritimo.
As you exit the parking lot you will find yourself in front of the famous Alameda Park with a beautiful fountain and its exotic plants and trees. It is a small park so a quick stroll is easy enough to do and see it all, as you are heading towards the old town pedestrian area. There, you will find charming cobblestone roads and plenty of boutiques.
If you are in the Casco Antiguo on a Sunday then most shops will be closed (excluding during summer), however it is still a beautiful place to stroll and there are plenty of cafes that should be open. You should head out straight to the Plaza de los Naranjos (Orange Square) where you will find a beautiful open square with lots of orange trees. If you haven´t had lunch yet this is a good place to have it or at least have a drink under the orange blossoms.
While in Orange Square you should look around and admire the Town Hall (Ayuntamiento), the historical fountain, bust of King Juan Carlos and Chapel of Santiago. Then our Marbella tour guide suggests you stroll along the beautiful narrow paths getting lost and looking into the patios filled with geraniums, potted plants and other natural decorations. One way or another you will wind up at the main church, Iglesia Mayor de la Encarnacion, with its beautiful cobblestone inlay square. Take a quick peek into this simple yet charming church built in the 16th century.
You are now close to the ancient Arab castle walls, which are mostly ruins so you aren´t able to actually walk on to them. Take a look around and you are sure to find them.
Paseo Maritimo
The Marbella tour guide now recommends you to head toward the parking lot again and to the beach. Cross the main street once again, as well as the Alameda Park. You will now see the beach from here and should use the pedestrian walk called Avenida del Mar which displays fabulous statues created by Salvador Dali. Once you reach the beach you will be on Marbella´s main boardwalk called el Paseo Maritimo. Facing the beach, turn right and you will pass many shops, kiosks and restaurants where you can take another break or have an ice cream with the kids. If the weather allows, then it is an excellent time to kick off your shoes and head towards the water for a little beach time.
In the summer, this boardwalk and these beaches get pretty crowded, but it all adds to the ambience. If you are planning on eating dinner here in the summer, it is recommended you either arrive early or make reservations.
After a dip in the sea the kids may enjoy a short city tour train ride on El Trenecito or visit the city by horse carriage. After this you may want to scope out a nice restaurant for dinner or head back to your accommodation.
This ends your one-day Marbella tour guide. If you are in Marbella for more than one day, check out our 3-day Marbella visit and one week or more Marbella visit.
Recommended eateries in Puerto Banus:
Terra Sana 
Picasso Pizza 
Gambrinus – Plaza Marina Banus 
La Moraga 
Platinum Sushi
Recommended eateries in Old Town Marbella:
Cassanis – Calle Ancha 8 (tel: 952 900 450) 
Altamirano – Plaza Altamirano 4 (tel: 952 824 932) - where Michelle Obama had dinner in 2010
Recommended eateries on Paseo Maritimo:
Da Bruno´s - Edificio Skol (tel: 952 90 33 18) 
La Red - Playa de la Fontanilla 6 (tel: 952 821 450)
Read more about what to do on your Marbella holidays 
Top attractions in Marbella 
Back to top of Marbella Tour Guide