Marbella rentals - long or short term?
share this page with a friend
Marbella Family Fun

>
Marbella Accommodation
> Marbella rentals - long or short term?
There are several things you need to consider when looking for Marbella rentals. Are you looking for a short term rental, a long term rental, or a holiday rental? Is it important to be on the beachside or near a golf course? What kind of amenities do you need? What is your budget? Do you need shops and restaurants to be within walking distance?
Long term Marbella rentals
The most cost effective way to find a place to stay is to agree to long term rentals in Marbella. Usually, the longer you rent, the lower per month charge you will get. Long term Marbella rentals can vary from several hundred euro per month for a small one bedroom apartment to several thousand euro per month on a nice villa, so do your research and stick to a budget. 
If you are looking for long lets Marbella offers literally hundreds of agencies to choose from. Our personal experience has led us to try several agents until we find an agent we click with who quickly understands our needs and stick with them. Here is a list of recommended long term rental agencies.
If your are considering moving to Marbella or are thinking about buying a home on the Costa del Sol, you may want to rent a home here before making the big leap to give yourself a chance to "dip your feet" into the Spanish lifestyle to see if this is the right decision for you and your family. 
Short term or holiday Marbella rentals
Short term rentals can get quite expensive, however when you compare them to a hotel stay during your Spain vacations, it comes out to be considerably cheaper. The advantage for families large and small is that renting a villa or apartment gives a lot more room, a kitchen and possibly a private pool and play area. You may pay several hundred euro per night for a nice hotel, but you can get a large apartment on the beach for the same price or a fraction of the cost depending on your location. 
There are also literally hundreds of agencies offering services for short term rentals, so scan the internet for properties that offer good quality photos and locate them on a map to be sure you are happy with the location. For cheap holiday rentals it is best to scan "direct from owner" websites. They offer "no frills" service and is the most economical option if you are on a tight budget. It helps a lot to find sites with reviews from previous visitors to help weed out the poor locations. 
If you are willing to spend a bit more, then going through an agency can offer all the services of a first class hotel and concierge, such as"meet and greet" service at Malaga airport, maintenance service, complimentary welcome pack, car hire service, green fee booking, yacht charters and more. 
One agency that offers short term rentals direct from the owner is www.ownersdirect.co.uk. I like this site because it really gives loads of information on the home and the owner profile makes the rental experience a little more intimate. It's nice to know who you are renting from and is just as important as knowing who you are renting to. I also like Spain-Holiday.com, so it's worth taking a look at what they have to offer.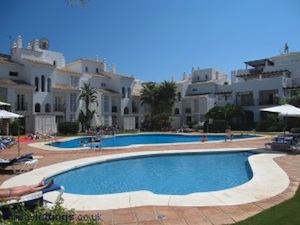 Top 5 Marbella rentals tips
1. If it all possible, avoid high season when looking for Marbella accommodations on your next holiday to the Costa del Sol. Prices significantly increase during the summer months of July and August for both hotels and long and short term Marbella rentals. Marbella has an extended summer, so you can still find yourself sunbathing and swimming in the sea from May to October. For more information on local weather patters, check out our page on Marbella weather. 
2. Try to avoid paying by wire transfer or check. It is best to pay your marbella rentals with a credit card, because most companies offer some type of protection in case there is ever a dispute. 
3. Avoid renting a property from an owner that will only be contacted by email. Try calling the owner and get more details of the home. Ask for more photographs of the rental property to make sure you are happy with your decision. A good owner won´t hesitate to give you extra details. 
4. Make sure you understand what your priorities are. If you absolutely need a property nearby stores, restaurants, or a pharmacy, make sure you ask the owner or agency about it. If you will be renting a home with a large group, be sure to confirm the property has enough table ware for meals, a barbeque if that is a priority, or a gate around the pool if there are children around. Make a list of priorities and check them and double check them. 
5. When looking for a place to stay in Marbella, don´t hesitate to look outside the borders of the city. San Pedro, Elviria, Cancelada and Estepona have some of the best rental properties in Spain at much lower prices than their more central counterparts. East Marbella is well known for the most amazing beaches on the coast, so you should consider this area and others when looking for Marbella rentals.
Back to top of page