Fuengirola Adventure Golf
share this page with a friend
Fuengirola Adventure Golf is a great place to test putting skills for all ages. You were there? Please send us your evaluation and grade. We would love to hear from your family!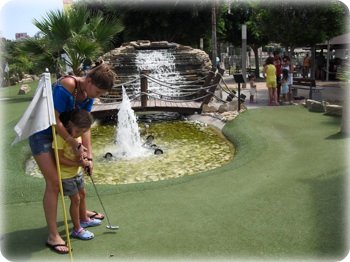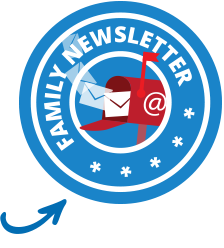 This 19-hole miniature golf course is located just 20 minutes from Marbella. The water interacts with the golf in 10 holes out of the 19, offering a great way to spend a sunny day for the whole family.

Location: Off the main highway A7 in between Dunnes Department Store and the Wok Directo Restaurant. Visible from the main A7 road. You will find the site across the river from the major Eroski Shopping Centre and the Miramar Beach Hotel Complex. The footbridge leads you to the entrance.
Hours: Open every day (except Christmas day and if it´s raining ) from 1:00pm in the winter and 3:00pm in the summer until the last booking at 11:00pm.
Price: €7.50 adults, €5.50 under 16 years, €20 family
Tel: +34 951 26 00 67
Email: colin@ogro.org
Website: www.fuengirolaadventuregolf.com


MarbellaFamilyFun grade: 8.7
---
Son's evaluation: It was really fun. I went with my friend and we had a great time. There are 19 holes; some are hard and some are not. There are a few fountains which is not very good because the ball can go in the water. In some holes you have to hit the ball over the water or in the tube or through the rocks...

My favourite hole is when you have to hit the ball on a little stream of water so it will fall in the hole. When you get your ball and club, they give you a pencil and paper.

At the bar, they sell smoothies that looked good, they have a mini football table and a pool table. Grade: 9.0
---
Daughter's evaluation: I am not very good at mini golf but this place was really good. On some of the holes there was an obstacle and on some none. Usually if there was no obstacle, then there would be a rock covering the way a bit or it would be uphill. On number 17 you had two choices either doing it straight or you could do it through a spiral thing. If you you did it through the spiral it would be easier to get a hole-in-one.

One of the other numbers had a river where you have to hit the ball in the river and let it roll down on it's own. On that one I am sure you will get it in one shot but maybe not. After you finished the game if you have kids with you, you could have a drink (smoothie or cocktail) and the kids could go get one of these little bouncy balls, but you would have to play a game before or they could get little keychains or a small thing to hang on a mobile phone all for 1 euro. Grade: 9.0
---
Mom's evaluation: We chose a great day to go to Fuengirola Adventure Golf and this helped a lot in our experience. We chose a day in August, when the heat reaches its peak. For some reason, this day was a bit overcast and had a bit of a breeze, so we were really lucky, because I can imagine a mini-golf session in mid-summer could be dreadful. We decided to risk it anyway and got lucky.

We arrived at 2:30pm, but were met with closed doors and a sign stating that the mini golf opens only at 3:00pm. This was fine as our kids were starving and we needed a bite to eat before tackling the holes. We noticed that there was a restaurant called Wok just next door so we thought we´d try it. Wok turned out to be a great place to eat as it´s a buffet style Asian restaurant that serves all-you-can eat at only €10 per person (€6 per child under 7).

After lunch the mini golf was open. I was expecting it to be a bit bigger than it really was and couldn´t imagine spending three hours there (like a friend of mine did). There are 18 holes and we were a group of four and to my surprise we easily spent two hours there and another half hour sitting, chatting and having a drink.

The golf course was clean and functioned very well. The kids had a great time and definitely would like to go back again. The staff was nice and the golf course wasn´t crowded. There were some other families behind us, so sometimes we felt a bit of pressure to just get the ball in the hole, but it wasn´t a problem.

Fuengirola Adventure Golf was really easy to find. You can see it from the highway A-7. You just need to peel off at the third Fuengirola sign you see (coming from Marbella direction). By accident, we took the second exit and were sent on a road through the city and couldn´t get out since there was a bit of road work going on. If you take the third Fuengirola exit coming from Marbella you´ll hit a roundabout and need to choose the road that goes under the highway. Once you pass the highway turn right and you´ll see Wok and the Fuengirola Adventure Golf flags on your left. You can park right in front of the golf center.
We had a great time here and I definitely recommend it as a fun thing to do with the kids if you´re in Fuengirola or nearby. I wouldn´t drive all the way from Marbella just to do this. I would suggest combining it with the Fuengirola Zoo, which is nearby. Or even watching an English language movie at the Miramar center next door before or after a round of golf. Since the golf opens in the afternoon it would be best to hit the zoo in the morning, have lunch at Wok and then do the mini golf. Or possibly have lunch, play mini golf and top it all of with a movie.

Fuengirola Adventure Golf is an activity that takes 2-3 hours and in summer they take their last bookings at 11:00pm so even night mini golf before or after dinner could be fun. Grade: 8.0
---
Dad's evaluation: Grade:
---
Carl´s family (San Pedro) grade: 9.0

---
Dad: Fuengirola Adventure Golf - We all fell out of the Wok next door and played golf for over an hour and still didn't get to play all the holes!! Great value for money and the staff were very helpful even though it was late and we were the last to play, a nice area to site down and have a drink and the facilities are brand new and well kept! If planned right you could eat at the Wok or go and watch a film at the Mirimar and then play golf for a couple of hours, lots of fun for all the family! Grade: 9.0
---


Natasha´s family (Marbella) grade: 8.5
---
Girl (12 yrs): Fuengirola Adventure Golf is really fun. It was my first time playing and I thought it was kind of hard, but it was still great. I loved it when the ball had to pass over the water bridge. The only thing I thought wasn´t great about it, was that it was a bit noisy. Grade: 10
---
Girl (6 yrs): Fuengirola Adventure Golf was alright. At first I didn´t like it, because it was too hard. It was my first time playing, but then I got the hang of it and it started to be fun. I really liked the hole where you hit the ball into a water stream and it takes it down to the bottom and you have a really good chance of getting a hole-in-one. Grade: 7.0
---


Mike´s family (New York) grade: 8.5
---
Girl (9 yrs): I really liked Fuengirola Adventure Golf because it´s more like real golf, just smaller. It´s not too difficult, except for one hole where the ball has to go uphill. And another part where the ball kept hitting a rock. I ordered a smoothie called Carribean Dream with raspberries, blueberries, mango, and apple. It was delicious. I´d definitely come back again. Grade: 7.0
---
Boy (7 yrs): I liked the mini golf because I did it quickly and it was really easy. But the tunnel was kind of hard. Grade: 10

---
Back to top of Fuengirola Adventure Golf
Write your own review about Fuengirola Adventure Golf
Return to Marbella Attractions
Apr 06, 19 08:07 AM

The Marbella Football Academy - a high-performance Football Camp in Marbella enabling kids from 4 to 16 years of age to develop and excel in football.

Mar 26, 19 02:11 PM

Just a quick tip if your needing a NIE Number in Marbella... I was very happy with my self, read all the websites about getting your own NIE Number in

Mar 26, 19 02:09 PM

I am an enthusiastic and experienced teacher. I taught Biology/Science/Maths in Ireland from 2005 and gained my PGCE in University College Dublin in 2012.