| | |
| --- | --- |
| Clubscomplete - Summer Camp | |
ClubsComplete provide high quality extra-curricular and educational services to primary schools and families in the UK and Spain.

The Team of staff are fully trained, qualified and experienced individuals who have all have an Enhanced DBS disclosures and Safeguarding training. All of their team strive to create a safe and friendly atmosphere where the children can feel safe and enjoy their time at ClubsComplete. There is always a minimum of one First Aider at each site at any time.

Please note that we are running with a limited capacity of less than 50% due to the current situation, this means that the number of bookings will be very limited.

Due to COVID-19, children must have their temperature checked each morning by our staff on arrival to the camp. We will have designated arrival and departure zones for each group where they will not come into contact with other children or families. We will also have staggered drop-off and pick up times for each age group. Our group sizes are a maximum of 10 which includes the Teacher and children will stay with their group and leader throughout their time at the camp. Unlike our normal camps, staff will not rotate round the groups and we will not have assistants in each group that also rotate. Each group will have set spaces indoors and outdoors and classrooms which they will use throughout the week and these spaces are cleaned throughout the day and are deep cleaned each day when the camp has finished. All staff will be wearing PPE throughout the day.

Due to the children not being able to mix with different groups unfortunately this year we are unable to run any assemblies, presentations, shows, additional English or Spanish lessons, provide catering or invite parents into camp. Parents and family members must not enter the school at any point during the camp due to health and safety, we will have representatives ready to welcome you in the morning and evening to receive a full handover about your child.

To book your child place please visit the link below:
https://clubs-complete-spain.class4kids.ie/

share this page with a friend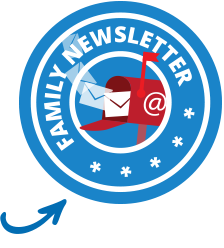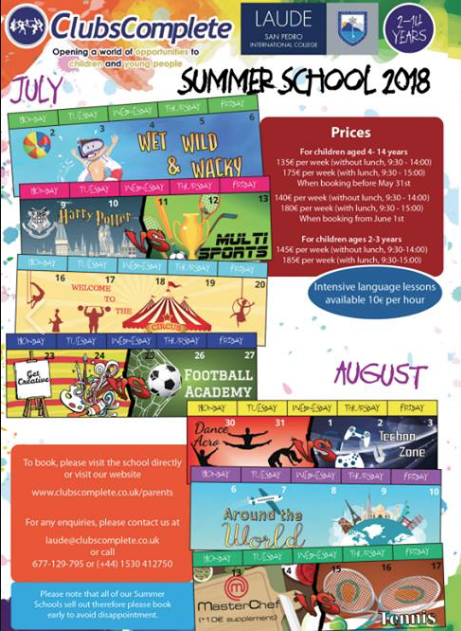 ClubsComplete Weekly Summer Camp 
AGES: 2 - 14
LOCATION: San Pedro de Alcantara
DATES: July 2 - Aug 17
TIME:
Space is limited in Clubs Complete very popular weekly themed camps. We highly recommend pre-registering. Clubs Complete sells out quickly.
Pricing and weekly programme schedule
The cost per week :


Option 1 –09:30 – 15:00
160.00 € - per week
The children will have to bring the prepared lunch from home, which they will eat at 14:00
Option 2 –09:30 -14:00
140.00 € per week
SUMMER 2020

WEEK 1)      01-1 JULY:
WELCOME TO THE CIRCUS

WEEK 2)      13-17 JULY:
GET ACTIVE

WEEK 3)      20-24 JULY:
MASTER CHEF & TECHNO ZONE

WEEK 4)      27-31 JULY:
CHALLENGE, GAMES AND TREASURE HUNTS

WEEK 5)      03 AUG - 07 AUG:
MAD LABS & MAGIC

WEEK 6)      10-14 AUG:  
BAKE OFF & OLYMPIC SPORTS

WEEK 7)      17-21 AUG:

WET, WILD AND WACKY
Clubscomplete at laude san pedro international college
ClubsComplete are proud to be working in partnership with Laude San Pedro International College to provide the new and improved summer school this year.

ClubsComplete Summer Camp at Laude San Pedro International College
Urbanización Nueva Alcántara, Avda La Coruña, 2, 29670 San Pedro Alcántara, Málaga
Related Pages