Sotogrande International School

Marbella Family Fun

>
Marbella Schools
> Sotogrande International School
share this page with a friend
Sotogrande International School (SIS) is an International Baccalaureate school and learning community, offering high quality, personalised learning in English for children from 3-18 years old. They also have a bilingual kindergarten situated in the stunning setting of Santa Maria Polo Club for children from 8 months to 3 years old.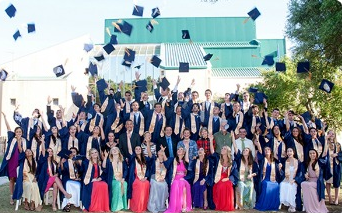 The SIS philosophy is to use child-focused, holistic learning to inspire, challenge and empower students to become the best they can be. For 34 years SIS has been inspiring and educating their students in a broad range of subjects using a team of highly qualified, experienced, dynamic and dedicated teachers and support staff.
Sotogrande International School on the Costa del Sol, is passionate about the benefits of this style of learning to give children the best possible start in life and want to open their doors to students from all over the Costa del Sol. To make this possible for families in Marbella they are launching an express bus service from a central pick up point, which will get students to school in less than 35 minutes. A fantastic option for families looking at Marbella international schools. For those further afield there is a new boarding house in a former 4* hotel where 150 students from 11 - 18 years old can board during the week, enjoy sports, activities and time with their friends and spend the weekends at home.
Free bus service from Marbella gets the kids to school in less than 35 minutes.

Sotogrande International School commitment
SIS's commitment and dedication to providing the best possible learning environment for each individual need, is producing fantastic academic results which have been steadily rising year on year. 2013 graduates attained an average of 35 points IB points (compared to an International average of 29.81) and a number of this year's graduates achieved 41, 42 and 43 points out of a possible 45. High achieving SIS students have been accepted at top universities throughout the world, including Oxford, Imperial College London, Durham, Edinburgh, Carlos III Madrid, Boston USA and McGill Canada.
Sotogrande International School are proud to be offering a different, personalized approach to learning which achieves excellent academic results and also produces happy, well-rounded children. We achieve this by helping them to find their passion and be guided by the principles of intercultural understanding, global mindedness and personalized development.
   CONTACT

  Location: Av. La Reserva S/N, 11310          Sotogrande (Cádiz), Spain 
  Tel: +34 956 795 902 
  Email: info@sis.gl 
  Website: www.sis.ac 
  Facebook: Sotogrande International School 


Sotogrande International School Costa del Sol
SIS has school-based specialist academies in Golf and Football which are producing exceptional players. Their golf academy currently boasts an Elite Squad with four Spanish national champions plus one world champion. To broaden the sports on offer and deliver the highest level of integrated sport programs, they partner with world-class local partners including Soto Tennis Academy, Tarifa Kitesurf Camp and more. In November they launched the Sotogrande International Polo Academy in collaboration with Santa Maria Polo Club, to further broaden the sports offering at the school.

Malka Family (Marbella) 
Mom: "A very unique school"
Three of my kids, ages 14, 10, and 6 have recently moved to Sotogrande International School. Since then 8 other kids of my friends have transferred there. Everyone is very happy in the school and the kids have adjusted easily...
...and are thriving.
Though some people say that all international schools are the same, as a parent whose kids tried three international schools here on the coast as well as a Spanish school, and as a teacher myself, I can say that SIS is a very unique school. Their method of delivery and teaching is based on Accelerated Learning Techniques system that emphasizes each child's unique learning style and discovering and developing talents and individuality. 
Children do not just gain knowledge but effectively learn how to use this knowledge in the real world through exciting projects, field trips, team work, presentations, etc. I eagerly recommend this school to any parent who is not just looking for good grades but for the child's development as a whole.

Costa del Sol English schools offer a wonderful opportunity to live in Spain, soak up the culture and still follow an internationally recognised education system. SIS students are confident learners, happy, well-rounded and motivated individuals, able to cope with change and prepared for the world of work. SIS is prepared to help students find and follow their passions to the highest possible level, as they believe students achieve the best when they are happy.
They also take Global Citizenship and giving back to others very seriously and have integrated this into the curriculum, as well as creating their very own student-led NGO, The Kindred Project. This enables the students to apply their knowledge, skills and passion to real life problems and make a difference through projects which use education as a force for good.
For parents interested in the International Baccalaureate curriculum in Andalusia, visit the school and discover what SIS can offer your children now and in the future.
Back to top of Sotogrande International School