Sotogrande International School Spring Fair - 4 June 2016
by MarbellaFamilyFun
(Marbella, Spain)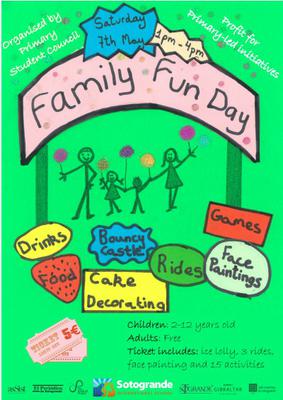 Due to the bad weather forecast this weekend the Family Fun Day has been rescheduled for Saturday 4th June.


After last year's very successful Family Fun Day Spring Fair Sotogrande International Primary Student Council would like to invite all family and friends of SIS and Fundamentals to a Family Fun Day Spring Fair on Saturday June 4th from 1.00 – 4.00pm.
This special day is one of their Primary Student Council main initiatives for this term and they have already started working hard in planning and preparing for it.
During the afternoon there will be an opportunity to take part in many different organised activities and games, socialise and catch up with friends, listen to some performances from our primary students and enjoy some food and drink.
Tickets will be back on sale from 24 th May.
For more information visit:
Sotogrande International School
_______________________________________
For more information on schools in the area, check out our
Complete Guide to Schools in Marbella
.