share this page with a friend
pony club villacana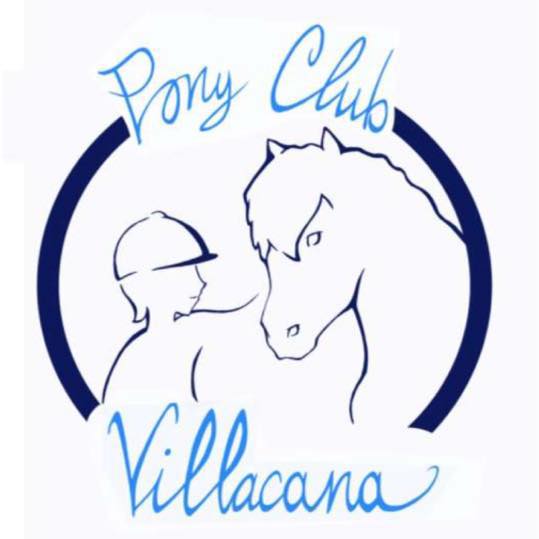 Pony Club Villacana is a recommended horse stables situated in Estepona. At the pony club they offer a choice of possibilities within the equestrian discipline, such as riding lessons in all levels, hack outs, day-camps, walks on the beach and birthday party's.  
Riding is an enriching and very attractive sport for children. It is pleasant because it is practiced in a natural environment, outdoors and in contact with another living being, as noble and beautiful as the horse.
A pony, by its character and unique dimensions, permits children to learn and practise this sport in a manner which is safe and promotes human values such as confidence, temperament and satisfaction for a job well done.
pony club villacana summer camps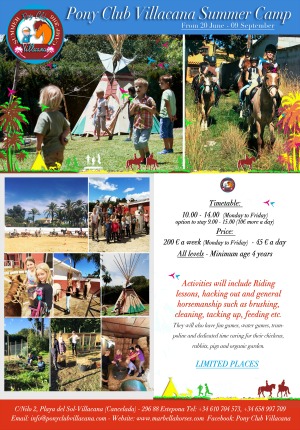 Joining the summer camp helps children to make new friends, engage in new conversations and share not only a daily routine, but also a broad range of activities. Teamwork and mutual respect are important values that will accompany them throughout their lives.
The camp also includes educational content that is intended to bring children closer to nature and encourage them to establish bonds with the ponies and their environment.
The camp takes place Monday thru Friday, from 10.00 to 14.00 during school holidays. 

Sign up for their Summer Camp running from 20 June - 09 September.Activities will include Riding lessons, hacking out and general horsemanship such as brushing, cleaning, tacking up, feeding etc. They will also have fun games, water games, trampoline and dedicated time caring for their chickens, rabbits, pigs and organic garden. 
pony club villacana offers
Riding School: (Minimum age: 4 years). In the riding school they have developed a program of theoretical/practical education which is divided into three levels; Beginners, intermediate and advanced level.
They will indicate the goals and the dates for achieving them. The handling and care of the pony will also be a part of their learning.
Camps: In the camps, in addition to riding lessons and walks along the beach, children are able to enjoy our ponies to the fullest and learn how to care for them which is an extremely important and rewarding aspect of our sport. They also dedicate time to caring  for their chickens, rabbits, pigs and organic garden – all of this through active participation of the children.
Walks along the beach for the little ones: Children can also enjoy lovely walks along the sandy beach with our experienced Shetland ponies. Parents can accompany their children on these outings if they so wish. However, the activity is always monitored by a member of our staff. 
Celebrate your birthday: Celebrations are another important aspect of their activities. They organise gymkhanas and riding games for the children with their ponies. Villa Mimosa is an old and charming house which is adjacent to the stables, with gardens, barbecue area, trampolines and small farm animals as well as a celebration room and mini disco. Children can enjoy time In there either before or after the riding activities. Located only 100 metres from the beach, This property has natural surroundings and is just 5 minutes drive from Estepona and San Pedro. Come and discover an unforgettable experience!
pony club villacana team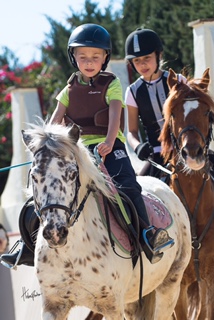 Teresa Cortés Akerman, professional competitive dressage rider with an Instructor & Stable Management qualification by the British Horse Society, who has many years experience working in different Equestrian Centres and Pony Clubs.

Languages: Swedish, Spanish and English
Diana Cotilla, qualified riding teacher by the Superior Council of Sports as a Senior Technician in Horse Riding, Natural Environment Physical activities, Equestrian Therapies and is an official examiner by the Royal Spanish Equestrian Federation.
Languages: Spanish and English
Andrea Koegele is of German nationality . She studied Social Education at the University of Reutlingen-Ludwigsburg (Germany). Andrea is also a qualified riding teacher and has received several diplomas in Equestrian Therapies and Horse-assisted Coaching. Additionally, she has vast experience as an Equestrian Tourist Guide.

Languages: German, English, Spanish and French.
PONY CLUB VILLACANA PHILOSOPHY
The ability to measure their actions together with their pony, to live the consequences caused by negligence or fear and the development of skills to cope with an animal, make this practice a unique sport, and like no other offers the possibility to experience a multitude of situations reflected in the School of Life.
It is this need for adaptation which inputs to the equestrian practice different effects; shy children will gradually gain confidence in themselves; gentle children will have to prove their authority to be obeyed by their mount; The overconfident child who believes to know what is to be done will learn to moderate his manner; indolent children will learn to take action and improve their communication skills; the child with negative tendencies and feels contrary to most things will have to learn that pony doesn´t grant wishes like an adult.... in short, it is a blue print to life itself.