share this page with a friend
The Op de Beeck & Worth insurance broking business was born out of the merger of two well established and respected insurance professionals in Marbella, and can trace its roots in Marbella back to 1970, making it one the most consolidated business's in the area.
For more details on the specifics, please contact Op De Beeck & Worth at the details, below.
click below to compare your insurance pricing
special offer: critical illness protection
Op de Beeck & Worth are able to offer a unique level of protection from DKV which guarantees the best International treatment available in the event that you are diagnosed with a critical illness.

What is covered:
Oncological treatment
Coronary bypass
Heart valve replacement
Organ transplant
Bone marrow transplant
Neurosurgery
Coverage is up to € 1,000,000 per year and includes up to € 25,000 per year in travel and accomodation costs for you and one other. Also included is reimbursement of prescription medicines of up to € 50,000 per year with repatriation costs of up to € 10,000 per year. Additionally, you will receive a payment of €100 per day whilst you are hospitalized.
 The policy also provides cover for the following neutro degenerative illnesses: 
Multiple Esclerosis 
Alzheimers
Parkinsons
Premiums for the above coverage are from €3.3 per month. Call Op de Beeck & Worth now at +34 95 288 2273 to find out more.
special offer: complete Home GP service
This well known local broker can also provide you with complete home GP service with Helicopteros Sanitarios, one of the most trusted emergency care names on the Costa del Sol. The offer covers comprehensive emergency care and in home GP services for individuals, couples and families of all sizes.
services include
24-hour in home GP service
Unlimited assistance
Multilingual doctors on staff
Hospital transfers
No waiting list
24-hour emergency ward
Fleet of ICU ambulances
about the company
Patrick Op de Beeck has been running his insurance business in Marbella since 1970, having previously worked in the insurance industry in his home country of Belgium.

Danni Worth has been running his insurance business in Marbella since 1991, having previously worked with a Lloyd's broker in London, and been a Director of a multinational Insurance Brokers. 
As an independent insurance broker in Spain, this company has been providing clients with expertise for over 40 years. Both company heads also have longstanding relationships with Europe's leading Insurers, coupled with experience enabling them to find and recommend the best insurance solutions for your family's specific needs in Spain.
For quick and complete answers to your insurance needs, contact them at Tel: +34 952 88 22 73.
best value Expat Insurance in Spain 

As a leading provider of competitive expatriate insurance in Spain, the firm is a strong partner at your side. They speak your language, understand your needs and concerns and are therefore able to find the best solutions for the members of the expat community in Spain.
Their multilingual service team has a clear objective: to make insurance matters simple. They only work with the most reputable insurers known for superior claim handling & value-for-money products.
Their philosophy is simple - exceed client expectations at every opportunity.

Their mission is to use in-depth knowledge of risks and the products available to find the tailor-made solutions for you. Unlike agents tied to a specific company - an insurance broker focuses on you and can offer products from Europe's leading insurers to find the optimum solution to protect your wealth - independent & transparent.
Advantages and Benefits of working with them
1. Established for over 40 years in Marbella

2. An Independent Broker, fully licensed and regulated by the Direccion General de Seguros, carrying Professional Indemnity Insurance with a limit of € 3.000.000.
3. Fluency in 7 Languages (English, Spanish, German, French, Dutch, Italian & Russian)
4. Internal dedicated multilingual claims department designed to make the whole claims process much easier for clients - no need for you to deal with the dreaded and impersonal "call centres".
5. Their volume, reputation, historically strong results, and excellent relationship with Insurers enable them to access better rates and broader coverage than many competitors.
Insurance Partners in Spain
The company represents the following insurance partners in Spain.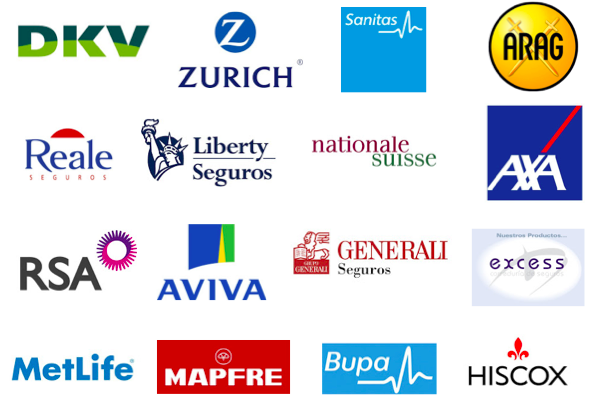 CONTACT
Op de Beeck & Worth Insurance Brokers
Centro Comercial Guadalmina IV, Locales 97-98;
Guadalmina Alta, 29670 San Pedro de Alcántara 
HIGHLY RECOMMEND
I met the team at Op de Beeck & Worth last summer to inquire about the status of my health, automotive and household insurance. Appreciated that Danni and his team were well versed in a variety of solutions - not just from a single company. Would definitely recommend Op de Beeck & Worth as an objective source for a wide variety of insurance and financial solutions.
- Robert, 10 March 2015
VERY SATISFIED
Very satisfied with Op-de-Beeck & Worth. Punctual, professional, courteous, and his offers were either best or close to best on each category.  Sadly I already did car and he got me a better one. But will swap in renewal.
- Karl, Summer 2014