Marbella Apple Store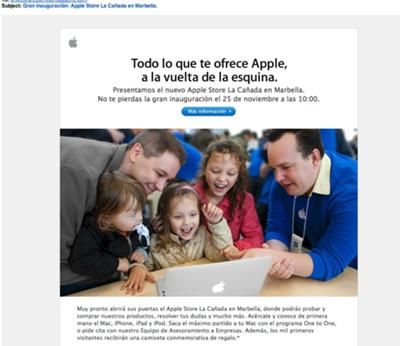 Marbella Apple Store
The Marbella Apple Store is finally opening its doors to the public beginning Friday November 25th, 2011 at 10:00am at La Cañada shopping center! Special offers will be available on the day, so it's a great time to get your holiday shopping early.


The Apple store provides you with all the latest gadgets including the iPhone 4s, Mac Book, iPod Touch, Apple TV, iPod classic, Mac Pro, Time Machine, accessories and more.
You may also attend any number of classes that are offered at the Apple Store in La Canada such as:
One to one training
- See how you can get the most out of your new Mac with a One to One membership. The staff will transfer your files from your old computer, teach you the basics in face-to-face training sessions, and guide you through more advanced projects.
Workshops
- Learn something new by taking a free workshop. The workshops are taught by people passionate and knowledgeable about Apple products and eager to share their knowledge with you. Sign up in advance or drop in. You'll have a great time, learn new skills, and pick up loads of tips.
Genius bar
- When you have questions or need hands-on technical support for your Apple products, you can get friendly, expert advice at the Genius Bar. The Genius Bar is home to resident Geniuses.
Childrens classes
- From composing a song in GarageBand to building a photo album to creating a compelling Keynote presentation, the Youth Workshops offer families with kids (ages 6 to 13) a chance to work together to hone their Mac skills and use iLife and iWork applications to complete exciting projects. Take advantage of the FREE workshops!
The
Marbella Apple Store
is located in the Commercial Center
La Cañada
on the ground floor middle entrance next to
McDonalds
.
OPENING HOURS:
The Apple Store in Marbella is open during regular La Cañada mall opening hours - 10:00am to 10:00pm Monday to Saturday. Closed Sunday. Special holiday hours open Sundays in December 2011! December 4, 11, 18, 10:00am to 10:00pm.
For more information, workshop schedule and to make reservations for any of the courses go to the
Marbella Apple Store website
---
If you can't be bothered to lug your computer to the Apple Store or just want to learn more about your Apple computer in the comfort of your own home, take a look at these other
computer services
.