Halloween costume shopping in Marbella
by Linda
(Marbella)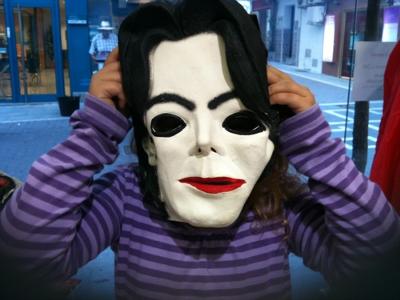 Michael Jackson mask
I've been asking my kids for weeks what they want to be for Halloween and I only got an answer from one of them today. The reason why it takes so long for them to decide is because so much of it depends on what their friends are going as. I miss the long gone days when my kids planned out their Halloween costume months in advance in anticipation of the great Candy Day.

So the rush is now on to try and find a little devil costume. And for a 10 year old it can't be any old one-stop-shop costume you find in a bag. It's now got to be funky and fresh with a little twist of pop rock. So you can now understand my frenzy Halloween is just around the corner!

I did manage to hit my favorite local costume shop Pepita Cardeña in San Pedro. It's a small place, but jam packed with lots of different costumes, accessories and decorations. And not only the scary kind. You can find princesses, prisoners, bumble bees and Indians in this shop. I even managed to pick up some hippy glasses and a peace sign necklace for my daughter's Peace Day performance at school next month.

I have to admit that I was not very clever in my costume hunt timing. I hit the shop at sundown when it seemed as though all of San Pedro decided to go costume shopping at the same time. It's a tiny shop and there isn't much elbow room, so you really feel like getting your purchases as quick as you can and get out. I found myself muttering to my daughter, "Yes, sweetie, that's perfect. You'll look fabulous." She wanted to try on every hat that was hanging in the shop and have me tell her how cute she is. Even take photos! This is fine on any normal day, but when you've got people rubbing you left and right and start to break out in a sweat, you just want to make a B-line for the exit. Just so you know, there is no order or logic to the cash machine when you go to pay. It's pretty much first come first serve.

Another option for costume hunting is the great Chinese Bazaar stores we have scattered throughout the Costa del Sol. There are at least 50 in every town. Well, not that many, but there seem to be one on every corner. In these fascinating utterly unorganized shops you can find some real treasures at bargain basement prices. Wigs, costumes, accessories, decorations, and even regular non-Halloween stuff that will just "go" with what you're trying to work with. It's basically one big junk store. I spotted a cute little Chinese dress and suggested my daughter dress up as Mulan. I thought my clever all-in-one 15 euro bargain that just needed a bit of eyeliner and a straightener would be perfect, but my daughter wasn't having any of it. Once she saw some of the devil accessories she was set on it. I guess she is my little devil after all. So it's perfect.

Happy Halloween!


---


Find out what is happening for Halloween on the Costa del Sol.

Read up on where to Trick or Treat in Marbella.

Where else can I find Costa del Sol fancy dress shops and Halloween costumes and memorabilia?


DATE: 2010