English movies in Marbella
by Marbella Family
(Marbella)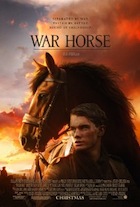 War Horse
These are the movies that are playing on the Costa del Sol in English from Friday March 1 until Thursday March 8, 2012.


If you don´t see the schedule you want here, look at our English Movie Listing page.
If you would like to receive regular updates on original version movies playing locally, please sign up to our
newsletter
.
You may want to call the cinema to check for any changes:
---
MARBELLA
Cinema Gran Marbella
in Puerto Banús, Marbella (tel 952 816 421)
Ghost Rider 2: Spirit of Vengeance
(Rated PG-13 for intense sequences of action and violence, some disturbing images, and language.)
Playing Friday March 1st to Thursday March 8th at:
16:00
---
FUENGIROLA
Cinesur Miramar
in Fuengirola (Avenida de la Encarnación; tel 952 198 600)
War Horse
(Rated PG-13 for intense sequences of war violence.)
Playing Friday March 1st to Thursday March 8th at:
12:00 (Saturday and Sunday only)
16:15
Hugo 3D
(Rated PG for mild thematic material, some action/peril and smoking. )
Playing Friday March 1st to Thursday March 8th at:
12:10 (Saturday and Sunday only)
16:30
My Week with Marilyn (Spanish title = Mi Semana con Marilyn)
(Rated R for some language.)
Playing Friday March 1st to Thursday March 8th at:
12:20 (Saturday and Sunday only)
16:15
18:15
20:15
Chronicle
(Rated PG-13 for intense action and violence, thematic material, some language, sexual content and teen drinking.)
Playing Friday March 1st to Thursday March 8th at:
12:20 (Saturday and Sunday only)
16:30
18:30
20:30
22:30
00:30 (Friday and Saturday only)
---
MALAGA
Yelmo Cines
, Plaza Mayor in Málaga (tel 902 220 922)
The Artist
(Rated PG-13 for a disturbing image and a crude gesture.)
12:35 (Saturday and Sunday only)
16:40
18:45
20:50
22:55
01:00
Red Lights (Spanish title = Luces Rojas)
(Not Rated.)
12:00 (Saturday and Sunday only)
15:30 (Saturday and Sunday only)
18:00
20:30
23:00
War Horse
(Rated PG-13 for intense sequences of war violence)
15:00 (Saturday and Sunday only)
Star Wars: Episode I - The Phantom Menace 3D (Star Wars Episodio 1 - La Amenaza Fantasma)
(Rated PG for sci-fi action/violence.)
12:35 (Saturday and Sunday only)
---
The ratings are classified as follows:
G
- GENERAL AUDIENCES (All Ages Admitted)
PG
- PARENTAL GUIDANCE SUGGESTED (Some Material May Not Be Suitable for Children)
PG-13
- PARENTS STRONGLY CAUTIONED (Some Material May Be Inappropriate for Children Under 13)
R
- RESTRICTED (Under 17 Requires Accompanying Parent or Adult Guardian)
NC-17
- NO ONE 17 AND UNDER ADMITTED
---
**VOSE
= Version Original Subtitulada en Español = Original Version Subtitled in Spanish
**VO
= Version Original = Original Version (no subtitles)
---