Marbella Family Fun
> Marbella Newsletter
Stay on top of what's happening in town with the Marbella Family Newsletter
share this page with a friend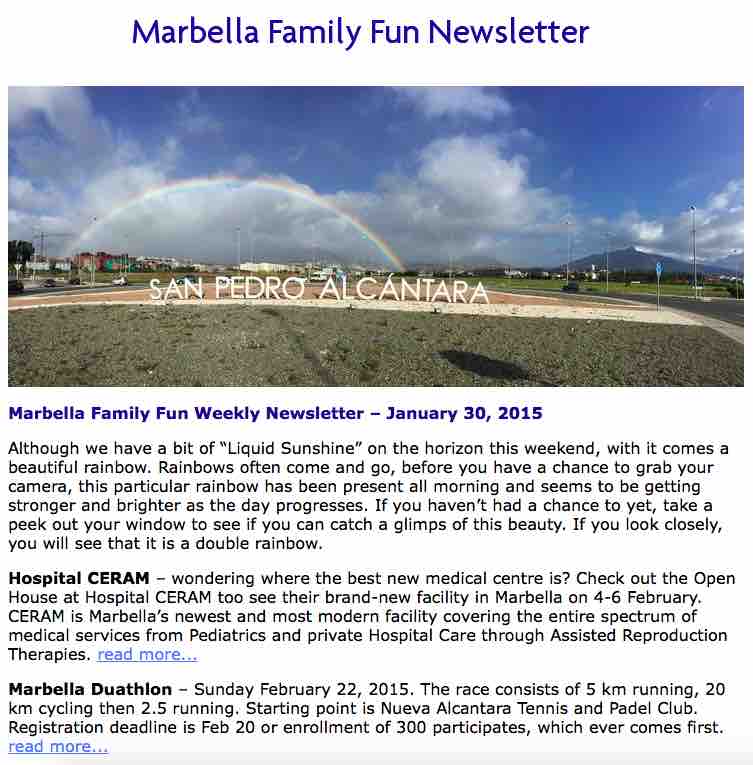 The Marbella Family Newsletter is designed to provide families with everything they need to know about events, activities and family-focused opportunities in Marbella and the Costa del Sol.
Every issue of the newsletter includes new family-friendly events and attractions in addition to special features like the best schools in town, teen destinations, recommended medical centres and businesses focused on families on the Costa del Sol. Over the last five years it has become one of the most widely distributed newsletters of its kind and the content is designed for the needs of family residents on the Costa del Sol, from Malaga to Gibraltar.
You'll receive the newsletter in your email inbox weekly, enabling you to stay on top of what's happening in town without having to browse numerous sites and other information. It's a fast, succinct and easy way to keep in touch with everything for families in Marbella and the Costa del Sol.
Subscribe to the Marbella Family Newsletter Here


News and Events in Marbella:
If you would like to see past issues of the Marbella Family Newsletter, check out the Newsletter Archive.

Other Sources to Keep on Top of What's Happening in Town
There are many other ways to follow news and events in Marbella. You may visit the Marbella Family Blog (updated daily) or sign-up to our RSS feed on our home page.
We also offer our daily updates on Twitter or Facebook.  And don't forget to check out our television coverage of family-related events on MarbellaNow.  You can stream the programs directly to your computer or mobile device on our English-lanuage TV page.

You have our promise to keep your information private and we will not share your information with anyone.
You will always have the option to unsubscribe. If you opt to unsubscribe, no more mailings will be sent.