Consequences of Cyberbullying
Marbella Family Fun

>
Cyberbullying forum
> Consequences of Cyberbullying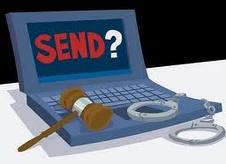 We know now that the consequences of cyberbullying, just like old fashioned bullying, are damaging and long lasting for the person being cyberbullyied, but what happens to the cyberbully-er?  
Bullies have been around since the beginning of time, however it used to be limited to the reaches of human face to face contact. With the world opening up with electronic communications how it is possible to be bullied by someone you've never even met who lives across the planet. 
What you can do
Most of the time when a parent discovers their child is cyberbullying they revoke their child´s internet networking privileges such as Facebook or IM accounts and may remove his/her computer privileges or confiscate his/her mobile telephone. Many parents often try to get their school involved in disciplinary action against the cyberbully, but, unfortunately, schools often avoid getting involved in off-campus matters. Some schools have been sued for exceeding their authority and violating the right to free speech. This is where many parents have their hands tied and lose the support they were hoping for the most. 

share this page with a friend
have a question or comment about cyberbullying?
Examples of cyberbullying
Harassing, insulting or threatening someone
Stalking someone on-line
Pretending to be someone else
Sending mean, hostile, or threatening emails, texts or messages
Identity theft
Intentionally sharing viruses or spyware to another computer
Spreading gossip, rumors or sharing embarrassing photos of another person 
The legalities
Each cyberbullying incident is dealt with on a case by case basis and depends a lot on the parents as well as the school the child is attending. 
A cyberbully may be charged with:
a misdemeanor cyberharassment charge and sent to a juvenile delinquency program.
In some countries it is a criminal offence if someone spreads hate or discrimination based on race, ethnicity, skin color, religion, sex or sexual orientation.
Internet hacking and stealing an identity or password may also be considered an offense.
Check your local authorities to find out which acts are punishable by law. Unfortunately, most cyberbullying incidents never materialize into criminal charges, despite the efforts made by parents. 

The good news
What schools CAN do is educate their students on internet etiquette, the law, and any disciplinary action that will be taken by the school if cyberbullying does occur among their student body. Read more on what schools can do to help prevent cyberbullying.
Consequences of cyberbullying: related articles