Bahia Aquapark - Algeciras
share this page with a friend
Bahia Aquapark is a refreshing place to spend a hot sunny day. It is located in Algeciras, 45 minutes away from Marbella.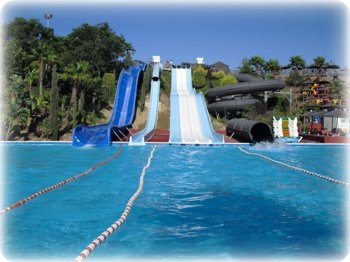 This large water park offers rides, intertubes, cafes, kiddy pool, wave pool, activity pool and picnic area. Bahia Aquapark has something to please every member of the family with rides such as the "Kamikaze", "Grand Niagra" and "Adventure River" for older kids and smaller rides, slides and wave pool for the little ones. Arrive after 3:30pm and you will receive a special discount on your ticket price.
---
Location: Take N340 towards Algeciras. Exit 106A and follow signposts. (Avenida Virgen de la Palma, Algeciras)
Price: Adult 20 euro, Children (4-12) 16 euro, under 4-free
Hours: 10:30am - 7:30pm
Tel: +34 956 633 330
Email: info@bahipark.com
Website:www.bahiapark.com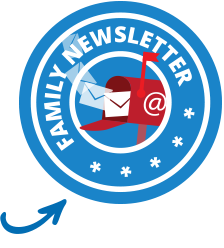 ---
Son's evaluation: "This is my favorite waterpark"
I think Bahia Aquapark is the best water park I have visited. It has a lot of different water slides. It has water slides and pools for all ages. My favourite part was the long, dark, spiral ride.
The only pain is carrying your rubber doughnut to each slide.
---
Daughter's evaluation: "It's O.K."
I think Bahia Aquapark is O.K. It has quite a few rides, but there was only one I couldn't go on. On a sunny day the ground will be really hot so you would want to get your feet wet first. The thing I absolutely hate is carrying your doughnut around.
There is a slide that I don't like very much because when you go down the slide the water goes up your nose and in your eyes because you go very fast. My favourite ride at Bahia aquapark was the black hole because it is super dark in there you can barely see a thing and some times you kind of drop down a little bit and since you can't see it really scares you the first time you go on it.

There are pools for all ages, but the floor of the pool is really rocky and when I went in the pool for a long time my big toe was quite shredded and kind of hurts. If you get hungry while at Bahia Aquapark there is a cafeteria and a small pizza place near one of the pools. For younger kids they sometimes have people dressed in costumes to have pictures with. At a certain time there is a little dance show on a stage at one of the bigger pools.

The little kids can go in the bigger pools because there are life-guards all around the pool.
---
Mom's evaluation: "Fun park to go to on a hot day"
This is a nice place to go with the family on a hot summer day. We went with an 11 year old, 8 year old and 6 year old and there was something for everyone.
There were two shallow kiddie play areas for little ones and several medium sized attractions that weren't scary, but just simple rides that you could go on with a rubber float that you sit on and use handles to hold on to or you can go down some slides without a float. Then there were two "scarier" rides that you could go on that were a bit faster and bouncier that were more appropriate for older children.

My 11 year old couldn't go on one ride as you have to be 1.5 meters tall and he was just under. Other than that, all the rides were pretty low key.

We arrived at Bahia aquapark for the second half of the day at 3:30pm when you get a discount on the entry. It worked out well as it wasn´t as hot as midday and we got to take advantage of the last hour or so when many people had left after spending the whole day there. We went mid week which I think was also to our advantage. The park was full, but not overly crowded. The lines were bearable and moved quickly.
I was happy to find monitors at each ride watching the children and directing them when they could jump down the slide. I noticed that the kiddie pools only had one monitor each, which didn´t seem to be enough as there were lots of little kids going down the slides whenever they wanted to and bumping into each other. I prefer Aqualand in this point as there were at least two monitors (even on a low traffic day) blowing their whistles at any inappropriate movement. I also prefer Aqualand not only because it´s closer to Marbella, but also I find that there are more grassy areas there and it felt more spaced out, less crowded. At Bahia Aquapark we chose some lounge chairs (€2 each) near the kiddie pool to watch the six year old, but felt surrounded by lots of people and a bit cramped. I noticed later on that near the Kamikaze ride there is a bit of grassy area that was much more isolated and tranquil.

You need to be careful with your bags and personal belongings as there are so many people around and the park doesn´t take responsibility for any lost items. There are small lockers for rent for €5 for small items such as your wallet and watch. There are also baskets for rent (like a cloakroom with a monitor) where you can leave bags and bigger items. These locker rooms are located right after the Bahia aquapark entrance as you descend towards the slides on the left hand side.
In the locker area at Bahia Aquapark you can also rent a single float or a double (2-person) float. These are innertubes with handles that you sit on when going down a slide. At the end of each ride you stand in line to wait for the last person to hand over their innertube. However, if the lines are long, you may want to rent your own. This saves a lot of time and you can immediately go up and down the slides without waiting. We got a discount on our rental as we arrived at 3:30pm so we paid €4.50 for the single innertube and €6 for the double. You have to leave a €10 deposit with each innertube which they return to you when you give back your innertube. You also get a bracelet to wear with each innertube that is marked with a number so that no one else can steal or accidentally take your innertube and return the wrong one.

Like Aqualand you can bring your own picnic to Bahia Aquapark, which is what we did. However, if you prefer, you can eat at their restaurant or cafe where they offer typical attraction park fare such as pizza, hamburgers, ice cream, slushes and such. There is a souvenir shop where they sell key chains, floats, sunscreen and candy. In general, we had a great day at Bahia aquapark and I think the key was arriving mid day to avoid lines, the heat and get a nice discount on all things.

We stayed at Bahia Aquapark for a total of four hours and it was plenty. No one cried that they wanted to stay longer as they were all exhausted. There is a lot of running around up and down stairs. We found the ground really hot and rough and all our feet are all scraped up, but I think most of the other parks are this way as well.
---
Gibraltar Family (Gibraltar)

Mom: "This is a must!"
Myself and 2 other friends and our families went to the water park. We had an amazing day and when we finally left just after 1900 we were all exhausted. Definately going back when it re-opens and going to get a family season ticket. DEFINATELY A MUST !!!!
---
Natasha's family (San Pedro Alcantara)

Natasha: "A good idea"
Bahia Aquapark is not bad. It was easy to park the car. Easy to find a free lounge chair. Maybe it's just that we came at the right time. We arrived at Bahia Aquapark at about 3:00pm. And it was enough time for the kids to slide and enjoy the water rides.
After the first warning (of closure) it's better not to go up to the slides, it's true that they don't let you slide anymore. There weren't a whole lot of rides and the aquapark is rather compact. And this is actually not bad. The kids had a really good time and even I, I'll admit, got my fair share of adrenaline sliding down a few times on the Black Hole, and then on the blue slide next to it. In general, going to Bahia Aquapark with the kids on a hot day is a good idea.
---
Boy (11 yrs): "Great slides and wavepool"
Bahia Aquapark has a lot of good slides. There are two ways of sliding: in an innertube or just sitting on your bum. There is a really good pool with artificial waves. I liked the Kamikaze the best. I didn't like that after they made an announcement that the park is closing we couldn't even buy water at the exit.
---
Girl (6 yrs): "Fun waterpark"
I really liked Bahia Aquapark. I liked the Black Hole slide the best. At the end of the day, before the closure, it was lame that after getting to the top with a huge innertube, having sticks tearing up your feet on the steps, only to tell you that the slide is already closed. They could've informed us at the bottom.
---
Chris' family (San Pedro Alcantara)

Boy (11 yrs): "Fantastic waterpark"
The Bahia Aquapark rides are amazing because they've been built for older kids. It was planned very well.
---
Back to top of Bahia aquapark - Algeciras
Return to Marbella Attractions
Write your own review about Bahia Aquapark