Wing Chun Classes for Kids
by Marbella Family
(Marbella)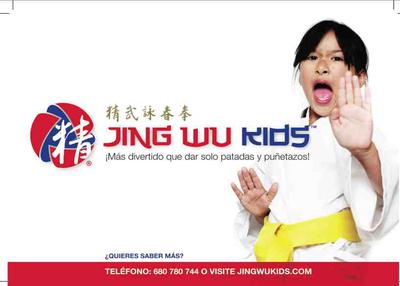 Wing Chun in Marbella
Jing Wu Kids Marbella


Martial Arts classes for kids ages 6 - 15
Mondays and Wednesday 5:00 - 6:00 pm
at
Health First Studio
This program teaches kids:
- Flexibiliity
- Coordination
- Confidence
- Life lessons
- Discipline
- Self defense
Wing Chun is a style of Kung Fu that originates from China that is a highly effective martial art for self defence. It teaches correct posture, structure and alignment. Well coordinated attacks with a simultaneous defence makes Wing Chun Kung Fu one of the most effective forms of self defence that anyone young or old can benefit from. Students of Wing Chun Marbella learn how to deliver the correct amount of energy, whilst staying as relaxed as possible.
680-78-744
JWKespana@gmail.com
Click here to return to: HEALTH: FITNESS - GYMS.