| | |
| --- | --- |
| South Beach Marbella | |
Marbella Family Fun

>
Marbella Restaurants
> South Beach Marbella
If you are looking for an ideal family beach club and restaurant in Las Chapas that is family-friendly but also appeals to adults who want to relax, chill out, and have a good time, South Beach Marbella is your destination. South Beach Marbella is bliss in Marbella.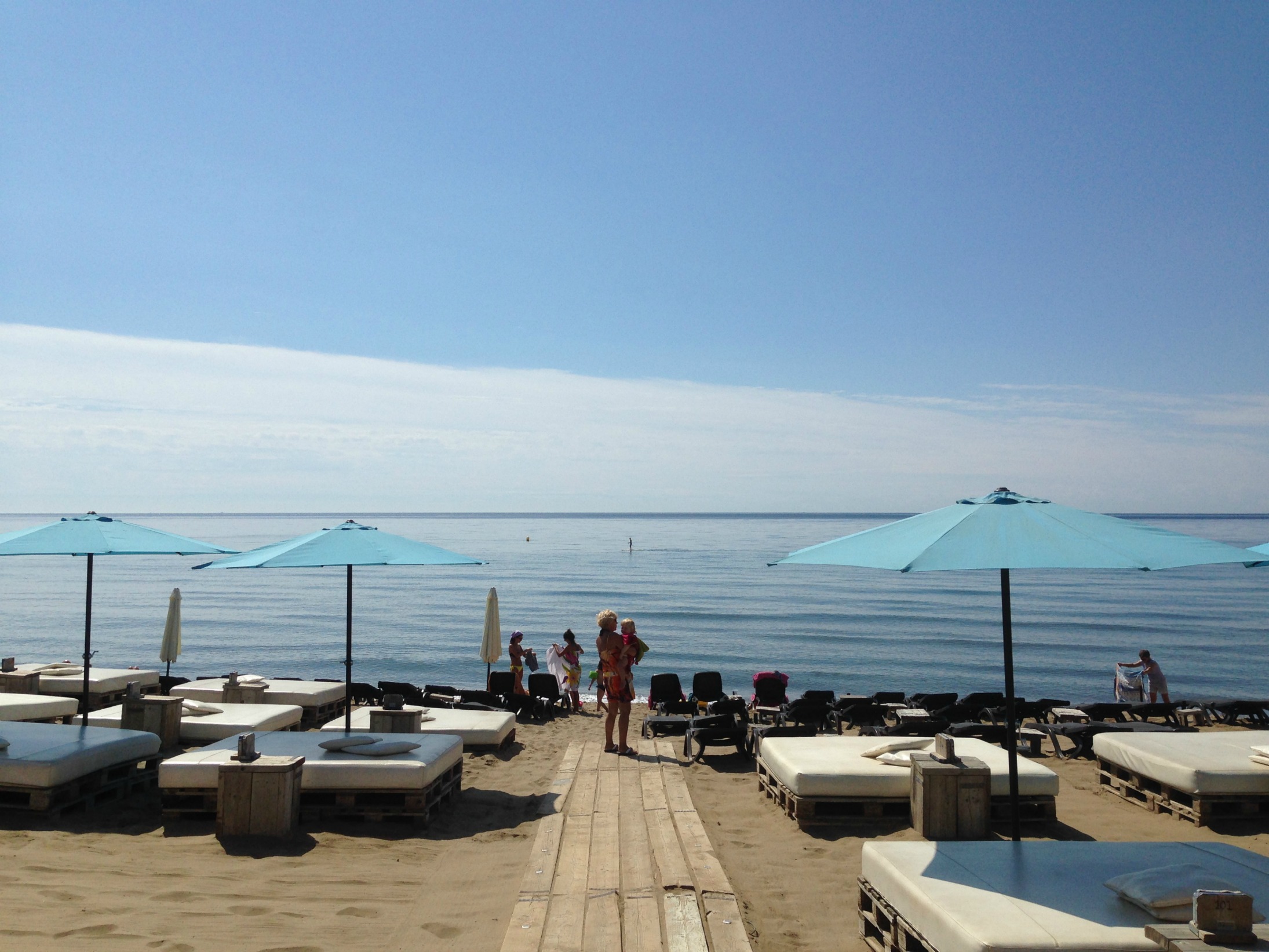 South Beach Marbella offers, paddle boarding, kite surfing, kids activities and entertainment, sun beds, music, free wifi, restaurant, and weekly scheduled and themed activities. This family friendly beach club provides something for everyone and is the perfect getaway for the whole family.
South Beach is one of our favorite family beach clubs located in the Las Chapas area of Marbella. The beaches are some of the best on the Costa del Sol. With golden sand, and crystal clear water, South Beach is perfectly situated to give you and your family the perfect beach vacation.
Awarded certificates of excellence by both Trip Advisor and the Town Hall of Marbella, South Beach Marbella is known for it's relaxed, laidback environment, superior beach quality and water sports. South Beach Marbella is open year round, reasonably priced and has abundant parking.
share this page with a friend
South Beach Marbella Scheduled Weekly Activities
South Beach Marbella hosts scheduled weekly events so you know when and where to go and what to expect. Just call and make a reservation so you don't misss out on the fun!  You also get the benefit of free beds when you come to South Beach during the Winter season!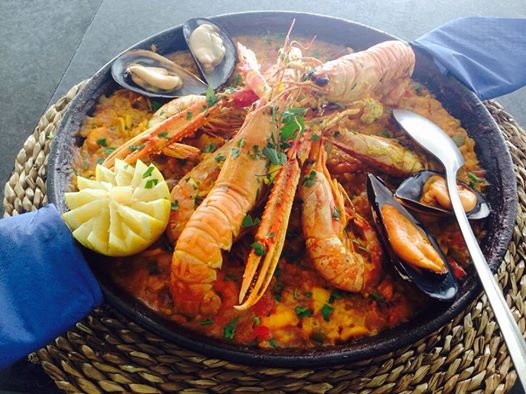 Thursdays - South Beach Famous Paella Day Make a reservation and get a special deal. Free bottle of wine included!
Fridays - Live music from 14:00 and happy hour specials!
Saturdays - 14:00 - 17:00 Kid's Day with pancakes and entertainment. Relax at South Beach Marbella while the kids have fun. Entertainment includes: surf and paddle board lessons, games, colouring contests, castle workshops, pancakes and much more. Come to South Beach Marbella on Kid's Day and Have a Break and a Pancake.  Cancellation of kids entertainment only occurs if the weather is exceptionally poor (i.e. heavy rain).  
Sundays 14:00 - 18:00 - The Sunday Sessions - resident DJ spinning chill-out, deep house, soulful, funky, lounge, and house.
Every other Sunday and last Sunday of the Month John von Dutch, famous DJ from Ibiza, will be hosting his Winter Sun Sounds of Ibiza.  The alternate Sundays will feature Live Music, Motown, Soul, Disco and more!
Bespoke Parties and Events at South Beach Marbella
A great location for parties for kids and adults. Personalized birthday parties, anniversary celebrations and special events. Whatever your heart desires ... just ask, South Beach Marbella can arrange it.  South Beach Marbella offers amazing children's and older kids parties with paddle surf workshops, piñatas, mini disco and lot's more. They can even organize a live falcon show or professional entertainer for you, and prices start at just €10 per child.
Indoor and outdoor areas are available and there is a large plasma screen to watch events or project special event slide shows or videos.
South Beach Marbella - Water Sports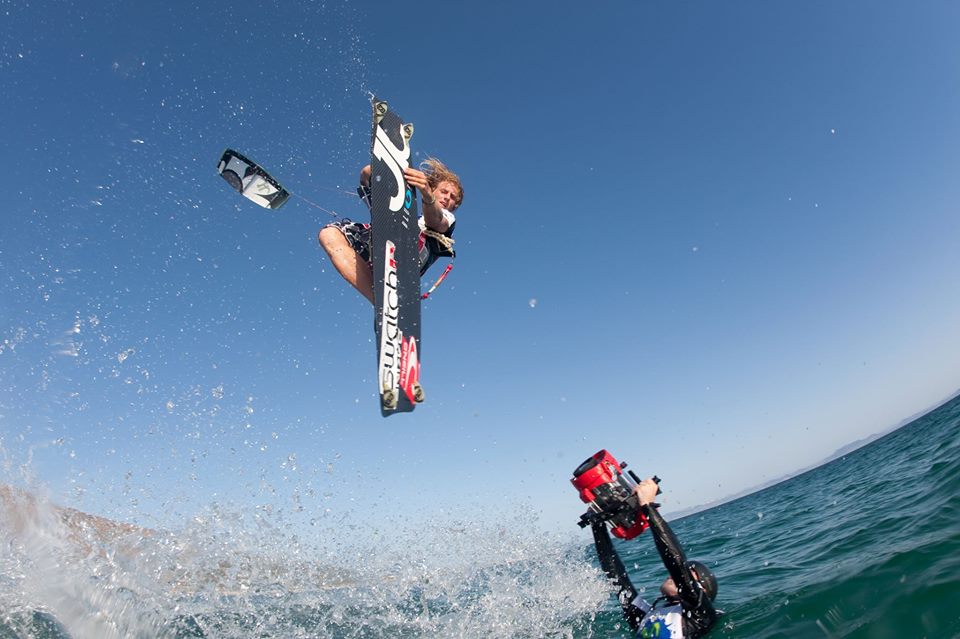 South Beach Marbella is So the place to Be especially for water sport enthusiasts.

South Beach Marbella offers paddle board, and surfing on one of the most pristine beaches you'll find on the Costa del Sol.
Those who love kite surfing or would like to learn will have another reason to visit South Beach. South Beach Marbella now offers kite surfing lessons with two time World Champion Leander Vyvey!!
Private or group lessons. Call for reservations + 34 952 113 005 or email info@southbeachmarbella.com
South Beach Marbella Restaurant
South Beach Restaurant has a versatile menu with something for everyone. Great salads, sandwiches as well seafood, meat, paella, dessert, and an impressive wine list and cocktail menu. The ambiance is beyond compare, attire is casual and easy the cuisine is delicious.
Dining Options: Breakfast, Brunch, Lunch, Dinner, Tapas, Cocktails
Cuisine: International, Seafood, Fusion, Vegetarian, and Childrens menu
Free Wifi and Free Parking right in front of the restaurant!
CONTACT

Reservations: +34 952 113 005 or +34 665 660 737 

Address: Avenida del Limonar 124, 29604 Marbella (exit Rosario N-340) 

Email: info@southbeachmarbella.com 

Facebook: SoBeMarbella
South Beach Marbella Directions
Coming from Marbella Town When driving on the coastal road N-340 (not the toll-road) to Malaga you pass the big Coca Cola can, the exit of Rio Real, the exit of Bahia de Banus and Los Monteros to take the exit of El Rosario. On the exit you follow the road up (do not take the first exit on the right). At the roundabout turn right. After 50 meters turn right again and drive all the way to the beach. Just before the public parking (you can also park your car there) turn left and after 75 meters on the right you will find South Beach Marbella.
Coming from Fuengirola When driving on the N-340 follow the road to the exit of El Rosario. Do not go off on the first small exit but the exit just behind it just before. Drive up to the roundabout and turn left. You will cross the N-340 towards the sea. After crossing the road you will see a T-junction. Turn right and follow the road to the beach. Just before the public parking (you can also park your car there) turn left and after 75 meters on the right you will find South Beach Marbella.
Anonymous: "Ten points for the South Beach Marbella!"
No stones in the water, clear sand. Great place to eat and hang out...
...lots of healthy options like the vegetable wrap or the Thai Fish Curry. San Juan party last night was brilliant. Kids roasted marshmallows and they had loads of fun things for them.
Anonymous: "Really nice place to go with the kids where there is also atmosphere for us adults."
Great loungy music with yummy food. Got some healthy options too like vegetarian dishes. I really liked the Paella. ....
...They do pancakes for kids too!! And kids can borrow the padel and surf board.
Back to top of South Beach Marbella 
Write your own review about South Beach Marbella
Back to top of Marbella restaurants