Sierra Nevada Spain ski season 2010 - 2011 opens November 27
by Marbella Family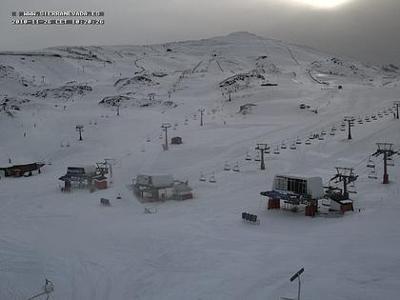 November 26, 2010
The sun is still shining in Marbella and I´m still wearing shorts (ok, with boots, but still) and yet everyone seems to be talking about the Sierra Nevada Spain ski season already! Many of the local papers and websites have announced that the slopes at the Pradollano ski resort in Sierra Nevada will open on Saturday November 27 provided that the quality and quantity of snow is adequate.


New Sulayr Superpark
What´s hitting headlines now is the new ski zone called the Sulayr Superparque de Montebajo which is geared towards snowboard and freestyle fans. The Sierra Nevada ski resort has been revamped with this park in order to attract a younger set of skiers and snowboarders enticing them with three different areas offering both natural and artificial snow, music, Wi-Fi and a whole new cool look that is different from the areas of the resort.
This "superpark" has been built in an area of the resort called Loma de Dilar, which was previously cut out for cross-country skiers. It offers snowboards an extensive area with lots of challenging new obstacles such as half-pipes, S-boxes, pyramids, gaps, rails and jumps. The area is much larger than the previous one in Borreguiles (top of the ski lifts from the main village Pradollano) where everyone has plenty of room to practice tricks without running into a beginner skier or family new to skiing. What´s also great is that this area will be provided with a security and safety team of professionals who are there to help anyone who is injured.
Family friendly zone
The
Sierra Nevada ski resort´s main village is called Pradollano, where there are several ski lifts that take skiers up to the main hub, Borreguiles, which is about 1,500 feet above Pradollano. Once you head out of the ski lift here you will find a huge area that is now designated a family and beginners´area with lots of beginner slopes. This family ski area also has two new green runs as well as a brand new carpet lift.
Is there enough snow throughout the year?
I wouldn´t be too worried about the quantity of snow available, even though it is located in southern Spain. The Pradollano ski resort is equipped to guarantee snow with one of Europe´s finest state-of-the-art snow making system which can produce 1,940 cubic meters of snow per hour.
Christmas and New Year´s in Sierra Nevada
If you´re looking to spend Christmas or New Year´s Eve in Sierra Nevada, I highly recommend that you start booking your hotel now. The Pradollano ski resort (this is the main village) is not that big relative to other ski resorts in Europe and it is the only one in Andalusia, so it has to accommodate a LOT of people at once.
How long is ski season in Sierra Nevada?
In case you´re wondering, ski season 2010 - 2011 is scheduled to end in April or May depending on weather conditions.
Discounts available
Check out some of the Sierra Nevada websites for details on ski passes. Keep in mind that for the first time this year discounted ski passes are available if purchased in advance.