Salvador Dali Sculptures - Marbella
by MarbellaFamilyFun
(Marbella, Spain)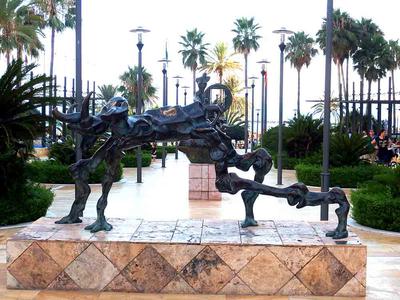 Salvador Dali Sculptures Marbella
The Dali Sculptures are located on the beautiful Avenida del Mar, next to "Plaza de la Alameda" in Marbella. Salvador Dali has no direct connection to Marbella, other than holiday visits and the presentation of five of his art pieces presented for everyone to visit out in the open day and night.

This beautiful marble walk pays homage to Dali's and other artist pieces that some rumour to be copies rather than originals, we say that your the only one to check them out and be the judge of what you believe is true.

The first is a statue of the Greek mythological hero Perseus beheading Medusa. The second is called "Gala Gradiva", Dali's nickname for his wife. The third is "Mercurio" depicting the Roman god Mercury. The fourth statue is called "Trajano a Caballo" – the Roman Emperor Trajan on a horse. And the fifth is of Dali's wife looking through a window.

The final sculpture in the Avenida del Mar, at the top of the steps leading down to the Paseo Maritimo, is an art piece by Eduardo Soriano. It is a tribute to freedom of expression and includes the inscription "A la libertad de expresión". On each side of the plynth, there are quotes from Soriano and Seneca. The literal translations are "Freedom does not die is born and daily sleeps" and "There is no place so narrow that you cannot lift up your thought to the heavens".

Dali has another beautiful sculpture of a rhinoceros at the entrance of Puerto Banus on the Cristamar roundabout. This Rhino weights three tonnes and was donated to the council in 2004 in celebration of Dali's birth. Called Rhinoceros Dressed in Lace, the statue was created by Dalí in 1956 following his movie The Prodigious Adventure of the Lacemaker and the Rhinoceros – and since 2004 it has greeted millions of tourists to the world-renowned marina.



Discover more of Marbella Culture hidden secrets by
clicking here
Marbella is made of several museums, significant archaeological heritages and a cultural calendar with all year round events. There are many secret's to Marbella that many don't know about, like the man and the mermaid carved in the tree in front of the famous Marbella Club Hotel.