Pointer Vet Marbella
share this page with a friend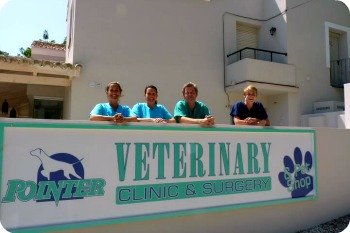 Located in Nueva Andalucia, Pointer Vet Marbella offers professional pet care with a wide variety of services including:
Surgery
Dental
Consultations
Micro-chipping
Vaccinations
Pet shop
The impact our pet friends have on our lives with their love, care and appreciation and the resulting intense emotional bond creates a demand for optimum care for our appreciated family member. Pointer Marbella veterinarians tries to fulfill this demand working under the Triple C mission statement - Quality in Compassionate Care for our pet friends.
During shop hours, you are welcome to step in for pet food, highly effective worm and flea treatments and free advice from our experienced staff regarding their use. This vet stocks and recommends Royal Canine, Hills and Purina pet nutrition with foods available for a broad range of ages and breeds of animal as well as the specialist veterinary prescription diets for specific medical conditions.
Their clinic has been well designed from the ground-up and also offers spacious parking and ramp entrance making your pet's experience easier and more comfortable.

Pointer Vet Marbella
As one of the most popular Marbella animal clinics, Pointer Marbella has a fully computerized clinical record keeping system making it easier keep track and communicate with patients. This animal vet also has in-house state-of-the-art digital radiography, modern air driven dental equipment and up-to-date anesthetic regimes with piped gases, inhalation agents and the possibility of forced ventilation.
The caring staff at Pointer in Marbella puts your pet's needs first offering comfortable air-conditioned and heated facilities and waiting room, in-patient kenneling and even under floor heated intensive care units. You will always find a smile and a warm welcome at Pointers - guaranteed!
When choosing a vet in Marbella, look for the best. Pointer in Marbella is staffed with the highest quality of professionals run by André Evers, who has over 30 years experience in veterinary care and has been practicing in Spain since 2001.
Pointer Vet Marbella Hours of Operation
Monday to Friday 

Consultation 10:00 - 13:00 and 16:30 - 18:00 
Shop 10:00 - 18:00 
Surgery 13:00 - 16:00 
Saturday 
Consultation 10:00 - 13:00 
Shop 10:00 - 13:00 
Sunday
Closed
Call for Emergencies
CONTACT
Avenida de los Girasoles 344, Nueva Andalucia, Marbella
Feedback about this Vet in Marbella
Benhamou Family
Our family first went to Pointer's when we were looking for a new pet and luckily that day, someone had abandoned a puppy that morning. It seemed like it was fate...
...Ever since, we have been taking our dog to Pointer's and have been thoroughly satisfied with the professional care and warm caring staff. I get regular messages when my dog needs to be vaccinated and always find quality pet supplies and food stocked in the fully equipped pet shop.
I am very happy with the service that we have received year after year. I never have to wait and my consultations are always clear and offer very sound professional advice. Many of my friends take their pets to Pointer and I can highly recommend their services to anyone.  - Zoriana Benhamou
Related Links to Pointer Vet Marbella