Noa Gastro Bar
by Morris Bishop
(San Pedro de Alcantara)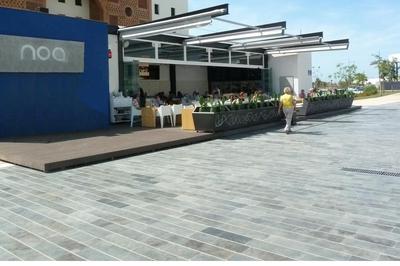 Noa GastroBar
After reviewing El Guino and Boulevard 171, the third and last eatery on the Boulevard in San Pedro de Alcantara is NOA's GastroBar.


It too offers a range of Snacks, Wraps, Burgers, Toasted open Sandwiches, 3 fish, and 7 meat dishes, one of these latter translates from "Churrasco de Pollo to "Argentinian roast Chicken" on their English menu. But in my dictionary it is either Barbecued, or, "a choice piece of meat", or maybe both!
A couple of items on the kids menu, (one being a fillet steak!) and 5 desserts. complete their offering.
Noa also has a glass curtain for inclement occasions, and has a high tables and chairs section as well as a comfortable and generously sized tables & chairs on the terrace, some with banquettes.
In total there are 80 covers, with just 30 within the glass curtain area.
Our starter selection was, Gazpacho, a Paté salad with crunchy almonds and a red berry sauce, in which the Paté was coated with Crocante (chopped almonds). and was interesting and delicious, and fried Aubergines with syrup (yummy).
The Gazpacho had only tomato, peppers and cucumber makings, and I must say that I prefer it when hard boiled egg, croutons, and onion, are included in the mix.
For mains, Dizzy had a crispy toast with Smoked Salmon, cream cheese and caramelised onion, with great 'door stops' of bread, which rather detracted from the otherwise excellent dish, and for me, Baked Monkfish, which was promised to be with 'Seasons' vegetables' that turned out to be only Haricot Verde and courgette, not very imaginative, but the fish was very good.
So, a mixed bag that would only take a little more attention to detail for NOA to become good, or even very good.
I am sorry to portray this eatery like this, and I do realise that it is based on only 5 plates of food, but I'm passionate that our Boulevard should be a display of excellence in all departments, and that includes, (within their genre) all three of the restaurants.
The V.Stats
Noa is in the middle of the Boulevard, close to the Wavy bridge, and they can be contacted on 951979229 or by email to the manager joseherrriaparigo@gmail.com
No web site that I can find.
Free parking in the roads surrounding the Boulevard or in the underground car park in Avda. Maques de Duero (the main drag)
Average 3 course meal with wine 29€ but you could eat for as little as 20€.
They open at 10:00 every weekday and 11:00 on weekends for lunch and dinner every day.
It is run by the owner of Pangea, the night club in Puerto Banus. Our waiter was Alvaro who was very helpful
Bishlin marks out of 5
Ambience 3.5
Menu 4
Food 3.5
Service 3.5
Value 3.5
For more information on this destination, check out
The San Pedro Boulevard
.
DATE: May 2015