El Guino
by Morris Bishop
(San Pedro de Alcantara)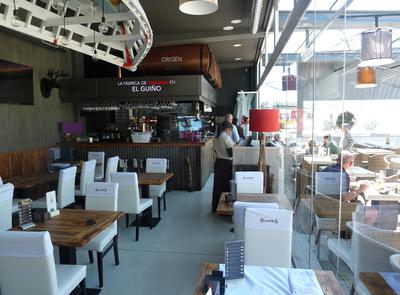 El Guino on the Boulevard
El Guino is the creation of serial restauranteurs Anthony and Pete, and is the last of the three restaurants on the San Pedro de Alcantara Boulevard to open its doors. (The other two being Boulevard 171 and Noa, more about these next month.)


A folding glass curtain can divide the dinning area into 28 covers inside and 48 al fresco. Nicely appointed and lit, it features three stylish beer vats holding 1,500 litres over the well stocked bar, along side the area where the Iberian Ham is cut.
Decorated with an upturned boat hulk in the roof, and stags heads on the walls, it is a comfortable and pleasant room.
The extensive menu that chef Juan Jose has compiled (complete with quirky English translations) boast some 60 dishes but notably no soups are listed!
From the two dozen starters we chose Salads of Tempura Cod and a Goats cheese in Filo pastry to share, both were delicious, and mains of Dorada, Beef tenderloin, and a veal Entrecote, all were well received with the exception of the Beef which arrived as a second Entrecote!
Apologies and a plea of 'Mea Culpa' from maitre d', Andras, who was man enough not to blame others, strangely, left us admiring his truthfulness.
Desserts are really not their thing, but the cheese cake was quite good. The house white was pleasant enough.
As they have only been open for less than a month, we will return late in the year to see if they have 'Settled in'
The Stats:
El Guino (the Wink) can be found 200 mt. east of the central round-about on the San Pedro Boulevard (just opposite Nuevo Siglo Chinese. Street parking or underground in Avda. Maques del Duero. They open for Breakfast, Lunch, and Dinner, 7 days a week. Average 3 course with wine 35€ reservation on +34 951 480 555
Bishlin marks out of 5:
Ambience 4
Menu 3.5
Food 4
Service 3.5
Value 4
Overall 3.5
DATE: April 2015