Marbella center beaches
Marbella Family Fun

>
Marbella Beaches
> Marbella Center Beaches
share this page with a friend
Marbella center beaches are not as lovely as the east side beaches, however they are conveniently located and still have lots to offer the whole family.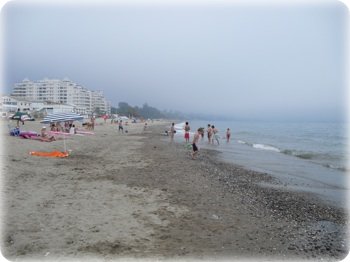 There are five main beaches in the center of Marbella:
La Fontanilla beach
Black sand beach, 850 m long, located along the Marbella board walk and just before the Puerto Deportivo. 
Click here for location.
El Faro beach
A busy beach with many restaurants next to the Puerto Deportivo. 
Click here for location.
La Venus beach
A short (500m) and wide strip across from the historic Marbella center. 
Click here for location.
La Bajadilla beach
A very busy beach, 700 m long, just before Marbella's fishing harbour. 
Click here for location.
El Cable beach
A long sand strip, 1500 m long, located after Marbella's fishing harbour. 
Click here for location.
MarbellaFamilyFun grade: 7.3 
Mom's evaluation: I am not really crazy about the beaches in the center of Marbella as we usually go to the east side where you will find some of the best Marbella beaches and we´re quite happy with these. The sand along these beaches seems quite nice, however, in high season it´s usually quite crowded. Regardless, this is still one of the more popular beaches on the Costa del Sol. 
I´ve only really spent time at El Cable beach and honestly was not very impressed. The chiringuito (beach restaurant) El Cable didn´t have very good food and one of our friends who ate there with us said the sangria was bad. 
The sand at El Cable beach, however, was a nice golden fine sort and felt really nice and clean at the beginning of the beach, but when you get closer to the water it turns into a rough gray dirty sort with stones. My daughter and her friend jumped into the water and said that there were too many rocks inside and it wasn´t very comfortable. 
There are lounge chairs available for rent at nearly all the Marbella center beaches. Grade: 6.0 
Dad's evaluation: The marbella center beaches have the highest occupancy rate of all beaches in Marbella. La Venus, la Fontanilla and El Faro are very popular because there are located along the central part of the Marbella board walk, across from the Alameda square and the historic centre. 
The beaches are quite wide, the sand is golden, pleasant and usually very clean. In general, this is a family friendly beach. The waves are not too strong, especially in El Faro which is partly isolated from the sea by a small bay area (good for small children). These Marbella center beaches tend to be crowded with tourists due to their central location (with the central parking lot) and to the fact that there are many restaurants all along the 'paseo maritimo'. 
The Bajadilla and El Cable beaches also tend to be crowded, but with a more local flavor. They are located on either side of the fishing harbor. There, you will find some of the least expensive seafood places in town. Decor and cleanliness are usually very basic, but the fish is fresh and you cannot beat the value. 
El Cable beach is the longer stretch of sand. There is a chiringuito, called El Cable, where the food is not fantastic, but ok. The portions are huge and the prices reasonable. We had a rice/soup dish (arroz caldoso) for two people which could have easily fed six. Doggy bag needed, for sure. Grade: 8.5
Kristina´s family (Switzerland) 

Mom: The chiringuito at El Cable beach was very nice with wooden floors and completely covered, so it was nice and cool. A specialty is a noodle paella (fideo) with shellfish and it was delicious. The service was good and the beach is nice and large with lots of sand, not like the rocky beaches in San Pedro. Parking is difficult, but it is in most beaches in Marbella in July and August. 

Girl (13 yrs): I loved the noodlle paella. The beach is nice and sandy. There are a few rocks when you first go into the water, but it didn't hurt my feet. It was fun swimming in the waves although the water was cold. 

Girl (11 yrs): I agree with everything my sister said. 

Boy (9 yrs): It was a bummer I couldn't go in the water because I had an ear infection.

Read more about the Top 10 Marbella beaches

Back to top of Marbella center beaches 
Return to Marbella Beaches