| | |
| --- | --- |
| International kids club | |
share this page with a friend

The International Kids Club (also known as International Kids Club El Campanario) offers a Tri-lingual education programme (English, Spanish and Russian) that with an innovative and effective teaching method in a safe, encouraging environment. It is a true international experience including children from many nationalities. The teachers are native speakers so kids receive the benefit of engaging in activities that stimulate their knowledge and usage of English, Spanish and Russian.
For more information about this unique club, contact them on their details at the bottom of this page.
Thanks to the El Campanario's natural setting and multilingual environment, children quickly and easily adapt to three languages.  This multilingual mix is an integral part of their methodology and provides for a dynamic and engaging experience which encourages spontaneous communication and direct dialogue among students. You can literally hear the difference when watching the children utilising new languages to play with their colleagues.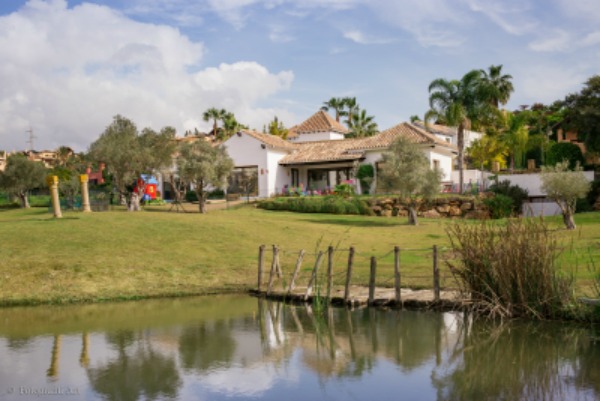 what this kids club offers
This Kids Club arranges the children into one of four groups based on their age;
Nursery (8 months to 2 years) 
Early years (2 – 3 years) 
Middle (3 – 4 years) 
Preschool (4 – 6 years)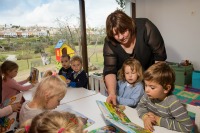 A Unique Method. El Campinaria's tri-lingual method means that children learn by using foreign languages in an enjoyable way,  according to a formal curriculum prepared by the teachers.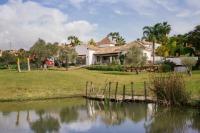 Highly Qualified Teachers. You'll discover the educators at this school are true professionals, experienced in working with children. They pay special attention to detail and have tremendous knowledge of the languages they engage the students with.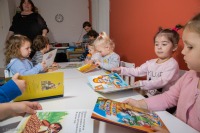 International Communication. The ambience at El Campanario Kids' Club encourages children to engage in friendly and constructive play sessions and the international environment is balanced and well structured.
activities At international kids club
The International Golf Kids Clubs offer a wide range of activities to stimulate your child's learning of new things.  There are many workshops of different activities, including: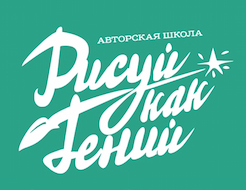 Art classes: Children learn about famous painters in the form of short, fun classes where they are taught about the life and experience of painters as well as their techniques. One day, children will paint like  Picasso. The next week, Klim. These different styles broaden their perspective helping them to discover their own technique.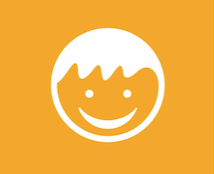 Intelligent children: This course covers the tactile areas of child development and coordination. As part of this module, children are encouraged to develop their attention spans and to focus on completion of specific auditory and visual tasks.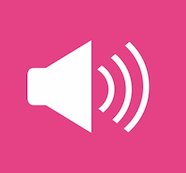 Vocabulary: Classes with native-language teachers are designed to enable children to begin to formulate and develop confidence in speaking different languages through vocabulary, memorisation techniques and thinking excercises.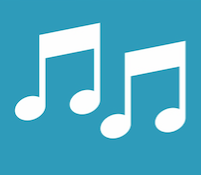 Music: Lessons in various forms of music help the children to develop an ear for new sounds. Teachers work with children to develop a fundamental understanding of musical language as well as recognise the musical cultures of different countries.

International Kids Club take special care in healthy eating and personalised nutritional requirements for each individual. They use only the best ingredients and all their food is freshly prepared daily to make sure all the kids get whats best for a great healthy growth.
Download their timetable here. 
International kids club summer camp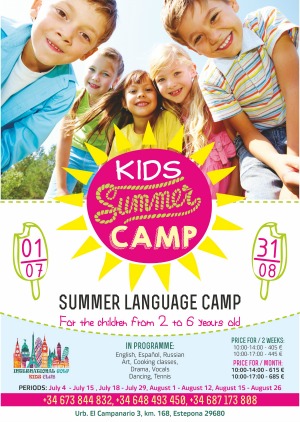 International Kids Club "El Campanario" is much more than a Kids' Club - they offer a full pre-school experience in three languages (English, Spanish and Russian).  Aimed at children aged between 1 year and 6 years, they separate them into age appropriate classes where they enjoy a number of educational and highly stimulating activities, prepared by qualified, native teachers.  They also boast specialist teachers of Art and Music and the children enjoy an hour of each of these creative subjects every week. Their aim is that children enter the world of education in a caring, supportive, colourful environment, where they will develop a lifelong love of learning in a secure, safe and interesting way.
CONTACT: 
Urb. El Campanario 3, km.168, 29680 Estepona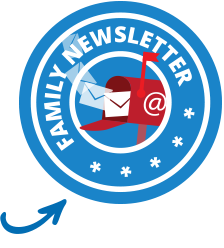 We teach every child individually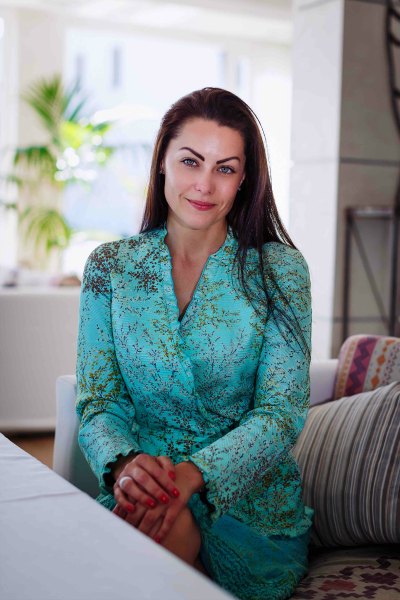 Elena Gatsenko heads the first tri-linguistic kindergarten in El Campanario Marbella. Elena has the following vision of preschool education.
The concept of preschool education has recently been refreshed, it has acquired some new modern methods.

Today the objective is to turn kindergarten learning into "fun" instead of "work".

In our kindergarten children of all nationalities do activities in groups. They eat, play, do crafts and learn together, this in turn teaches them to communicate in different languages.

The International Kids Club is among some of the best nurseries here on the Costa del Sol, this is why..

Elena, tell us since when have you been open and what makes you different from any other kindergarten?

Firstly, I want to make clear our center is not a Russian educational center. It is a tri-lingual center that prepares children for school. I think a lot of people have the preception that we are a Russian center as previously before my management it was. At the time I didn't buy the most prosperous business but with a lot of passion I started to reform our center.

After I took over the club we re-opened on September 7 last year and have had a beautiful makeover. All three classrooms have been fitted with underfloor heating and anti-bacterial lamps to help make sick days fewer. Provided beds and cots are changed daily. Lovely new furniture to represent each country (Spain, Russia, England). One of our three play areas has a newly erected castle stage. All three areas overlook the peaceful golf course.
First of all, not only did I just change the deco and the program of our center, but the principles of teaching. Now we have a polyilingual education system. This means that communication and learning takes place at a young age immediately, in all three languages - Spanish, English and Russian.
Unlike ordinary kindergartens whom take children from 3 months to 3 years, we welcome children from 8 months to 6 years old, undergoing complete preparation for school.
We also have approval from school all along the costa del sol that our eduction and teaching meets their standards.
Now often some parents ask the question should my child go to kindergarten when they have the opportunity to stay at home?
Yes they should, It is important for children to begin to integrate at a young age, this allows them to become more independent and social. The communication with peers in kindergarten is also deeper and more diverse than on the playground. This is when the key preparation for school, as well as additional intellectual development starts.
What do you pay special attention to?

I think the most vital element to a successful nursery are the teachers and staff. I personality evaluated each candidate and carefully looked at each persons abilities, strength and character. All our teachers are native speaking, professional graduates who have great experience in their field. in my opinion, the importance of what subjects are taught and the ratio in which they are taught in is crucial. Every child is different, so a individual approach of teaching must be given. After all, we have children of all different nationalities in the club. Russians, Ukrainians, Spaniards, English, French, Italians, Germans, Poles, Chinese ... it is important to take into account home education and different culture.
What is included in your school curriculum?

Development of speech, writing, reading, mathematics, logic, theater, music, drawing, dancing, tennis and education about our world.
We have a Russian and English speech therapist, also are wonderful Spanish teacher who has worked for 15 years at the English school Calpe and 7 years at the international college Aloha. In addition to the in-depth study of languages and the standard school curriculum, we also have our own garden, in which each child has his own vegetable patch or trees. We conduct cooking classes and use our own organic food when possible.
Does preparing for lunch time meals, for children with different nationalities Complicated?

Our only priority is to prepare healthy meals like soups, vegetables, fish and so on, we only the best ingredients. The chefs at the El Campanario restaurant adapt their cooking to suit the diets of our pupils. The main thing is that the food is freshly prepared and full of nutricion in order for good brain development and growth.
Related Pages