Glitterati Christmas shopping evening 2010
by Glitterati
(Estepona)

Glitterati Bookshop
Check out Glitterati´s shopping event for 2011


Glitterati English bookshop is an Aladdins cave of interesting and unusual gifts. For the third year running Glitterati will be holding a Christmas shopping evening on
Wednesday November 17, 2010
(for those who like to shop and wrap early ready for going back to UK for the holiday maybe)and another on
Thursday December 9, 2010
from 6:00pm to 9:00pm. Each year they have grown in popularity -a rare thing to Christmas shop in comfort and enjoy a glass of wine at the same time.
Wonderful home-made Christmas cake sampling made by Daniella of
Delicious Cakes & Treats
and orders taken for other Xmas goodies.
Don´t miss your chance to enter (free!) in Glitterati´s competition for a 25 euro voucher to use in the store on books or gifts.
How to get there
Glitterati is located at Centro Diana Km 168 (off the N340) close to the Cayetano supermarket and Diana Park Hotel in between Estepona and Benahavis.
Take advantage of Glitterati´s Royal Mail Offex Service!
Post for the UK is really convenient through Glitterati's Royal Mail Offex Service. All you have to do is bring your cards and parcels into the shop (10am-5pm weekdays & 10-2pm Saturdays)and they will be flown daily (not week-ends) to Gatwick airport where the Royal Mail service will deliver with UK stamps to family and friends the following day (1st class) or second class. It's also possible to send within Spain (or anywhere world-wide).
Did you know if your postal service is unreliable you can also have your mail sent to Gatwick post office at the normal UK stamp price and sent onward to Glitterati, where normal size letters will cost just 50cents when you collect? Leaflets are available in the shop with full service offered.
Opening hours
Monday to Friday: 10am to 5pm
Saturday: 10am to 2pm
Sunday: Closed
If you would like more details of the shopping evenings please drop into the shop at Centro Diana or telephone Beverley on 952 92 81 36.
Don´t forget our book club!
If you don't know about our Book Club which meets at El Campanario once a month and are interested in details, please let me know-it now has an off-shoot of a film club/Tapas which I'm sure will also be a good evening.
---
Check out Glitterati´s shopping event for 2011
Glitterati Christmas Shopping Evenings
by Glitterati Bookshop
(Estepona)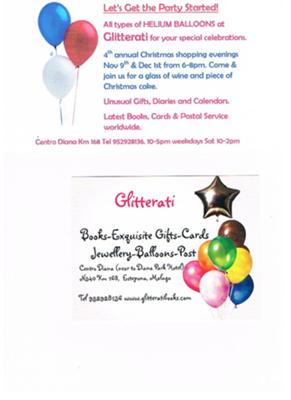 Glitterati Christmas Shopping Evenings
For the fourth year Glittarti Book and Giftshop in Centro Diana are holding their events.

Come along between 6:00pm and 8:00pm on Wednesday November 9, 2011 or Thursday December 1st for a glass of wine and a sample of delicious cake from What's Cooking in Guadalmina.

There will be drinks and Christmas cake as usual to help get you in the mood for Christmas shopping! New to Glitterati this year are all sorts of helium balloons for special events and balloon in a box for that special surprise gift.


---
Read more about
Glittarti Book and Giftshop
!