Concordia Charity Concert
by Morris Bishop
(San Pedro)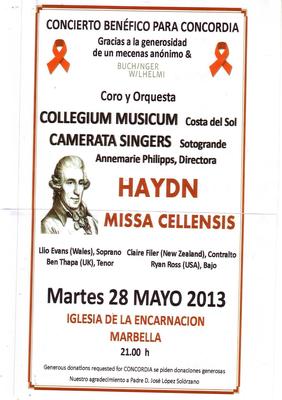 Charity Concert in Marbella on Sunday 28th May 2013


A Charity Concert, given in aid of CONCORDIA, will take place in the Iglesia de la Encarnación in
Marbella Old Town
on Tuesday 28th May 2013 at 21:00h The evening will be devoted to a work on a grand scale.
HAYDENS MISSA CELLENSIS
To be Given by
The Choir and Orchestra of the
COLLIGIUM MUSICUM
Costa del Sol
The
CAMERATA SINGERS
of Sotogrande under their director of music ANNEMARIE PHILIPPS
The Soloists are Llio Evans (Wales) Soprano, Clair Filer (New Zealand) Contralto, Ben Thapa (UK) Tenor, Ryan Ross (UsA) Bass.
If this work is anything like their previous performances, you will not want to miss it
Free entrance, but generous donations are requested for CONCORDIA.