Collegium Musicum and Camerata Singers
by Morris Bishop
(Marbella)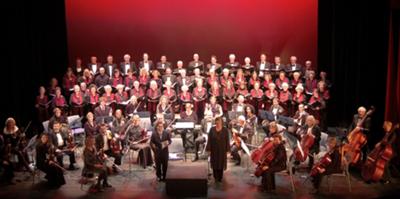 "It doesn't get any better than this"


This was a comment made by the Brits sitting next to us in the
Iglesia de la Encarnacion in Marbella
, where we had just witnessed the most memorable performances of Mozart's Requiem. He went on to mention that they had just returned from Saltzburg where they had attended many concerts but this topped them all.
The message must have got out that this was going to be special, because
no one could remember an audience of this size in the church, indeed, "they were standing in the aisle".
As a measure of their appreciation, those present gave a standing ovation for over five minutes, such that Annemarie Philipps (musical director) had to give an encore to satisfy them.
The performance was given by the COLLEGIUM MUSICUM Costa del sol and CAMERATA SINGERS of Sotogrande under the 'Magical' direction of Annemarie Philipps, celebrating her twentieth anniversary with the orchestra.
Although they classify themselves as 'amateurs', rarely would you find a more professional rendering of this wonderful work.
The professional soloists, who blended beautifully into the oratorio were
Esmeralda Espinosa, soprano, Maria Rosas Perez Diaz, mezzo, Luis M. Pacetti, tenor, and Damian del Castillo, baritone.
The Requiem was preceded by an equally delightful performance of the allegro from Mozart's Clarinet Concerto K622 by the soloist Juan Crisostomo Subiea.
If ever you see that the COLLEGIUM MUSICUM or the CAMERATA SINGERS performing again – GO THERE and be moved to such an extent that you will not want it to finish.
Truly one of the most enjoyable musical experiences of my 82 years!
Morris Bishop
6th June 2012