Caravan to Class
by Marbella Family
(Marbella, Spain)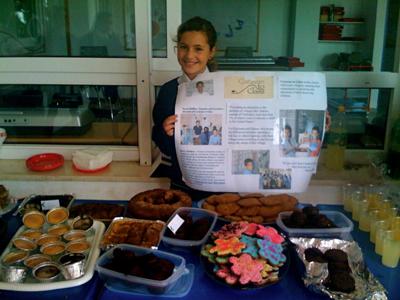 Caravan to Class
Marbella Family Fun supports Caravan to Class


Caravan to Class
is a registered 501c3 charitable organization focused on increasing literacy rates in West Africa. They
build
schools and invest in education
in the Sahara Desert villages of Africa, which are some of the
world's most illiterate places
.
Our daughter was aware of this charity, because it was started by a friend of ours, Barry Hoffner, and we have spoken about the achievements and needs of the charity with her and her brother. When she decided she wanted to make a difference in the world and try to help a good cause,
Caravan to Class
naturally came to mind.
Our daughter chose to raise funds and awareness for
Caravan to Class
with a bake sale at her school. She gathered a team of students to work on a presentation and a plan on how to raise awareness and raise money. With the support of
Laude San Pedro International School
(very much appreciated!), the children had a wonderful experience not only baking (and tasting!) and raising 680 euro, but also felt proud of their achievements that came with hard work and determination. The children learned not only about making a difference in the world, but also learned about preparing a presentation, public speaking, cooking, and a bit of entrepreneurial skill.
Naturally, as parents, we are very proud of our daughter and continue to support her and her friends with their charitable efforts.
---
Fundraising continues for Caravan to Class with the
Global Giving Challenge
taking place from
November 23 to December 31, 2011
. Global Giving is the leading online charitable giving website. If Caravan to Class is able to
raise $4,000 and bring in 50 new donors
they will be able to post all of their future projects on their platform. In addition, Caravan to Class will be eligible to receive additional foundation grants. In short, this is a big deal that the kids are looking forward to supporting.
PLEASE JOIN US in
bringing hope through education
to the 70 children in the village of Mora, Mali.
A $10 donation can make a big difference
in the lives of these deserving children.
Please see the Caravan to Class page on the
Global Giving site
. Starting November 23rd, 2011 donors will be able to donate directly on this site in the area where it now says "Coming Soon".
Or read more about Caravan to Class on their website:
www.caravantoclass.org.
---
See our
Marbella charity page
and learn about other charitable organizations that Marbella Family Fun supports.
If you have a
Costa del Sol fundraising event
or other charitable cause, feel free to
create a page on our site
and we will post your event in our Calendar and spread the word FREE of charge.
---