Cake Couture Marbella

share this page with a friend
Cake Couture Marbella creates and designs intricate and unique wedding tiers, birthday cakes, celebration cakes and cupcakes to suit all your individual requirements in Marbella and the Costa del Sol.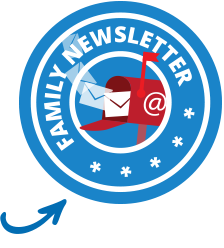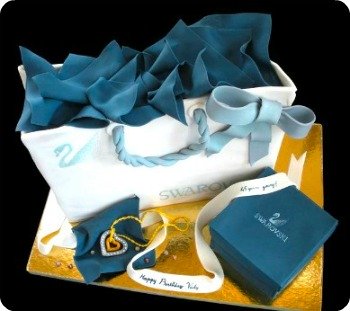 Whether you are celebrating a corporate or a holiday event from 2 to 500 persons, Cake Couture Marbella will create a cake that will blow your mind. Your imagination is the only limit! Made with all natural ingredients and real flavors, our cakes not only look good, but they taste good too! Deliveries are FREE from Elviria to Estepona.
This Costa del Sol cake company offers 12 different cake flavors from classics such as vanilla and chocolate to exotic flavors of red velvet, fraisier (real strawberries!) and rainbow! Cakes and fillings are made with real butter, cream, Swiss or Belgian chocolate and fresh fruits.
Check out Cake Couture's sister company La Parisienne Cafe serving the best French favorites on the Costa del Sol.
Cake Couture Marbella cakes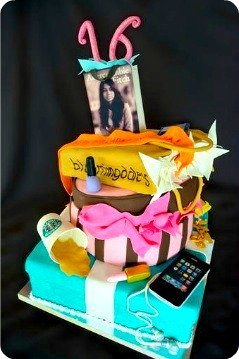 There has never been a cake company like this on the Costa del Sol that whips up magic with sugar. Every single decoration is completely edible, whether a flower, lipstick, shoe or car. Head chef, Omaya has fingers of gold that can create or copy anything you throw at her. Each Marbella cake is unique and made with tender loving care using the finest ingredients imported from around the world.
Cake Couture Marbella cupcakes
The cupcake stand is a popular alternative to the traditional tiered wedding birthdays and baby shower cakes. At Cake Couture, we offer our own custom made cupcake tiers with cupcakes and a custom cake topper. We can custom design our packages to match any party theme. Simple cupcakes are decorated with colored and flavored icing. Special cupcakes are decorated with colored frosting and / or extra fondant handmade items such as flowers, animals, cartoon characters and many many more exciting designs!
Ordering a cake
You may place your order over the phone. For a more intricate cake design, you may want to make an appointment for a consultation.
Simple cakes and cupcakes should be ordered one week in advance. Custom design cakes and wedding cakes should be ordered two weeks prior to the event.
It is important to us that your cake be exactly what you want. Therefore, we limit the number of orders we accept so that we can give each cake the attention it deserves. We dont rush our clients to make a decision, but keep in mind a 50% non-refundable retainer is required to reserve your date on our calendar. We currently only accept cash.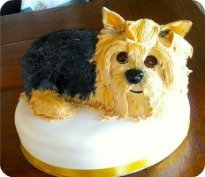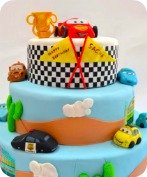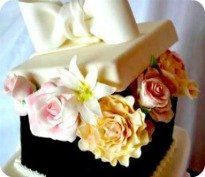 ---
Location: Deliveries are FREE from Elviria to Estepona. Contact us for delivery charges if you live outside our free delivery zone.
Tel: +34 693 379 397
Email: marbellacake@gmail.com
Prices: From 2.50 euro per cupcake. See the Cake Couture price list for more details.
Website: http://www.cakecouturemarbella.com
Facebook: Cake Couture Marbella
---
Daughter: "These cakes are amazing!"
Cake couture makes some really cool cakes because they can make them in almost any shape. One year my mom got me a cake for my birthday that was the shape of a Juicy Couture bag and I thought it was very good...
...The only thing I don't like is the icing since they put so much on. But I understand that this is the way to make the shape of the cake. There are different flavors for the cake, so you have a lot of choices and that part is very good. The cakes are quite sweet but I like them.
---
Mom: "I've never seen cakes like this before. Impressive!"
We always order cakes from Cake Couture especially when we want to impress someone. One of my favorites is the Juicy Couture handbag. My daughter saw it on her website and fell in love with it. It was so well done our guests thought someone had given her the real handbag...
...I found Cake Couture by chance on Facebook and saw some of the photographs of their creations. I could tell that there was some French background with this company and put two and two together and thought that there was a good chance that not only would these cakes look good, but they were bound to taste good too! And I was absolutely right.
The first time I ordered a cake from Cake Couture Marbella, I was invited to sit down to discuss what wanted for our special anniversary cake as well as a tasting. I was interested in three types of cakes and Omaya, the cake designer, made three whole cakes that were gorgeous...so much, I had a to take a picture of them all before I cut it to pieces. I tried the lemon, strawberry (with real strawberries and cream inside!) and classic chocolate. I thought I would get just a little slice of cake to try, but they were whole mini cakes and I got to take home the rest for everyone else in the family to try.
On Facebook I "Like" the Cake Couture page, because I love seeing what new creations they come up with. Just when I think that they can't outdo the last cake, bam! they do it again. I really am totally blown away by the work that they do. I have never seen cakes like this before and I am always so surprised that you can actually eat the decorations. They are so perfect and real looking you would think they were plastic pieces or fake flowers.
I've noticed that a lot of Marbella cupcake companies have been popping up all over. I have never tried Cake Couture's cupcakes, but am sure that this Costa del Sol cake company can make excellent tasting cupcakes that will surely delight anyone young and old. You don't have to be a kid to eat cupcakes!
The worst thing about Cake Couture is cutting the cake. After everyone around has taken a billion photos, someone has to get the knife and cut it. Their cakes are real works of art that are incredibly impressive. Omaya really does have a talent, is a perfectionist and is so good at what she does, so if you're looking to impress, order your cake from Cake Couture Marbella.
---
Dad: "Jaw dropping cakes"
"The cakes from Cake Couture are simply pieces of art, a real delight for the eyes. Nobody on the coast makes so beautiful cakes. If you are looking to impress your friends with a personalized, jaw-dropping cake, this is the place.....
---
Sharon's family

Sharon: "Exactly what I wanted"
I just wanted to say how wonderful my cake was. I have just returned from my honeymoon so this is the first chance I have had to email. It was beautiful, and simple exactly what I wanted....
...Everyone mentioned how lovely it was, and unlike a lot of wedding cakes, almost all of it was eaten. As we were there until the Saturday, we just kept it there for anyone to take as they liked ... and like they did! If ever I hear of anyone else getting married near Marbella, I will most definitely recommend you.
---
Rachel's family

Rachel & Ian: "Fantastic value for money"
Thank you so much for the gorgeous cup cakes. All our wedding guests commented on how lovely they were. They were brought out on the cake stand with lots of sparklers and looked AND tasted AMAZING!!! They were fantastic value for money and we would recommend your cakes to anyone.
---
Rachael's family

Rachael: "Absolutely delicious!"
Just wanted to let you know how happy we all were with Sophia's birthday cake. She was delighted when she saw the pink Peppa Pig cake on her birthday on Sunday. And we all really enjoyed eating it - absolutely delicious!!...
...Sophia is usually very fussy with food, so it was great to see her tucking in to it!! There was still a bit left last night & it still tasted fantastic.
Thanks so much - we will definitely be using you again in the future and I will be recommending you to others too. Very prompt delivery service too :-)
---
Read more reviews about Cake Couture Marbella!
---
Back to top of Cake Couture Marbella
Return to Marbella Parties
Write your own review about Cake Couture Marbella