Bike Tour from Ronda to Marbella
share this page with a friend
by Team Xtreme 
(Marbella)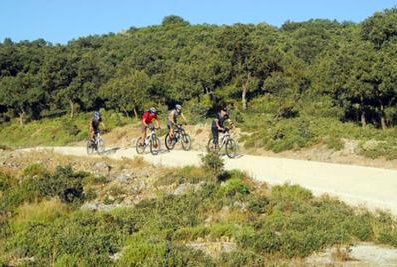 Team Xtreme mountain bike tour
Team Xtreme organizes exciting downhill bike tours form Ronda to Marbella
Itinerary:

Our Ronda to Marbella downhill bike trip of approximately 36km is 85 % downhill through the beautiful natural park of Sierra de las Nieves.

One of the highlights of the tour is a stop at the 800 year old Castaño Santo tree that has a trunk needing 14 adults to surround it holding hands.

The tour is of medium difficulty and requires a proper mountain bike and decent biking skills.

The minimum age for this tour is 14 years old and in case you are not 18 yet you need to be accompanied by an adult.

The tour takes 3-4 hours once we get started on the bikes and another 1+1/2 to get to Ronda and get set up.

It is important to take some snacks and drinks to refuel and keep your energy levels up.

In addition to a main guide leading the group, we will provide a support bus that will follow the team in case of emergencies or any other minor things that need to be fixed on the bikes. ( or if someone is too tired to continue on the bike).

We can provide bike rentals in case you do not have a mountain bike.

The price is 85 € ( including the bike) but can vary if there is a very large group.

Check out the video of the tour.

The mountain bike experiences are set in the rugged, tranquil terrain of the Andalucían, Mediterranean mountains. Enjoy ideal conditions and a great climate throughout the mountain ranges that run parallel to the Costa del Sol. The routes run through beautiful, scenic, natural settings where you won't see any vehicles.

You will be accompanied by various fully certified tour guides leading the group through the event ensuring a safe journey and also adapting the intensity and the route where necessary to the needs of the group. This experience has a minimum age requirement of 14, so if you´ve got teenagers or older kids it´s the perfect way to spend time together outdoors. 


What's included:

Fully Qualified Technical Guides

Mountain Bike (Medium Range with front suspension) – Consult with us for a high end option

Insurance

Requirements:

Minimum Age 14 (accompanied by guardian if under 18)

Good Physical Condition

For more information go to Team Xtreme, visit their website at www.teamxtreme.es, email info@teamxtreme.es or call (+34) 952 768 349 or (+34) 676 022 237.

Check out other Team Xtreme tours:

Canyoning

Evaluations for Bike Tour from Ronda to Marbella
Average Rating

Nov 22, 2010
Incredible bike tour with Team Xtreme 
by: Hannah 

I thought the bike ride from Ronda to Marbella with Team Xtreme was fantastic. It was actually more challenging than I expected. We were told it was about 85% downhill, which I admit I thought sounded quite easy....but it really wasn´t! It was off road, so you were always aware of the possibility of hitting a stone and coming off the bike. I would definitely do it again though. 

The views were amazing, and the group of people really makes it too. A fantastic day out, highly recommend it..10/10 Go Babak and Team Xtreme!