| | |
| --- | --- |
| Bellaria Cafe & Bakery | |
Marbella Family Fun

>
Marbella Restaurants
> Bellaria Cafe & Bakery
share this page with a friend
Bellaria Cafe started as a humble bakery and has since turned into a lifestyle choice. The place doesn't just feed you - it nurtures and teaches you. Enjoy organic breakfasts, lunches, juices and shakes, a 100% natural bakery, an eco-shop, raw food, cakes and chocolates. Just a few things that make this place stand out from the rest.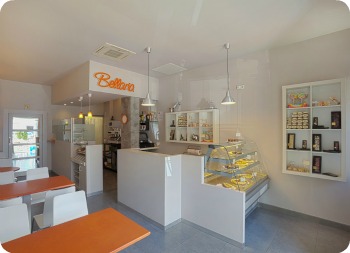 The restaurant's flexitarian ideology will make you feel free, relaxed, calm and curious. As they like to say, Bellaria doesn't judge, it shares.  
Their commitment to the good life shines through in every mouthful and moment.  Bellaria really is a lifestyle choice - healthy and exquisite.
Using only organic, 100% natural and fair-trade ingredients, Bellaria is committed to bettering your way of life the sweetest way possible.  Its extensive experience in baking, gastronomy, vegan and raw food has made this small gem in Nueva Andalucia possible.  Always learning, always teaching, Bellaria loves what it does and works daily to ensure you do too.
Bellaria Cafe Marbella
Currently supplying an extensive range of restaurants between Marbella, Puerto Banus, Cancelada and Benahavis, Bellaria caters not only to the hospitality sector but private parties and events too. With such reasonable prices, you'll find you won't even have to wait for that special occasion to try them. A simple 'just because' will do.
Cakes, biscuits, cookies, muffins, cupcakes, special dietary requirements..... they have it all covered.
Check out their healthy breakfasts and light lunches. Organic bread, free range eggs, hand-made jams, gourmet sandwiches... and dessert, of course!
And that's not all. They also offer an incredible selection of artisan treats which make perfect gifts. Jams, chocolates, giant lollipops, French Macarons - even home-made dog biscuits!
Location: C/ El Azahar, Nueva Andalucia. On the West side of the Casino (H10 Andalucia Hotel), adjacent to Regina's Restaurant. 

Tel: +34 695 153 139 
Email: info@bellaria.es
Facebook: Bellaria
Son: "Great service and good muffins"
Bellaria Cafe is a nice cozy place that recently opened. There is not a large menu but it is a good place to go on a Sunday morning to have a muffin or coffee outdoors...
...The atmosphere and the service is very pleasant. When I went, I had a heated chocolate chip muffin; it was good but it didn't fill me up. I should've ordered more.
Daughter: "Deserts are the best"
Bellaria makes some great cakes like cheesecakes, carrot cakes, brownies, etc. My favorite is the cheesecake because there are some red fruit inside and it is really good. They now have a cafe. It is nice and small, and the food is very good. You can go and have a simple breakfast or a small lunch but the desserts are the best. There isn't a lot of choices for breakfast and lunch but what they have is really good. Bellaria Cafe also make some really good hot chocolates with either chocolate and mint, plain chocolate or chocolate and raspberry.
Mom: "To die for carrot cake"
We had the pleasure to try out Bellaria's carrot cake a while back before they opened the cafe and the whole family absolutely loved it. It was extremely moist with the perfect balance of not too sweet and not too many nuts and the spices were on target. Just amazing! The icing was to die for and the presentation was lovely. Usually my daughter doesn't like carrot cake too much, but she asked for seconds and thirds of this one. She's converted!
They make some amazing brownies, Millionaire's Shortbread, cheesecakes, key lime pie and this special creation called Chocolate Earthquake Cake that is to die for!
I am so glad that Bellaria decided to open up a cafe in Marbella. It is the perfect venue for a quick relaxed breakfast or lunch or just a nice coffee with friends. The atmosphere is so cozy and pleasant that I always feel so welcome without any pressure to get up and free the table for someone else. I feel like Bellaria Cafe take good care of their clients and really put us first. Not to mention that their prices are very reasonable and you can eat a fantastic meal at very competitive rates.

There are so many Marbella restaurants to choose from, but Bellaria Cafe is the perfect venue for any family. Bravo to Bellaria and keep up the good work!

Dad: "Good food, reliable wifi"
Bellaria is a small cafe conveniently located next to the H10 Andalucia Plaza hotel. It is a great place to enjoy breakfast, a snack, a good tea or coffee, with a piece of one of Amanda's cakes (the carrot cake is my favorite when I allow myself to indulge!). I like the cozy setting of the sunny terrace and its reliable wi-fi. It is one of few places in Nueva Andalucia open on Sunday.
Monteserrat: "Bellaria cakes are amazing!"
And it is out of this world...Its amazing.!!!!!!!!!!!!!! Amazing!!

Susan: "Worth cheating on the diet for!!"
THE carrot cake....Delicious.....very light, not too sweet, perfect flavour, homebaked....BUT....very professionaly presented. Can't wait to cheat again! Well done Bellaria...quite unique!

Grace: "The best"
It is the best Carrot Cake I have ever had! 100% fresh and natural ingredients make the cake so good, tasty and soft. Great idea to take a cake as a present to a birthday, house worming party etc. Your friends will love it! Very good customer service. LOVE IT! :)

Simon Donovan: "Delicious"
I love your millionaire shortbread. I'm coming back for more!!!

Emmanuelle's family: "Very nice"
Thanks for this adress. We had good tea and very good cheesecake....

Looking for family friendly Marbella cafes? Look no further than Bellaria Cafe! Here you'll find a range of organic and wholegrain breads. Their fresh tea selection is more than ample and you'll also find that the 100% Arabic coffee is exquisite.
And for you chocolate lovers.... Ohhhhh, their hot chocolate is to die for! So rich, so creamy..... Eating out in Marbella has never been so much fun!
Related links to Bellaria Cafe